When Alexandria Ocasio-Cortez addressed climate action demonstrators staging a sit-in in House Democratic Leader Nancy Pelosi's office on Tuesday, some of her harshest critics were liberals.
The criticism was that she and the protesters were going after a Democrat, someone "on their side," when there were plenty of climate-denying Republicans to oppose.
Conservatives delighted in the apparent internecine conflict fueled by the progressive movement darling, crowing that the "Left is pissed" and "Leftists AREN'T Happy" with the congresswoman-elect from New York's 14th district.
But Ocasio-Cortez's participation in the protest, which she hinted as a candidate would be part of her playbook, is part of a rich, if sometimes neglected, tradition of bringing grassroots energy to bear in the halls of power in Washington.
"She was a movement candidate. She's going be a movement incumbent ― a movement representative," Ocasio-Cortez's spokesman Corbin Trent told HuffPost.
The protest was one of several examples of Ocasio-Cortez showing a lack of deference to the traditional norms followed by freshman lawmakers. On Monday night, she lambasted a deal inked by Democratic leaders in her home state to grant Amazon nearly $3 billion in tax breaks and other subsidies to set up camp in Queens. And later in the week, she reportedly elicited the ire of more senior Democrats wary of her insistence on the creation of a separate committee to address climate change.
Ocasio-Cortez's efforts to marshal activist energy on behalf of a policy agenda epitomize an "inside-outside" approach that seeks to leverage activist energy "outside" of government to create the conditions for politicians "inside" a lawmaking body to advance a broadly shared policy goal.
As Harvard sociologist Theda Skocpol documented in detail in a 2013 paper, it's a strategy that Democrats executed capably to enact the Affordable Care Act. Skocpol's research highlighted the important role of Health Care for America Now, a coalition of labor unions and community groups that mobilized to support reform from the outside.
The absence of a similarly coherent groundswell of grassroots passion during the effort to pass a cap-and-trade law to limit the effects of climate change was a key element of the latter legislation's failure, Skocpol argued.
"Insider politics cannot carry the day on its own, apart from a broader movement pressing politicians for change," Skocpol concluded.
The college-age activists affiliated with the Sunrise Movement who held the sit-in in Pelosi's office on Tuesday, represented a small sample size of the kind of public uprising Skocpol maintains is necessary for action on climate change ― or any other ambitious national project.
It's hardly a 50-state coalition akin to HCAN, but it's a step in that direction.
What's unique about Ocasio-Cortez's move may be her willingness to employ "outside" tactics when she herself is an insider.
For Skocpol, the move was both premature ― she advises waiting for full Democratic control of the federal government ― and a poor use of Ocasio-Cortez's current power.
"'Outside' is not Alexandria [Ocasio-Cortez]. She is inside, like it or not," Skocpol said in an email. "She is doing media stunts from D.C."
But even Ocasio-Cortez's critics must concede that she is not taking potshots at her party leader for its own sake.
Ocasio-Cortez was careful not to blast Pelosi when speaking to protesters. "Should Leader Pelosi become the next Speaker of the House, we need to tell her that we've got her back in showing and pursuing the most progressive energy agenda that this country has ever seen," she said.
Pelosi said the protesters "inspired" her and urged the Capitol Police not to interfere with their activities. She also assured them that she plans to reconvene the select committee to address the climate crisis, which she founded during her previous stint as speaker.
That's not enough for Ocasio-Cortez and her Sunrise Movement allies. They are demanding that the new committee have an explicit mandate to draft legislation for a "Green New Deal" by 2020 and prohibit any member of Congress that receives money from the fossil fuel industry from sitting on the panel.
Ocasio-Cortez's hope that a demonstration of enthusiasm for climate action would give Pelosi the political capital that she needs to stand firm before her congressional colleagues calls to mind the relationship between black labor leader A. Philip Randolph and then-President Franklin Delano Roosevelt. 
Randolph, who founded a groundbreaking labor union for the predominantly black sector of train porters, wanted Roosevelt to open up World War II-related federal contracting jobs to African-Americans.
Roosevelt reportedly told Randolph that he agreed with him, but he needed a show of force from Randolph's movement to "make [him] do it."
There's some debate as to whether that particular exchange actually occurred.
Regardless, Randolph eventually decided to do just that. In 1941, he called for a 100,000-person march on Washington to demand an end to racial discrimination in the defense industry. FDR met with Randolph, informing him, "We can't have" so many black people marching in the nation's capital, Randolph recalled. He offered instead to issue an executive order protecting African-Americans' rights to work in federal government jobs. When FDR delivered on his promise, Randolph canceled the march.
It's a pattern that's repeated itself throughout American history: Elected leaders on the left or right, nominally aligned with a grassroots movement, find themselves on the receiving end of the most unrelenting pressure from those same activists.
Comparing protests against Democrats with protests against Republicans, Jamie Henn of the climate change action group 350.org deadpanned, "I'd rather spend my time shaping play-dough than I would banging my head against the wall."
Henn knows a thing or two about using bare-knuckle tactics to take on Democrats. 350.org spearheaded the successful effort to pressure then-President Barack Obama into denying the Keystone XL oil pipeline the permitting it needed to cross from Canada into the United States.
"With Democrats back in power in the House and a number of new Democratic governors in office who can be pressured, you'll see quite a bit more of that action," he added.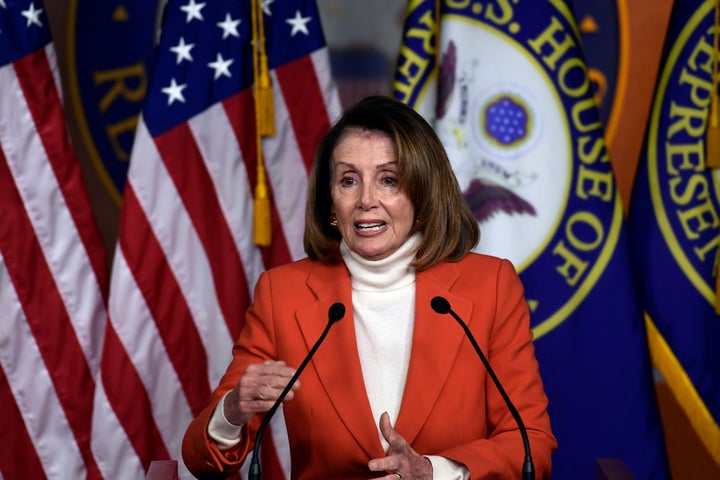 There is also a "man bites dog" factor in challenging one's own party when it comes to attracting publicity. Democrats protesting President Donald Trump or congressional Republicans is by now passé, whereas protesting Pelosi is catnip for the press.
"You wouldn't be covering this if we didn't go after her," said Waleed Shahid, communications director for Justice Democrats, a left-wing group that played a leading role in Ocasio-Cortez's winning primary campaign and supported Tuesday's protest. (In an October essay in The Nation, Shahid envisioned Ocasio-Cortez serving a similar role to the one that the "radical," anti-slavery Republicans played in pushing Abraham Lincoln to the left.)
Ronald Rapoport, a William and Mary professor who has studied the Obama-era Tea Party movement, likened the timing and theatricality of Ocasio-Cortez's Tuesday action to that of the Tea Party in 2010. Days after the GOP's activism-fueled midterm election win, then-Senate Minority Leader Mitch McConnell (R-Ky.) agreed to a demand by more conservative senators to bar members of his caucus from accepting earmarks that direct federal funding to their home states.
Ocasio-Cortez's participation in the protest "was a direct action," Rapoport said. "In that sense, the tactics are Tea Party in nature."
It's not a comparison that Trent, Ocasio-Cortez's spokesman, rejected out of hand. The far right, he said, has "certainly been effective."
Of course, the Tea Party, and its heirs in House Republicans' Freedom Caucus, were, for philosophical reasons, content to limit the federal government's functioning as much as possible. Harnessing grassroots energy to stop something from happening is easier than using an "inside-outside" strategy to steer a complex set of reforms through Congress.
However, Ocasio-Cortez's demands are narrow in this case. And the New York representative may have some leverage: She has not yet endorsed Pelosi's speakership. With the Democratic leader under assault from centrists in her party, agreeing to a compromise with Ocasio-Cortez may be the better of multiple options. 
Shahid, who has worked closely with Ocasio-Cortez in the past, is confident that the freshman progressive will not use a one-size-fits-all approach to governing.
"She unveiled one of the tools in her toolkit [on Tuesday], but she's also going to be a great legislator and a great consensus builder," Shahid said.
Source: Read Full Article