Adani Enterprises, the flagship of Adani Group, said on Wednesday new businesses of renewables, data centres, airports and roads account for more than 33 per cent of earnings and it will complete all infrastructure projects on time.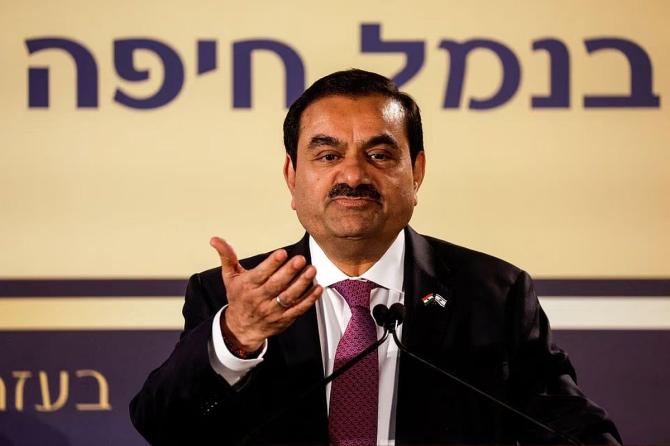 "We are laser focused on continuing our business momentum, in this market volatility.
"We are confident in our internal controls, compliance and corporate governance.
"We will focus on AEL's financials, operating performance, and incubation pipeline," said Jugeshinder Singh, chief financial officer of Adani Enterprises (AEL).
The group, owned by Gautam Adani, has been trying to win back investor confidence after a report from US short-seller Hindenburg Research last month wiped out more than $120 billion of his empire's market value.
The company has denied all allegations by Hindenburg as "a lie."
AEL is making progress in incubation of new projects by Adani New Industries (ANIL) in green hydrogen, Adani Connex in data centres, and Adani Airports Holding and Adani Road Transport, said Singh in a statement.
Singh said the group's decision to not go ahead with a follow-on public offer (FPO) will not affect its operations and plans.
"We have an impeccable track record of responsibly managing our balance sheet.
"We are undisputed leaders in executing complex infrastructure projects.
"Whilst in the initial stages of a new project, our leverage tends to increase the nature of our infrastructure assets generating strong cashflow results in rapid deleveraging," he said.
AEL has strong corporate governance, secure assets and cash flows.
"Once the current market stabilises, we will review our capital market strategy, but rest assured we are confident in our continued ability to deliver business that provide superior returns to shareholders."
In ANIL, the company has three business streams including manufacturing ingots, wafers, cells, modules, wind turbines, electrolyser and associate ancillary equipment, green hydrogen generation and downstream products.
In the third quarter of FY23, Singh said the module line was operational for a 2 gigawatt plant and commissioning for the cell line is expected by March.
In Adani Airports Holding (AAHL) portfolio, the passenger movement increased by 40 per cent to 20.3 million.
In the road portfolio, the company received provisional commissioning for three road projects.
Source: Read Full Article