Following the first-quarter results of fast-moving consumer goods (FMCG) firms, all eyes are now on rural recovery and volume growth.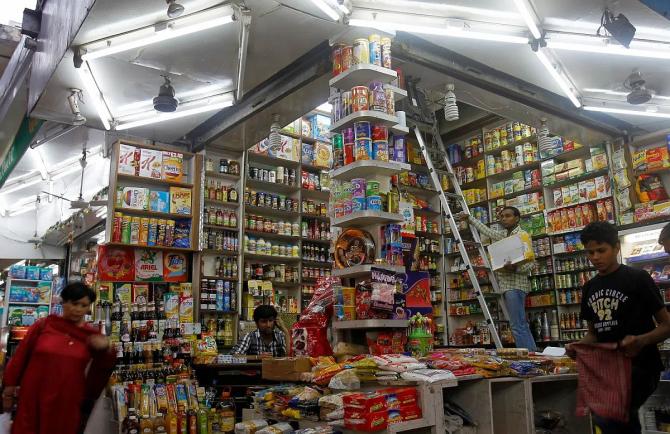 In their commentary after the 2023-24 April-June quarter results, FMCG companies have discussed signs of recovery in rural demand, which was impacted for over a year due to inflation.
Brokerages are pointing out that the second half of the year will be closely watched.
"Easing inflation, higher government spending, and increased urban remittances will define future growth momentum in rural regions.
"However, the impact of El Niño needs to be keenly watched," stated Axis Securities in its report.
Broking firm Centrum also mentioned in its report the need to monitor tepid rural recovery.
A sharp rise in minimum support price and a surge in private consumption, as indicated by recent gross domestic product data, seems to suggest that the worst of low rural demand is ending and rural markets are expected to rebound.
Companies resorted to price cuts in the quarter as inflation eased, leading to margin improvement.
"We expect the improvement in the margin trajectory to continue. However, price anniversaries will continue to drag revenue growth in the near term.
"Companies have started implementing price cuts to pass on some benefits of easing input costs and revive volumes, but volume growth is expected to be gradual," IIFL Securities said in its report.
Axis Securities also stated in its report that most consumer staples companies under its coverage have indicated sustained signs of rural recovery.
"Moving forward, volume growth is also likely to pick up in rural areas," the report said.
Hindustan Unilever (HUL), in its outlook after results, expressed the expectation of a volatile near-term operating environment with rainfall-related risks.
"We need to be watchful of the progress of monsoon and any impact of El Niño on cropping and rural demand.
"We expect market volumes to recover gradually due to high levels of cumulative inflation and the fact that consumption habits typically recover with a lag," said Ritesh Tiwari, chief financial officer of HUL, in a press conference after results.
While discussing the outlook for the next couple of quarters, Tiwari expected price growth to further tail off, with high prices and sequential price reductions.
If commodities remain at their current levels, HUL expects its price growth to be nearly flat or marginally negative for the next few quarters.
With inflation moderating, competitive intensity is likely to go up further.
During the June quarter, gross margins expanded as raw material prices decreased.
"Aggregate gross margin (excluding input tax credit) saw a substantial year-on-year expansion of 298 basis points (bps) during the quarter (+ 72 bps in fourth quarter), led by easing of key raw material prices," IIFL Securities said in its sector review.
Axis Securities also said in its note that gross margins across staples companies continue to improve as key raw material prices, such as crude oil, palm oil, and packaging material, remain stable.
"However, an increase in advertising spends to regain market share will slow down earnings before interest, tax, depreciation, and amortisation margin expansion, though it will be beneficial in the long run," the brokerage noted.
FMCG companies also pointed out that competitive intensity has heightened in the sector due to local players entering the market as commodity costs have corrected.
Disclaimer: This article is meant for information purposes only. This article and information do not constitute a distribution, an endorsement, an investment advice, an offer to buy or sell or the solicitation of an offer to buy or sell any securities/schemes or any other financial products/investment products mentioned in this article to influence the opinion or behaviour of the investors/recipients.
Any use of the information/any investment and investment related decisions of the investors/recipients are at their sole discretion and risk. Any advice herein is made on a general basis and does not take into account the specific investment objectives of the specific person or group of persons. Opinions expressed herein are subject to change without notice.
Source: Read Full Article