Trade generic drugs (medicines that are sold directly through distributors) are fast becoming a key segment for domestic pharma firms as volume growth slows in the overall market.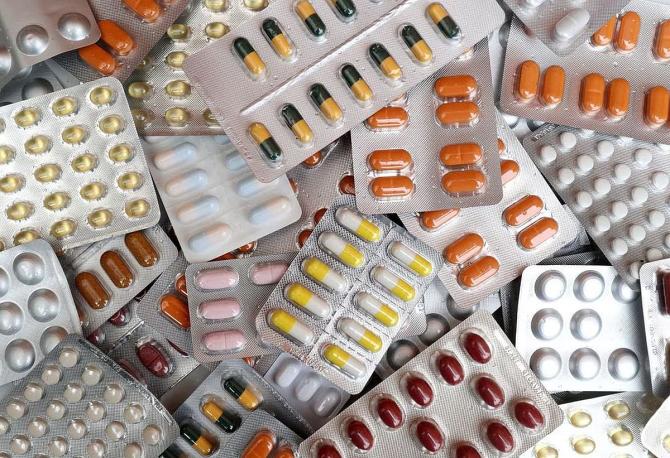 Big companies like Cipla and Alkem have a significant presence in the segment but recently, players like Torrent Pharmaceuticals and Dr Reddy's Laboratories (DRL) have also entered this market. What is driving big pharma's focus on trade generics?
The volume growth in the Indian Pharma Market (IPM) has come down from 5.6 per cent in FY16 to 0.1 per cent in FY23.
The Centre, too, is focusing on trade generics as it aims to ensure a wider access of affordable medicines.
A case in point are the Jan Aushadhi stores, which recorded a compound annual growth rate (CAGR) of 54 per cent in the past five years.
The Jan Aushadhi scheme, also known as the Pradhan Mantri Bharatiya Janaushadhi Pariyojana (PMBJP), through Jan Aushadhi pharmacy stores, dispense generic medicines at a significant discount to branded generic products.
Branded generic drugs are marketed by a company through its field force, and doctor prescription route.
In a recent note, Nomura analysts said: "The disclosures by PMBJP indicate that on an average, the discount to branded generic medicine is around 85 per cent, i.e. the branded generic retail price is around seven-times the Jan Aushadhi prices.
"Hence, the Rs1,220 crore of Jan Aushadhi sales is equivalent to Rs 8,540 crore of branded generic retail sales, 4.2 per cent of the branded generic market (based on IQVIA data).
"With 30 per cent plus growth, we estimate that Jan Aushadhi is capturing around 1 per cent of the India pharma volumes each year.
"The rise of Jan Aushadhi, along with the growth in trade generics of pharma companies and private label by retail pharmacies, is impacting the volume growth of branded generics."
There are over 9,304 Jan Aushadhi stores in the country as of FY23, making it the largest pharmacy chain in India.
Typically, trade generic medicines are available at a 50-60 per cent discount to branded generic medicines as there is no marketing expense incurred.
Umang Vohra, managing director (MD) and global chief executive officer (CEO) of Cipla, said during the company's first quarter earnings call: "The trade generics market is around 25 per cent of the IPM by value, and by volume it would be around 40-45 per cent or so.
"This market is growing at 14 per cent."
He added that the India and Bharat story is incomplete without this segment.
As of today. 60 per cent of the country is able to access and afford medicines, and therefore, adequate emphasis needs to be given on this segment, he added.
Almost 80 per cent of the trade generics market is in Tier-2 to 6 cities.
Krishnanath Munde, associate director at India Ratings, told Business Standard that trade generics – medicines directly sold through distributors and no promotion required to the medical representatives like branded generic – is the fastest growing segment, with more than 25 per cent CAGR in the IPM over the last 10 years (around 15 per cent of IPM size) against an IPM growth of 11-13 per cent CAGR over the same period.
Munde said that the reason why big pharma firms are entering this space is because of multiple factors – highest return on capital employed with no major investment required; robust growth of this segment; penetration in tier-2 and beyond (including rural areas), and mid-teen earnings before interest, taxes, depreciation (EBITDA) margin (lower than branded generic but incremental) with no incremental marketing/employee or R&D spend.
A senior distributor, operating in both trade generics and branded generic segments, said on grounds of anonymity, "Companies do not change the MRP of medicines as such.
"But they can sell the drug to distributors at a far lower rate because there is no marketing expense.
"The distributor and retailer add their margins of 10 and 20 per cent, and sell the drug.
"At times, small companies offer huge margins in this space, in order to push their medicines."
However, there is a growing demand for quality medicines in this segment. MV Ramana, CEO, Branded Markets (India and emerging markets), DRL, pointed out during the first quarter earnings call that they have sensed a strong demand for quality medicines in trade generics from retailers and distributors.
"We were representing around 50-52 per cent of the market through our portfolio, and now we have entered the trade generics segment.
"We will know about the traction in the coming few quarters," he said.
A senior analyst with a market research agency said that typically medicines in the acute category (fever, stomach ailments, analgesics etc) are sold through the trade generics route.
"In therapy areas, where companies already have a strong presence, they don't sell those drugs in the trade generics route.
"But this route becomes an easy way to expand presence in markets where they do not have a strong presence through their salesforce," the person explained.
Source: Read Full Article