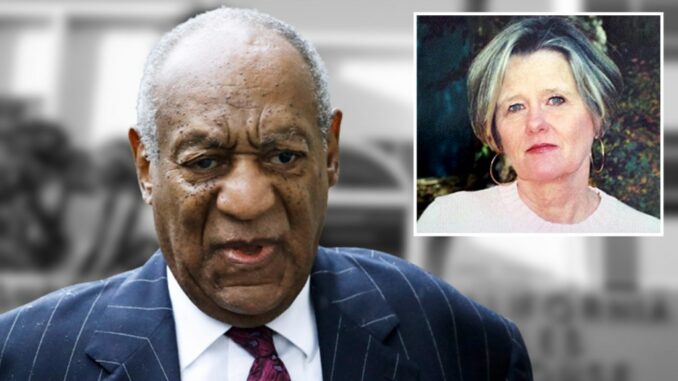 Bill Cosby is a free man, but now the disgraced comic actor is facing yet another civil suit alleging sexual battery.
A New Mexico woman claims Cosby drugged and raped her when she was working as a waitress at a Bay Area restaurant more than 50 years ago.
Related Stories
Bill Cosby Faces Rape Suit From Longtime Accuser Victoria Valentino Over Alleged 1969 Attack
Bill Cosby & NBCUniversal Hit With Sexual Assault Suit From Ex-'Cosby Show' Actresses & Others
In an 11-page complaint filed Thursday in Los Angeles Superior Court (read it here), Donna Motsinger said she met the comic actor in 1972 at The Trident in Sausalito, north of San Francisco, where Cosby was a "regular." The suit alleges that he followed Motsinger to hear home in nearby Mill Valley and invited her to his stand-up show at Circle Star Theater in San Carlos, where he was to record what became the LP Inside the Mind of Bill Cosby.
According to the lawsuit: "Mr. Cosby picked Ms. Motsinger up in a limousine from her house and drove her to the Circle Star Theater. Mr. Cosby gave Ms. Motsinger a glass of wine in the limo along the way. At the Circle Star Theater, Mr. Cosby took Ms. Motsinger to the dressing room there. She began to feel sick and Mr. Cosby gave her what she believed was an aspirin. Next thing she knew, she was going in and out of consciousness while two men attending to Mr. Cosby were putting her in the limousine with Mr. Cosby. In the limousine, Mr. Cosby sat near the window and put his arms around her. The last thing Ms. Motsinger recalls were flashes of light. She woke up in her house with all her clothes off, except her underwear on – no top, no bra, and no pants."
RELATED: Bill Cosby Denied Retrial In 1970s Playboy Mansion Sexual Assault Case
Cosby has faced myriad criminal complaints and civil suits alleging rape, sexual battery or misconduct in the past decade, fueled by a stand-up routine by comic Hannibal Burress that went viral in 2014. Since then, the one-time Cosby Show star known as "America's Dad" has been sued by several women and in 2018 was convicted of the 2004 rape of former Temple University athletics administrator Andrea Constand. That several came months after a mistrial was declared in the first trial of the case in 2017.
He was sentenced in September 2018 to three to 10 years in prison, but the Pennsylvania Supreme Court overturned his conviction on procedural grounds in June 2021, and he was released from prison soon afterward.
RELATED: Supreme Court Won't Review Decision That Led To Bill Cosby's Release
The fallout of his legal problems included Cosby being axed from the TV Academy Hall of Fame, losing his Kennedy Center Honor and Mark Twain Comedy Prize and becoming the first person to have a Yale University honorary degree revoked in the school's 300-year history.
Production company Jemmin Inc., the now-dissolved MCA Inc. and Circle Star Theater Corp. also are named as defendants in the new lawsuit.
Attorneys Brian Panish and Jesse Creed of Panish Shea Boyle Ravipudi in Los Angeles and Michael Bressler of The Bressler Film in Chicago are representing Motsinger in the case, which seeks unspecified damages. "As alleged in the complaint," Creed said, "these iconic companies and organizations not only provided a platform for Mr. Cosby to showcase his fame and fortune to lure in women, but then put their own profits over the safety of their female guests by turning a blind eye to Mr. Cosby's alleged sexual assaults on women."
RELATED: 'We Need To Talk About Cosby' Director W. Kamau Bell On Docuseries' Dilemma – Sundance Studio
Must Read Stories
Writers Rooms Reopen: 'Grey's', '9-1-1', 'NCIS', 'Abbott' & 'Yellowjackets' First Back To Work
Floods Forcing Big Cinemas To Close; SAG-AFTRA Picket Canceled; NYFF Is On
Reputed L.A. Gang Member Charged With Murder In Iconic Rapper's 1996 Shooting
Marvel Execs Eye Meetings Soon To Hear Writers' Pitches For Coveted 'X-Men' Job
Read More About:
Source: Read Full Article