Isha's stab at the bottom of the laptop pyramid shows she is a true Ambani.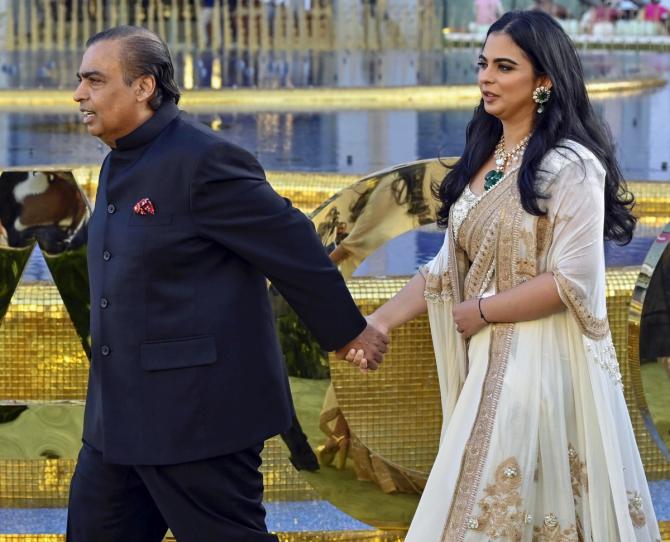 In 1999, Dhirubhai Ambani, the founder of Reliance Industries, told his older son Mukesh that the key to success in telecommunications was to expand the market, which could only be done if long-distance calls could become cheaper than a postcard.
At that time, a postcard could carry a few short lines to any address in the country for 25 paise.
On December 28, 2002 — when Dhirubhai, who died in July that year, would have turned 70 — Reliance India Mobile announced outgoing mobile calls at 10 paise for 15 seconds, sufficient to deliver a postcard-like message, or Rs 1.20 for three minutes regardless of the distance. Incoming was free.
At that time, most other mobile services charged Rs 1.50 to Rs. 2 a minute for outgoing calls and Rs 1.20 for incoming.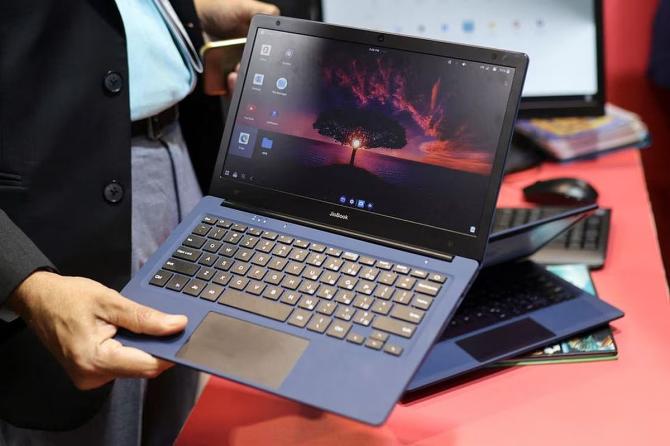 In 2016, Mukesh Ambani re-revolutionised telecom with Jio, which offered free voice calls, free roaming, and — most tellingly — cheap data.
A year later, he launched Jio Phone, which, he said, was effectively free and would reinvent the feature phone.
Last month, Ambani's son Akash, who now leads the telecom business, followed in his father's footsteps by announcing the affordable 4G smartphone, Jio Bharat, for Rs 999.
Now, Isha, Akash's twin sister, is doing her own version of the Ambani way.
Reliance Retail, which Isha leads, will sell JioBook, a 4G-enabled laptop priced at Rs 16,499. But can she do an encore of what the father accomplished with Jio in telecom by making mobile data a mass item and smartphones ubiquitous all over India?
The pricing of the laptop, considering its specifications, is competitive, but may fall short of being revolutionary.
Chrome-based laptops from Lenovo, Asus, and Primebook are available on e-commerce sites for Rs 13,990 to Rs 16,490. The range of options increases if you stretch the budget to Rs 20,000.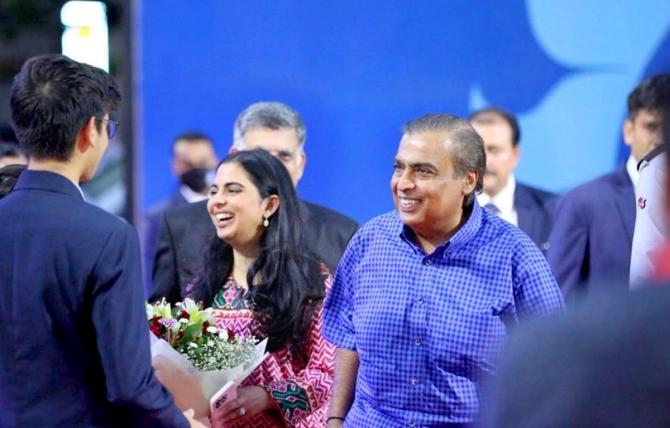 In Reliance Retail's favour, the JioBook offers Rs 1,500 worth of freebies with each laptop — anti-virus for a year, parental control software, a premium carry bag and 100 GB of cloud storage free for a year. It has more than 75 PC-like shortcuts using the Ctrl button.
There is JioBIAN, a Linux-based coding ecosystem to attract students. In addition, gaming and educational content of Jio TV is thrown in.
"It is a decent laptop at the entry level, but not something that will disrupt the market," says Faisal Kawoosa, founder of Techarc, which tracks sales of personal computers and mobiles. "But surely its tie-up with Amazon will help, as the market for such a product is in Tier-II and Tier-III cities."
On Amazon, the e-commerce platform, where the JioBook is available for pre-booking, the printed price is given as Rs 25,000 with a 34 per cent discount.
If the printed price were to become the eventual price, it will hardly be a standout feature in the manner Jio's telecom tariffs were.
Says a senior executive of an electronics manufacturing services company who does not want to be named: "At the price they are selling, there is hardly any margins, until of course the assembler gets production-linked incentives. And, for that, one would require substantial volumes."
PLI is a government programme to promote manufacturing in the country.
Through JioBook, Reliance Retail is wooing those looking for a 'learning experience' — be it coding, online classes, online trading or exploring new ventures, irrespective of age — with an affordable laptop.
It might also help in netting high-Arpu customers, as each JioBook buyer will need to subscribe to a tariff plan to activate the in-built 4G SIM for broadband connectivity. Arpu stands for average revenue per user.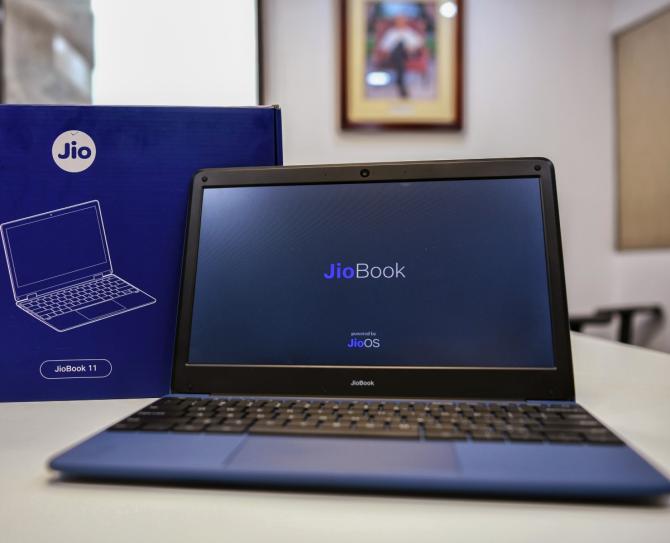 Isha Ambani will know that laptops cannot clock mobile-like numbers.
The total shipments are small, at just above half of all personal computer sales, and fell 41 per cent to 2.1 million in the first quarter of this calendar year, according to Canalys data.
Analysts say sales will remain muted this year, but could rebound in 2024.
The question is whether the JioBook can catalyse the rebound.
Reliance Retail says the JioBook, unlike most other laptops, would be 'made in India', although the current initial lot is imported.
The company did not divulge the assembler, but sources say talks are on with Neolynics Solutions, in which Reliance owns equity, apart from some others.


The JioBook was first presented at the India Mobile Congress last October and listed on an e-commerce site for government employees for Rs 19,500.
The laptop was powered by Qualcomm Snapdragon 665 Octa-core. It had 32 GB of storage, 2 GB of RAM, an 11.6-inch HD LED display, and a micro-SD slot.
Sources in the company had said during the Mobile Congress that they were also working on a basic desktop PC at a price point of Rs 10,000, which would consist of a display, the Jio operating system, and hardware to connect to the cloud where all information would be stored. Consumers would have the flexibility to pay for storage on the cloud.
There is no further update on the Rs 10,000 PC, but in the meantime here comes the new JioBook, whose specifications have been reworked after market research and feedback from customers.
The storage in the new JioBook has been doubled to 64 GB and the RAM to 4 GB. The storage can be expanded to 256 GB with an SD card.
It has replaced the Qualcomm processor by Taiwanese Mediatek's, which, say analysts, is better. However, the display size and battery life remain unchanged.
Putting wind beneath Isha's wings would be the government's announcement that imports of PCs and laptops will now be in the restricted category and require a licence.
The move is meant to promote manufacturing of PCs in the country. The forthcoming IT hardware PLI 2.0 could also come as a boost.
Isha is not alone in benefiting from fortuitous changes in regulation. Father Mukesh's Reliance India Mobile had come amid a big debate over telecom technology.
Some business persons are lucky. Or maybe being lucky is part of the Ambani way.
Feature Presentation: Rajesh Alva/Rediff.com
Source: Read Full Article