Many years during which monsoons were poor saw high returns, while normal or excess rainfall has also coincided with poor calendar year gains.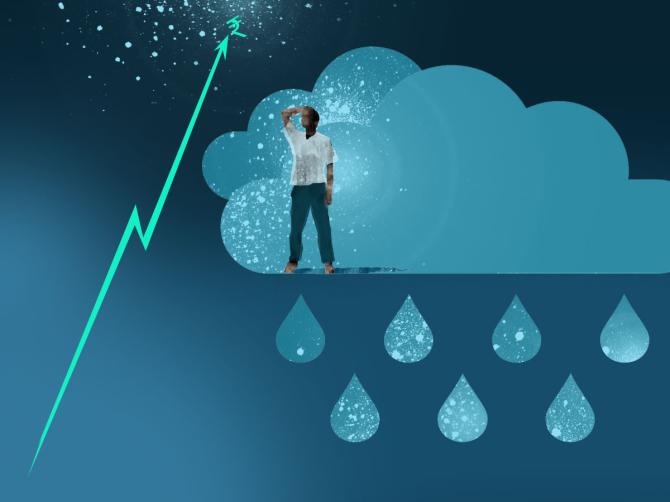 The weather department's prediction for normal monsoons is generally expected to be good news for the market. Its impact over longer term returns seem limited.
Many years during which monsoons were poor saw high returns, while normal or excess rainfall has also coincided with poor calendar year gains, shows data from the past.
The India Meteorological Department expects rainfall to be within 99 per cent of the long-term average.
It typically issues a prediction in April, which it updates as the monsoon draws near.
These predictions have generally been less volatile than actual monsoons.
The years 2019, 2020 and 2021 either saw normal monsoons or excess rainfall.
This is in line with the predictions for the years in question.
The previous two years, 2017 and 2018, had rainfall which was 95 per cent and 91 per cent of the long-term average.
Anything below 96 per cent is considered below normal rainfall. These two years also received a forecast of normal rains (see chart 1),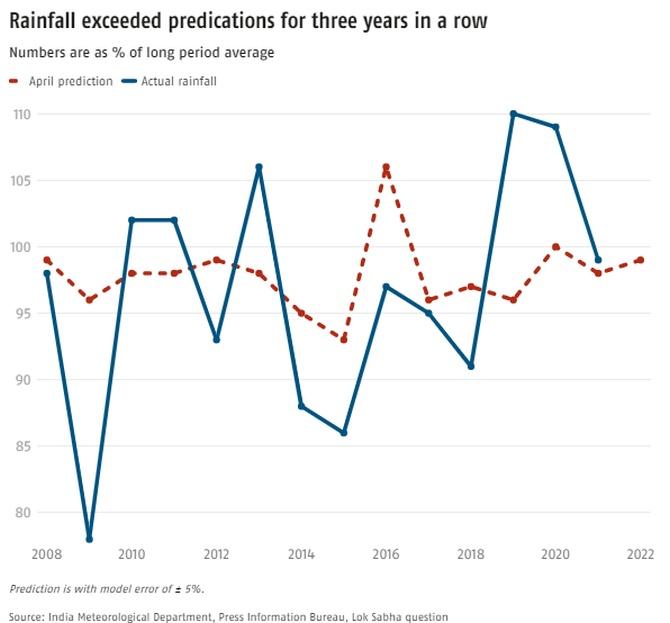 Both years saw positive returns. The S&P BSE Sensex was up 5.9 per cent in 2018. It was up 27.9 per cent in 2017.
This has been seen in previous years with lower than normal rainfall as well.
Rainfall was 87 per cent of the long term average in 2004.
The stock market was up 13.1 per cent. It was 78 per cent of the long-term average in 2009.
The market rose 81 per cent, bouncing back from the 2008 global financial crisis.
Extraneous events played a greater role in other years as well.
Poor monsoons (88 per cent of normal) in 2014 were ignored as the Narendra Modi government came to power with the first majority government in 30 years.
The Sensex was up 29.9 per cent during the year in anticipation of a reforms push.
Normal monsoons (97 per cent of long-term average) in 2016 coincided with returns of only 1.95 per cent.
The government announced demonetization during the year in which 86 per cent of currency was suddenly rendered invalid.
Economic growth was affected as activity adjusted to the sudden withdrawal of cash.
The trend of poor monsoons and good market returns, and vice versa has played out in multiple years (see chart 2).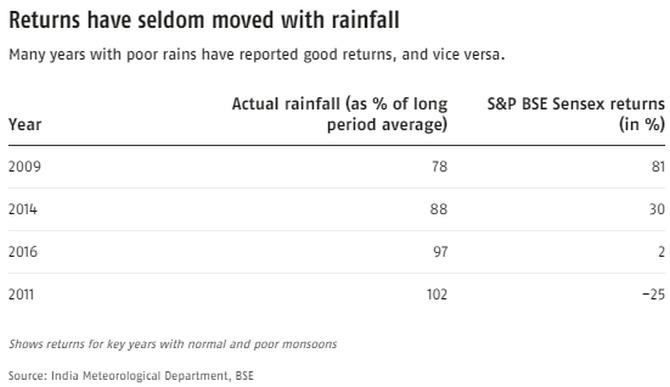 Geopolitical tensions are said to be a key factor behind foreign portfolio investor outflows this year.
Russia's invasion of Ukraine has affected appetite, amid soaring oil prices, for countries like India which relies on imported crude for meeting energy requirements.
Central banks had been raising interest rates in a bid to reduce liquidity in the global financial system.
This is expected to see some flight of capital from emerging markets like India.
Foreign portfolio investors were net sellers by a record Rs 1.4 trillion in the financial year ending 2021-2022 (FY22). Domestic buying has supported the markets.
More foreign direct investment and election results favouring the current government were seen as other reasons for resilience; even as high oil prices and a US recession are said to be among the risks going forward, according to an April 5, 2022 India Equity Strategy Playbook report from global financial services group Morgan Stanley authored by equity analyst Sheela Rathi, and equity strategists Ridham Desai and Nayant Parekh.
'A policy error at home — staying dovish for too long or reversal in policy to raise corporate profits. Volatility around an inflexion in the rate cycle and margin pressures for Corporate India too bear watching — our near-term earnings estimates are below the street,' it said.
Feature Presentation: Rajesh Alva/Rediff.com
Source: Read Full Article