'In 2016, we had De-Mon and in 2017, we had GST.'
'The combined impact of these two started showing up in 2019 and 2020.'
'COVID-19 only added insult to injury.'
In November 2020, the Reserve Bank of India admitted that the Indian economy was in a technical recession.
The advanced estimate put out by the National Statistical Office pegs GDP growth at -7.7% for FY21.
In October last year, the IMF predicted that the Indian economy would bounce back with a growth of 8.8% in 2021.
According to Oxford Economics, though India's growth equilibrium would worsen substantially over the medium term, it would have a potential growth of 4.5% over 2020-2025 as opposed to their earlier prediction of 6.5%.
According to the India Ratings agency, India's GDP is expected to contract 7.8% to Rs 134.33 lakh crore in 2020-2021, but may grow at 9.6% in 2021-2022.
The India Ratings report also says that the economy, though projected to grow at 9.6% in the next financial year in year-on-year growth term, may grow just 1% in real terms to Rs 147.17 lakh crore as against the Rs 145.66 lakh crore in 2019-2020.
What does it mean in real terms for the Indian economy?
In the first part of an interview with Shobha Warrier/Rediff.com, the director and principal economist at the India Ratings agency, Dr Sunil Kumar Sinha, outlines the economic outlook for India 2021-2022.
From a contraction of 23.9% in the first quarter of the current financial year, Indian economy recovered by -7.5% in the second quarter.
Is relaxing the lockdown the only reason behind this recovery?
Yes, lifting of the lockdown is certainly one of the reasons, because the kind of contraction we saw in the first quarter was largely due to the lockdown.
Since the lockdown was relaxed from June onwards, it helped the economy to recover in the second quarter.
However, we must also understand that typically the second quarter of every year is also the time when a lot of restocking takes place mainly because for the festive season in mind.
So, the contraction dropping from 23.9% to 7.5% is actually a mix of both.
But what we have to watch out for is the number we are going to get for the 3rd and the 4th quarters.
I feel the recovery we saw in the 2nd quarter will continue in the 3rd and 4th quarter also.
You may see contraction in the 3rd quarter also but there may be a kind of levelling or marginal positive growth in the 4th quarter.
But for the entire fiscal year 2020-2021, GDP growth will remain in negative territory.
Our assessment is a 7.8% negative growth for the entire fiscal year.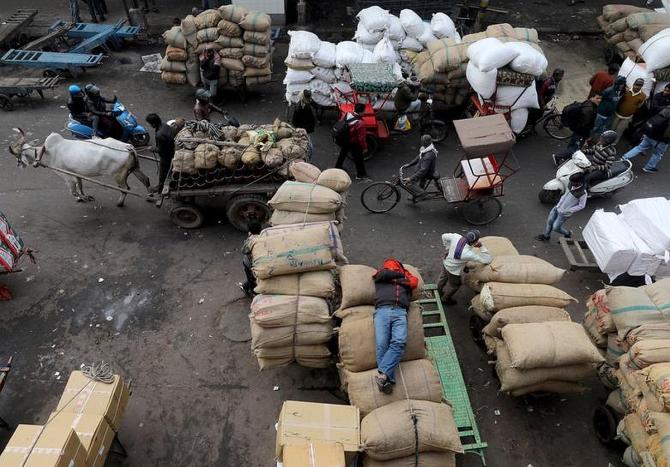 Is the negative growth largely due to the pandemic?
Yes. But if you look at fiscal year 2020, it was also not a very good year.
In 2019 itself, the economy was slowing down and everybody was complaining about lack of demand…
Absolutely. If you look at GDP growth in the last few years, you will see that there were quite a few shocks.
It all started with demonetisation, followed by GST.
Both had negative impact on the unorganised and informal sector.
Also, on small and medium enterprises.
The demand disruption and also production disruption that took place in the unorganised and SME sector had to obviously show up in the overall demand.
In fact, the impact or the lack of demand started showing with a lag.
In 2016, we had De-Mon and in 2017, we had GST.
But the combined impact of these two started showing up in 2019 and 2020.
It became obvious that the kind of income growth most people were expecting was not going to happen.
Urban consumers, who was hoping for a rise in income, realised that it was not likely to happen.
So, they started to put a stop to leverage consumption which became more pronounced in fiscal year 2020.
Naturally this adversely impacted the urban consumption demand which in turn got reflected in slower GDP growth.
My view is that this slowdown in urban consumption would have come at least a few years earlier, but for the 7th Pay Commission revision which provided the necessary support to the urban consumption demand.
By the time we entered fiscal year 2019 and 2020, the stimulus provided by the 7th Pay Commission had played out and the adverse impact of De-Mon and GST was visible on the economy putting a break to 7-8% GDP growth.
As the sentiment of urban consumers worsened, particularly in the private sector, suddenly their consumption behaviour also changed as compared to what they have been following for the last couple of years.
This got more pronounced in fiscal year 2020.
We saw a steady decline in GDP growth from 2016 onwards, from 8.26% to 4.2% in 2019…
In the first two years of the NDA (National Democratic Alliance government headed by Prime Minister Narendra Damodardas Modi), we saw growth in GDP.
In fiscal year 2015 and 2016, GDP growth, in fact, improved.
It was firstly because the commodities prices crashed in 2014 including that of oil; it touched a record low level.
This had a positive effect on growth across the globe including India.
Added to that is, some of the policy paralysis which we saw during UPA 2, changed with NDA 1 coming to rule.
So, things were improving in fiscal year 2015 and 2016.
Then came the De-Mon shock in fiscal year 2017.
Even before the economy could recover from the De-Mon shock, came the rollout of GST.
Since then, things started deteriorating steadily.
From then on, urban consumers started either holding back their expenditure or cutting down.
This started showing in fiscal year 2019, and became more pronounced in fiscal year 2020.
COVID-19 only added insult to injury.
Would you say, the wounds in the economy are self-inflicted?
Probably. If you look at years before 2016-2017, you will see that the GDP of the Indian economy typically behaved in tandem with the global economic growth.
However, in subsequent years, till the pandemic hit us, India's economic growth appeared as if it had decoupled from global growth.
Theoretically, there was nothing wrong in the rollout of GST.
The problem was with the implementation.
But the same cannot be said about De-Mon; whether it helped the economy in any way.
None of the objectives which were stated for De-Mon, happened.
One of them was digitisation.
But the amount of cash that is back in the system clearly shows that the objectives were not achieved.
Pranab Mukherjee in his memoir wrote that the objectives of demonetisation were not met…
True. That was because it was not done with a very thought out strategy.
De-Mon was done in haste, only with a hope.
There was no background work done to check on whether it will benefit or not.
It was done with just a hope that it would benefit.
Do you feel it is not possible to digitise India's unorganised sector and the MSME sector as it is largely cash based?
More than that, anything that is done without fair amount of ground work to find out whether it is workable or not, is bound to fail.
You have to do a pilot study first.
In the case of De-Mon, you only had a hope that it would do A, B, C.
In hindsight, it is pretty clear that De-Mon had only a negative result on the Indian economy.
Feature Presentation: Aslam Hunani/Rediff.com
Source: Read Full Article