Facebook has flashed a technical warning sign.
Its shares entered a death cross last week, meaning its 50-day moving average moved below its 200-day moving average. The technical sign warns of a rapid decline in stock price relative to longer-term performance.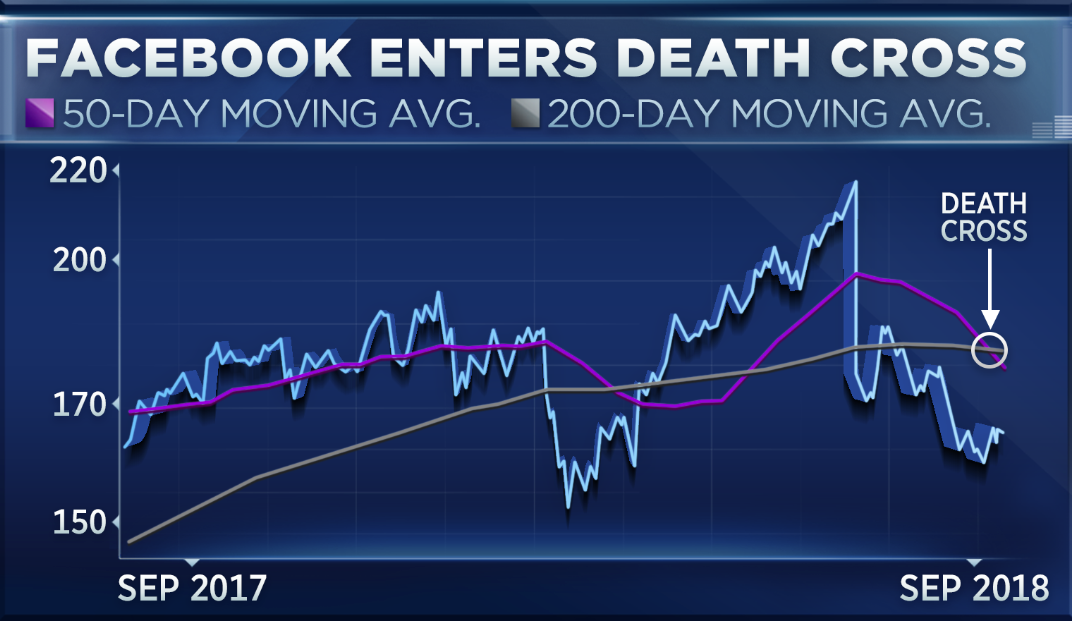 Its steep drop over the past two months has one former Facebook bull worried.
"We own Facebook right now. We've owned it a long time and we've done well but this pullback is really testing our conviction levels," Michael Binger, president of Gradient Investments, told CNBC's "Trading Nation" on Tuesday.
Facebook has fallen 24 percent since hitting an all-time high in late July. Just this month, its shares have slumped 5 percent in one of the worst performances in the newly created XLC communication services ETF.
Headwinds created by increased spending on data privacy and security and the threat of regulation are not going away, said Binger.
"It's going to be dead money for a while until these issues are more behind the company," he said. "When we look at our position we're looking for some cleaner opportunities right now and we'd be more inclined to sell a relief rally than buy more."
Matt Maley, equity strategist at Miller Tabak, is more constructive on Facebook charts. He says as a relatively new publicly traded company, just six years on the market, the lack of historical data means a death cross isn't as reliable a technical sign. Maley is watching out for one critical support level, though.
It's "the 100-week moving average – that's the level that it bounced off of back in March, it's also the trend line for that stock going all the way back to 2013 – so this should provide good support," Maley said Tuesday on "Trading Nation."
Facebook briefly fell below its 100-week average at roughly $150 a share during its March sell-off. It first broke above those levels in mid-2017.
"If I'm wrong and the stock does roll over the $150 level, that's the line in the sand. That's the lows we hit for this move and if we break below that, giving it a key lower low, you're going to see a lot of momentum people throw in the towel so keep an eye on that level," said Maley.
Facebook moved more than 1 percent higher Wednesday ahead of congressional testimony from top executives from Amazon, Alphabet's Google and Twitter before the Senate Commerce Committee.
Not a Scientific Survey. Results may not total 100% due to rounding.
Source: Read Full Article