Hotel companies, which have experienced substantial share price gains in the past six months, are not only expected to post robust revenue growth in the seasonally weak July-September quarter (second quarter, or Q2) of 2023-24 (FY24), with the trend continuing in the second half (H2) of FY24, but according to some analysts, they will also benefit from a structural uptrend in progress.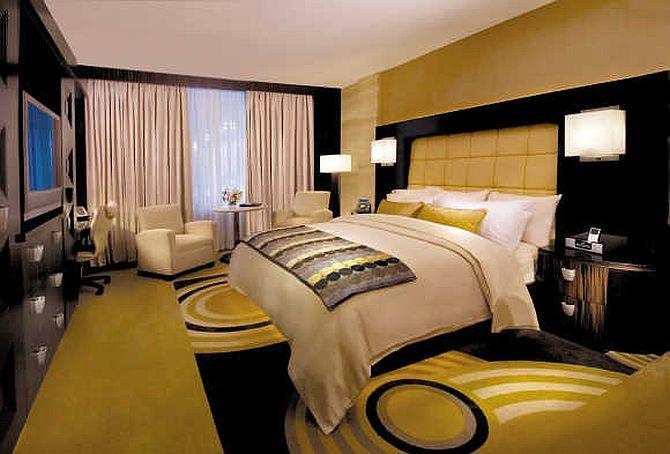 To begin with, larger players in the listed hotel sector are expected to report strong growth in Q2 compared to the year-ago quarter.
Led by higher demand from the business segment, the sector is expected to achieve a growth rate of 15–30 per cent.
Antique Stock Broking anticipates the hospitality industry to report record-high Q2 earnings, driven largely by strong average room rates, while occupancies are expected to improve by 200–400 basis points (bps), helped by robust demand.
Chalet Hotels, which has a portfolio of business hotels, is expected to lead the hotel pack with a revenue growth of 30 per cent.
"Chalet should see one of the best Q2 performances as the company is projected to hold rates above Rs 10,000 per night, reflecting a 29 per cent increase year-on-year (Y-o-Y) compared to Rs 7,900 during the April-June quarter," says Antique Stock Broking.
Q2 demand remained high for the sector, driven by MICE (meetings, incentives, conferences, and exhibitions), coupled with the Group of Twenty and cricket, which contributed to growth.
Better economic growth and increasing air traffic continue to fuel demand for business and leisure destinations, as noted by research analyst Prashant Biyani of Elara Securities.
He estimates overall occupancy to remain flat Y-o-Y, while the average room rate is set to grow by 13-15 per cent.
The largest listed player, Indian Hotels Company, is expected to achieve revenue growth of 17 per cent, supported by a 12 per cent growth in room rates and a 400-bp increase in occupancies.
The company's operating profit margins are anticipated to rise by 280 bps to 26.7 per cent. Due to its sizeable luxury portfolio, the hospitality chain is likely to trail behind players like Chalet in terms of growth.
The average room rates for Lemon Tree Hotels could rise by 8 per cent Y-o-Y to Rs 5,310 with an occupancy rate of 71 per cent.
Overall, Lemon Tree is expected to report a 17.3 per cent Y-o-Y growth in revenue, with an operating profit margin of 47.4 per cent, according to Prabhudas Lilladher Research.
The stock has a 'buy' rating, with a target price of Rs 140.
Looking ahead, Anand Rathi Research expects H2FY24 to be very strong for the industry due to the World Cup, the festival season, the return of international travellers with an 80 per cent occupancy rate, and higher average room rates.
Most brokerages and rating firms are optimistic about the medium-term prospects of the sector, given strong demand and limited supply.
India Ratings & Research (Ind-Ra) expects the overall annual supply growth to be lower at 3–5 per cent Y-o-Y per annum in FY24 and 2024-25 compared to demand growth of 8–10 per cent.
It anticipates the sector to be on a structural uptrend with a steady increase in both room rates and occupancies.
Research analyst Santosh Sinha of Emkay Global Research comments, "We foresee a prolonged period of high occupancy and elevated revenue per available room (RevPAR) for the hospitality industry in India."
While room rates are expected to remain resilient, occupancies would be boosted by leisure travel, foreign tourist arrivals, business meetings, the 2023 ICC Men's Cricket World Cup, and social events.
The improvement in hotel RevPAR is likely to offset challenges created by high lease rentals and staff costs, driving higher cash flows, especially for large hotel groups with more bargaining power, notes Ind-Ra.
The three larger listed players have a robust pipeline of room additions, with room-count growth of 10–13 per cent from 2022–23 through 2025–26 (FY26).
They are expected to benefit from further margin improvement and deleveraging by FY26, owing to increased revenue and a focus on cost reduction.
"For Indian Hotels and Lemon Tree, most room additions will occur through management contracts, as both follow the asset-light business model.
"Chalet, on the other hand, has chosen the ownership route for growth," observes Ind-Ra.
The brokerage has a 'buy' rating on Indian Hotels and Lemon Tree, with target prices of Rs 485 and Rs 141, respectively.
It has a 'hold' rating on Chalet, with a target price of Rs 625.
Any weakness in the stocks should be viewed as a buying opportunity.
Disclaimer: This article is meant for information purposes only. This article and information do not constitute a distribution, an endorsement, an investment advice, an offer to buy or sell or the solicitation of an offer to buy or sell any securities/schemes or any other financial products/investment products mentioned in this article to influence the opinion or behaviour of the investors/recipients.
Any use of the information/any investment and investment related decisions of the investors/recipients are at their sole discretion and risk. Any advice herein is made on a general basis and does not take into account the specific investment objectives of the specific person or group of persons. Opinions expressed herein are subject to change without notice.
Source: Read Full Article