UltraTech Cement's results for the fourth quarter results of the 2022-23 financial year (Q4FY23) were broadly in line with the Street estimates.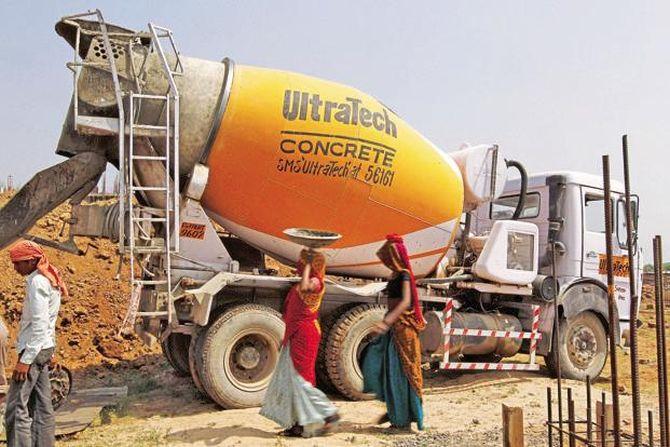 The consolidated revenue, operating profit and net profit stood at Rs 18,700 crore, Rs 3,300 crore and Rs 1,670 crore, respectively, which were up 18 per cent, 8 per cent and 13 per cent YoY, respectively.
For the cement major, the sales volume rose 14 per cent year-on-year (YoY) and 22 per cent quarter-on-quarter (QoQ) to 31.7 million tonnes.
The ready mix concrete and white cement revenues grew 34 per cent and 22 per cent YoY, respectively, during Q4 while grey cement realisation was up 4.6 per cent YoY (flat QoQ).The blended realisation was up 3 per cent YoY (down 2 per cent QoQ).
The operating expenses rose 6 per cent YoY (down 5 per cent QoQ) due to 11 per cent and 5 per cent increase in variable and freight costs, respectively.
Meanwhile, higher expenses per tonne led to 5 per cent YoY drop in operating profit per tonne and 1.7 percentage point YoY drop in operating profit margin (OPM) in Q4FY23.
For FY23, consolidated revenue grew 20 per cent YoY, led by 12 per cent and 8 per cent growth in sales volume and realisation, respectively.
But higher operating expenses (up 14 per cent YoY) led to 8 per cent YoY decline in operating profit to Rs 10,600 crore.
The OPM contracted 5.1 per cent YoY to 16.8 per cent and operating profit/tonne declined 18 per cent YoY to Rs 1,005/tonne.
Adjusted profit was down 11 per cent YoY to Rs 5,060 crore.
The consolidated net debt stood at Rs 2,700 crore, down from Rs 7,700 crore QoQ.
Cash from operations stood at Rs 9,070 crore (Rs 9,280 crore in FY22).
Capex was up at Rs 6,200 crore versus Rs 5,600 crore in FY22.
The management said that fuel prices have been softening but remain very volatile.
Average fuel cost came down slightly QoQ.
Despite higher demand, cement prices could not be hiked and prices are likely to stay stable going forward, due to lower capacity utilisation.
Ultratech has spent around Rs 1,280 crore on cost-cutting measures.
The management is confident that it can beat industry average growth by around 400-500 basis points.
Guidance is for Rs 6,000 crore capex in FY24 and FY25.
The company has added 43MW (megawatt) from waste heat recovery (WHR) and it will add 90MW of WHR capacity in FY24.
It is also adding solar and wind capacity as well as purchasing green power.
About a third of power consumption will be green by the end of FY24.
In the capacity expansion programme, the first phase of 2 million MT capacity will be commissioned by Q1FY24 and the next phase (22.6 million) is to be completed by FY26.
UltraTech should continue to maintain its leadership position in the cement industry with around 26 per cent market share.
Ebitda (earnings before interest, tax, depreciation and amortisation) per tonne may improve by a substantial 17 per cent in FY24 and a further 6 per cent in FY25.
The debt reduction should result in the company turning net cash-positive in FY24.
The firm's stock, at the current price of Rs 7,540, could offer an upside, given analyst valuations between Rs 8,500 and Rs 9,200.
Disclaimer: This article is meant for information purposes only. This article and information do not constitute a distribution, an endorsement, an investment advice, an offer to buy or sell or the solicitation of an offer to buy or sell any securities/schemes or any other financial products/investment products mentioned in this article to influence the opinion or behaviour of the investors/recipients.
Any use of the information/any investment and investment related decisions of the investors/recipients are at their sole discretion and risk. Any advice herein is made on a general basis and does not take into account the specific investment objectives of the specific person or group of persons. Opinions expressed herein are subject to change without notice.
Source: Read Full Article