Many are testing hybrid models including getting small batches to work, rotating staff every week, introducing shifts and allowing certain functions to operate from office in small numbers.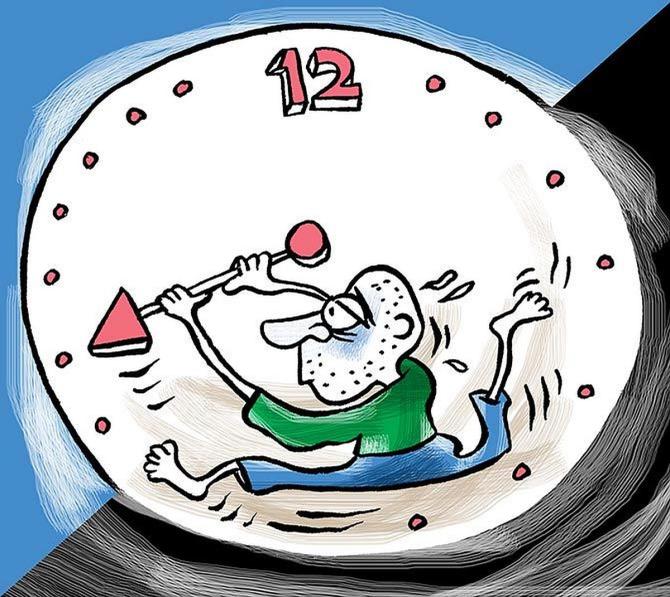 Anubhav Srivastava, a corporate banker based out of Mumbai, has been going to office twice a week since early-January.
After months of working from home, Srivastava, who is employed with a leading Indian bank, says he is relieved to be getting back to office.
While multinational companies continue with their work-from-home policy for now, homegrown majors are welcoming their employees back to office, albeit cautiously.
Many are testing hybrid models including getting small batches to work, rotating staff every week, introducing shifts and allowing certain functions to operate from office in small numbers.
As Charu Sabnavis, a human resources expert, who is founder-director of Mumbai-based Delta Learning, says, "Office life has undergone a massive change.
"While the manufacturing sector has been up and running for some time now, on the services side, resumption of office has been gradual.
"I find a lot of companies permitting just 20-30 per cent of their staff to get back to work.
"This will continue for some time. Having said that, some companies have taken to remote working permanently."
An example of this is Chennai-based CavinKare, which has adopted work-from-home for office staff on a permanent basis.
"Remote working started off as a quick response to the pandemic.
"As we progressed, we found that there were many areas that could be handled smoothly from home without impact on productivity.
"We began testing processes and roles from remote locations and eventually adopted work-from-home completely," said Venkatesh Vijayaraghavan, director & chief executive officer, personal care & alliances, CavinKare.
Flipkart has a blended model, allowing most of its corporate employees to work from home till May 31.
Those unable to perform optimally at home have been allowed to come to office, but hygiene rules are strict, a Flipkart spokesperson said.
"A seat-booking module has been enabled to allow employees to book their seats when they need to work from campus.
"This ensures that there are limited number of people per floor at any given time and helps the company in contact tracing, if the need arises," the spokesperson said.
Pharma major GSK has allowed around 30 per cent of its staff to get back to office.
But, as a company spokesperson said, the number of employees present on any given day does not exceed 15 per cent, since rules are stringent for employees coming to office.
Kolkata-based ITC, on the other hand, has given employees the choice to get back to office.
"The current policy of working remotely is being reviewed.
"Once the vaccine is rolled out, there will be a staggered transition to working from office.
"We will then gradually enhance office presence," Amitav Mukherji, head, corporate human resources, ITC, said.
Consider what Titan from the house of Tatas is doing.
While the company reopened its offices in May, 40 per cent of its staff continue to work from home to this day.
The 60 per cent who make it to work are doing so on a rotational basis.
The endeavour is to avoid crowding in offices and maintain social distancing.
"Apart from regular sanitisation, all Titan employees are required to give a declaration regarding their health status using an app.
"That gives us a real-time view of their health, helping us decide whether they should come to work or not," Raj Narayan, senior vice-president and chief human resources manager, Titan, says.
Companies such as Ashok Leyland and TVS Motors have flexi-working options, calling employees on alternate days, doing health checkups on a regular basis and providing transport to people coming to office.
"We have removed chairs in the office area to ensure that at least three feet of distance is maintained between work stations.
"Common rooms are sanitised regularly and floor marshals have been appointed to ensure enforcement of discipline," says Balachandar NV, president, human resources, communication and CSR, Ashok Leyland.
Amit Gossain, managing director (MD), Kone Elevators, says, "We've resumed office with 50 per cent staff, who work in shifts.
"We maintain social distancing in the office and conference rooms.
"And do not have large meetings and get-togethers in office."
V R Sharma, MD, Jindal Steel and Power, says, "We had idle space in our Gurgaon and Delhi offices, so we shifted people to different floors.
"This has reduced the density of people per floor. We are also getting Covid tests done for employees every week."
Viveat Susan Pinto, Sohini Das, TE Narasimhan, Samreen Ahmad, Peerzada Abrar and Ishita Ayan Dutt contributed to this story
Source: Read Full Article