Veterans in the travel industry, a well-known corporate lawyer, and a marquee US-based hedge fund have backed the upcoming low-cost airline Akasa Air.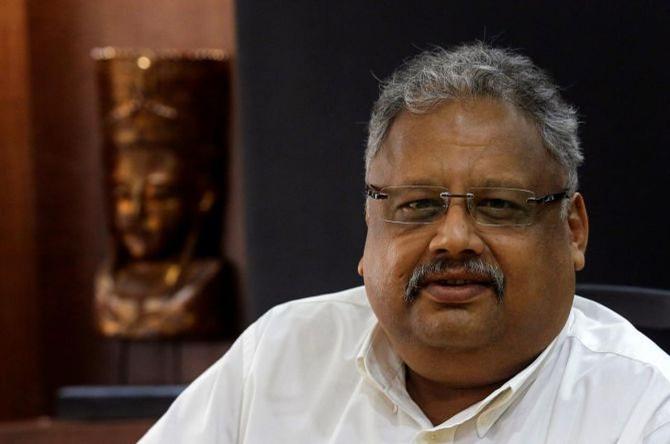 Founded by former Jet Airways chief executive officer (CEO) Vinay Dube, the venture counts ace stock trader and investor Rakesh Jhunjhunwala as its biggest financial backer with an investment of around Rs 300 crore.
A person with knowledge of the development said most of the people were well known to Jhunjhunwala and Dube, who approached them during the conception stage.
The bulk of the company's shares will be held by the duo with a combined shareholding of around 80 per cent.
While most of the investments are small-scale now, experts tracking Indian aviation said their presence would bring quality to the functioning of the company.
"It is also about getting the right kind of people on the board and management.
"The investor pool is diverse and with credentials, so it will bring in value.
"Akasa seems to have the building blocks like financial and intellectual capital," said Kapil Kaul, CEO (South Asia) of aviation consultancy firm CAPA.
Take, for instance, the case of US-based hedge fund Par Capital Management, which has holdings in some top airline stocks around the world and has invested around Rs 40 crore in the company.
Founded by two former airline analysts, Paul Reeder and Edward Shapiro, the group holds positions in multiple airlines like Delta Airlines, United Airlines, SouthWest, and Sun Country, and new-age travel companies like Uber.
Well-known corporate lawyer Berjis Desai, former managing partner at law firm JSA, has invested in the airline.
Desai said his investment was on the basis of trust in Jhunjhunwala's business acumen and a belief that the next five years would be a boom for low-cost airlines.
Desai said veterans of the aviation industry like Aditya Ghosh being part of the team increased his confidence.
"I have made a small investment.
"I understand aviation is a high-risk, high-reward business and generally people are cynical about it. But I believe there will be a boom for low-cost airlines in next five-seven years.
"It is a bet on Jhunjhunwala's business acumen," said Desai.
Veteran fund manager Madhu Kela is one more marquee backer of the airline with an investment of around Rs 4.5 crore.
Kela, during his days at Reliance Capital, had become a go-to person for investors to identify companies at an early stage — the ones, in future, were to give multiple returns.
Sources said the relationship of mutual trust with Jhunjhunwala drew him to invest in the company.
Dubey, who had worked in Delta and distribution firm Sabre, has drawn multiple HNI (high-net-worth individual) C suite veterans like former Sabre executive Ninan Chacko and co-founder of online real estate portal PropTiger Kartik Varma to the list of investors.
"After Covid there will be a boom in travel and airline will be one of the primary winners of this boom," said an HNI who has invested in Akasa.
Dube is finalising the structure of the board as part of the process to get an air operator's permit for its first flight in May.
He said the investors had come on board with the belief that the company could make money despite being in a market like India where airlines found it difficult to increase ticket prices and generate profit.
"My view is if done correctly, it could have a sustained level of profitability.
"We are fortunate to have the right quality of investors who have entered with similar thoughts that if done correctly, over time it will generate profits for them," Dube said.
There was no response from Jhunjhunwala to emailed and text queries on the subject.
The interest from multiple backers in Akasa comes at a time when airlines, hit by two consecutive years of the pandemic, are scouring for funds.
According to rating agency CRISIL, Indian airlines are expected to post a record loss of over Rs 20,000 crore this financial year because of the third wave and higher aviation turbine fuel prices.
Industry executives said the vote of confidence from veteran players came from the belief that with existing airlines having weak financials, Akasa, which would have a clean slate and a lower cost structure, could pitch to be a strong No 2 in coming years.
Kaul said along with start-up capital, aircraft sale and lease-back gains would give the airline $300-350 million, which is critical to make the venture work.
Akasa aims to capitalise on that by inducting around 18 aircraft in the first year of operations.
Photograph: Shailesh Andrade/Reuters
Source: Read Full Article