Stocks of small- and mid-cap companies continued to gain ground in July, notwithstanding analysts sounding caution on these two market segments given the sharp run thus far in calendar year 2023 (CY23).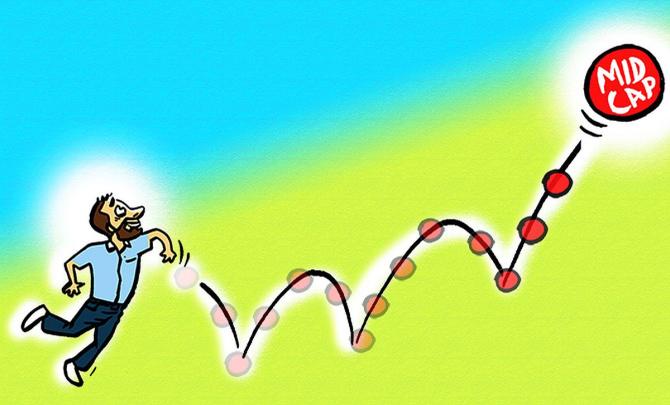 Sanjeev Prasad, co-head of Kotak Institutional Equities, in a note co-authored with Anindya Bhowmik and Sunita Baldawa in June-end, had cautioned against the sharp run in small- and mid-caps.
"We do not see any particular reason for the excitement in small- and mid-cap stocks.
"We can perhaps understand the rerating seen in certain sectors, such as banking, financial services and insurance (smaller private banks), health care services (hospitals), and real estate, given their somewhat reasonable valuations before the recent rally and strong outlook," he wrote.
Yet, in July, the market action continued in the small-caps that saw the S&P BSE SmallCap Index surging 7.4 per cent compared to a 5.7 per cent rise in the S&P BSE MidCap Index, and a modest 2.8 per cent gain in the Sensex.
On August 1, the BSE SmallCap hit a fresh 52-week high of 35,253.2 levels in intraday trade.
Thus far in CY23, the small- and mid-cap indices on the BSE have gained nearly 22 per cent each compared to a 9 per cent rally in the Sensex, reveals data.
A large part of the rally, especially in small- and mid-caps, according to Chokkalingam G, managing director-research at Equinomics Research & Advisory, has been on account of retail investors lapping up these stocks to make a good return in a short time.
This, he says, is evident in the number of dematerialised accounts being opened.
"Over 720,000 new investors registered on the BSE platform, taking the total base of BSE to 137.6 million.
"We continue to believe that the domestic market doesn't have much liquidity to support the market in the very short term if there are any adverse fundamental developments or any sentimental impact for the markets," he says.
As an investment strategy, Chokkalingam remains cautious about the markets in the short term and suggests investors tilt towards large- and large mid-caps to the extent of 30-50 per cent in their portfolios.
"I prefer defensive sectors like pharma and suggest investors exit overvalued small- and mid-cap stocks," he says.
Meanwhile, at the bourses, among the small-cap stocks on the BSE, shares of Jai Balaji Industries, Lloyds Engineering Works, Thangamayil Jewellery, Mazagon Dock Shipbuilders, DCM Shriram Industries, Action Construction Equipment, Jyothy Labs, Texmaco Infrastructure & Holdings, Sunflag Iron & Steel Co., and Engineers India gained between 38 per cent and 107 per cent in July, according to ACE Equity data.
From a sentiment perspective, U R Bhat, co-founder and director of Alphaniti Fintech, believes that the markets are pricing in most positives at the current levels.
Even a slight disappointment in the overall 2023-24 April-June quarter corporate earnings, or otherwise, can trigger a correction in the markets, especially in small- and mid-caps that have seen a good run recently.
"The foreign institutional investors have been intermittently selling and are looking over their shoulder for any bad news to exit the markets.
"That said, the correction/call will be gradual and not steep/sharp.
"The front line indices can shave off a couple of hundred points daily, and the market, therefore, sees a time and price-wise correction.
"In the worst-case scenario, the S&P BSE Sensex and the National Stock Exchange Nifty50 can slip 3 per cent to 5 per cent from here on out," cautions Bhat
Source: Read Full Article