For the first time in a decade, inflows into equity mutual funds (MFs) decoupled from the past performance of the equity market, as investors continued to pour money into the market unperturbed by lacklustre returns.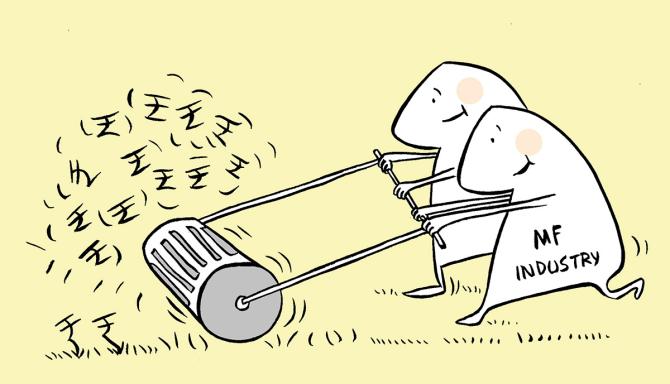 Inflows into equity funds have remained strong since November 2022 despite a poor one-year return scorecard for most schemes, shows a research by Kotak Institutional Equities (KIE).
In every previous phase of equity market underperformance since January 2021, inflows had nosedived after a period of six months, the study shows.
The deviation from the past trend this time was underpinned by steady flows through systematic investment plans (SIPs), elevated lump sum investments and lower redemptions. SIP flows, which mostly go into equity schemes, have remained above Rs 13,000 crore since October 2022.
The KIE report shows that the last time when the equity market was underperforming during the July 2018-July 2020 period, equity MF flows took a hit six months after the onset of underperformance.
Expectedly, the equity flows used to be buoyant after every rally.
"Data for the past decade shows a reasonable correlation between one-year benchmark returns and MF net equity flows six months later.
"However, we have seen a contrast emerge in the past few months — market returns have stagnated to low-single digits.
"And, net inflows have rebounded sharply from near zero in November 2022 to a 12-month high of Rs 20,000 crore in March 2023," the report noted.
While it is difficult to predict if this disconnect is temporary or permanent, the decoupling of SIP flows from the market condition (as seen since the start of 2021), is likely to weaken the link between equity market performance and MF inflows.
Retail investors' preference for SIPs has led to a spike in the share of SIPs in the total equity assets under management (AUM).
Data shows that SIPs now account for 34 per cent of the total equity AUM compared to 25 per cent at the end of FY19.
Apart from the strong and steady SIP flows, a general change in investor behaviour is bringing about a shift in equity investing trend.
In a report in November 2022, ICICI Direct said that investors were trying to time the market in the past few years.
They were open to investing more during market turmoil.
According to the study, there have been at least three instances in the last four-five years when investors increased their equity investments in MFs when the market was going down.
Similarly, they were seen redeeming their holdings after a market rally.
Source: Read Full Article