'This will have a multiplier effect in generating more jobs.'
The National Monetisation Pipeline project was one of the biggest announcements made by Finance Minister Nirmala Sitharaman this financial year.
How successful will it be?
"The challenge is not in the idea, it is in its execution," Ananth Narayan, — a banking and financial markets expert who is currently an adjunct associate professor at the S P Jain Institute of Management — tells Rediff.com's Shobha Warrier.
Part I: 'NMP is very tough to execute'
Even now, the criticism is that the government is giving away invaluable public assets built over many decades to a chosen few…
My point is, if anyway what they've proposed is going to be characterised as an actual sale, they might as well have gone for a full sale.
But these are political decisions, and to be fair to the administration, implementing ideas of this kind will require navigation of a difficult political landscape.
Do you think the chances of this idea to succeed is dim?
As I said earlier, the execution will be extremely challenging.
It is a great announcement, a very good idea, but I am going to wait. I am not holding my breath!
Unfortunately, our experience of execution of such reform by the government and bureaucracy, and the complexity of our political process has not been very encouraging.
So, the extraneous risks attached to this kind of transactions which are outside of the project itself, are very high.
Does that make these projects more or less like the earlier public private partnership model projects?
Yes, in a different form. Earlier, the PPP was largely greenfield projects.
This is more about monetising existing brownfield projects.
The good news is that construction or completion risk of the project itself does not exist now.
We don't need to wait for land acquisition/environmental clearances etc., as the asset would be up and running already.
But yes, the risks I mentioned above would still persist.
How do you look at the Rs 6 lakh crore the government is planning to generate from these projects in the next 4 years?
At one level, it is good to have an ambitious target.
But it does look very, very ambitious.
Rs 88,000 crores (rs 880 billion) for this fiscal year, and Rs 162,000 crores (Rs 1.62 trillion) in the next fiscal year.. looks very ambitious.
The finance minister said this would be a boost to the infra sector. Do you think so?
If this works out as they have planned, it would.
They are tying the National Infrastructure Pipeline to this which means all the money they are going to get through the NMP process will be put back into infrastructure.
The idea is excellent. Monetise your current assets and build fresh assets especially at a time when the private sector investment cycle is broken.
This is a great way of creating jobs, domestic output, and hopefully setting the stage for a full private sector investment cycle to follow — both from domestic investments and with FDI.
If you leave these assets with the government, you typically get less value from them.
Look at the number of public sector units that are there both at the central and state level.
Many of them are loss making and the market capitalisation is low.
I think there is an argument to be made if you allow private sector to come in in the non-critical sectors, you can generate better value.
I like the idea of monetisation as the private sector can do a far better job of monetising of some of these assets than the government ever can.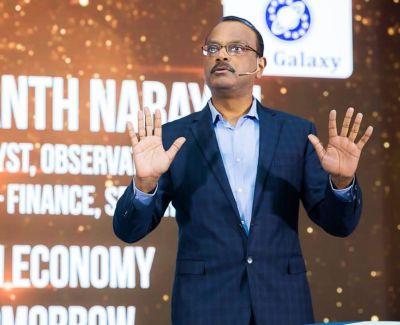 Will this change the way business is done in India? That is, if it succeeds…
I think so. I will give a different perspective. As on date, the private sector is not investing in fresh capacity.
Liquid capacity utilisation is below 70%. There is no requirement for them to invest.
So, if you want jobs and output to grow, the government will have to step up.
We also know that the fiscal situation is not in great shape.
Where is the space for the government to spend more now?
Investors have money, look at the money going to the stock market!
This is a great way of channelling some of those savings into productive assets, and the private sector should be able to extract better value from them.
More importantly, you are giving money upfront to the government which can then invest in infrastructure, education, healthcare, sanitation, public services etc.
This will have a multiplier effect in generating more jobs, more output and maybe getting back the investment cycle of the private side.
In theory, all this is a very good idea. The problem is not the idea, the problem is execution.
Some of the announcements that have come from this government in the past have been fantastic, like Make in India, Smart Cities, Skill India… But what happened to them?
It is one thing to make announcements of very good intent, but following through on their execution is the most important thing.
Feature Presentation: Aslam Hunani/Rediff.com
Source: Read Full Article