'India's output contraction in the previous year was among the worst in the world!'
While many commentators applaud the Rs 7 lakh crore capital expenditure Finance Minister Nirmala Sitharaman has allotted for various infrastructure projects in the Budget, Professor R Nagaraj chooses to ask some tough questions.
He is a Visiting Professor at the Centre for Development Studies, Thiruvananthapuram. Before that, he was an economics professor at the Indira Gandhi Institute of Development Research, Mumbai.
"These are just grand announcements which people forget after the Budget presentation is over," Professor Nagaraj tells Rediff.com's Shobha Warrier in the concluding segment of a two-part interview.
Part I: 'Government doesn't believe unemployment is a problem'
It is assumed that the capex of Rs 7 lakh crore will spiral growth and increase consumption. But one survey says that 84% of Indian households experienced a fall in their income last year alone.
If that is the case, how will consumption increase?
That is the question. If you have planned a grand scheme like the Bhakra-Nangal dam which was the biggest project in the world at that time where the government made huge investment both in terms of men and materials, it would create thousands of jobs, both skilled and unskilled.
Only if you launch such large projects, it will put money in the hands of the workers.
When they have money in their hands, they will spend and increase consumption which in turn will result in growth.
This will happen only if they have tied up all the loose ends of the projects, and have a committed budget to launch them.
Are you sceptical about the capital expenditure of Rs 7 lakh crores working?
Interestingly, last year too, public investment was raised by almost the same proportion, that is, 34.5%. It means we had a similar ambitious announcement last year too!
What did it lead to? It led to an increase in public investment of just 0.2% of the GDP.
These are just grand announcements which people forget after the Budget presentation is over.
The finance minister said later that the numbers might look conservative, but they were realistic. Do you think so?
They are not realistic. They are just grand posturing.
They are by and large a political statement to show intent.
If you look at it carefully, you will see that they are intent without any content.
Unless the intent is tied up with a plan of action, it will not give confidence.
Otherwise, grand announcements will remain just announcements.
India is facing an inflation of around 12%. Globally also, there is inflation. Oil prices are rising. How concerned should we be?
I am very concerned. I would say, on account of rising oil prices, and raising the interest rates by the US, it will be challenging to meet the ambitious investment targets.
The government does not appear to be adequately conscious of this, at least in the budget.
Do you think the 9.2% growth in the current year which they are talking about, will be tough to achieve?
9.2% is just recovery.
The Budget started with a self-congratulatory announcement that the domestic output would likely to grow at 9.2% this year, over last year, the highest among the world's large economies.
What was unsaid was, India's output contraction in the previous year was among the worst in the world! Our GDP contracted by 7.2% last year.
Compared to the pre-pandemic year, that is 2019-2020, this year's GDP will only be marginally higher at 1.3%.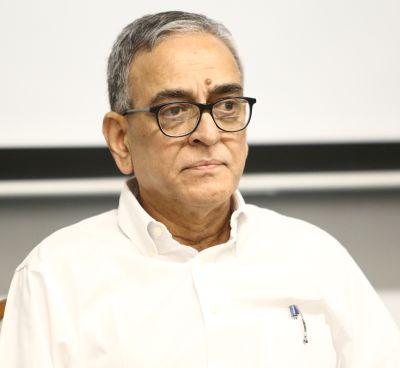 Even during the pandemic, India's GDP growth was only 3.1%….
That was what I was arguing, Arvind Subramanian was arguing. And many other economists too..
It is a fact that the GDP growth had slowed down after 2014-2015. And we have been slowing down ever since.
The pandemic has led to a negative growth rate.
It has resulted in two years of loss of growth.
Hence, the per capita income today is lower than what it was two years ago.
In fact, between pre-pandemic and this year, private consumption as a percentage of GDP has fallen by 3% which is significant.
That is because the poor have no money to consume as they have lost employment.
So, what I want to say is, the projected 9.2% growth is just for the galleries.
Shashi Tharoor is right in describing the Budget as a damp squib.
Feature Presentation: Aslam Hunani/Rediff.com
Source: Read Full Article