The changes in the domestic and global economy following the outbreak of the Covid-19 pandemic are altering the corporate profit league table in India.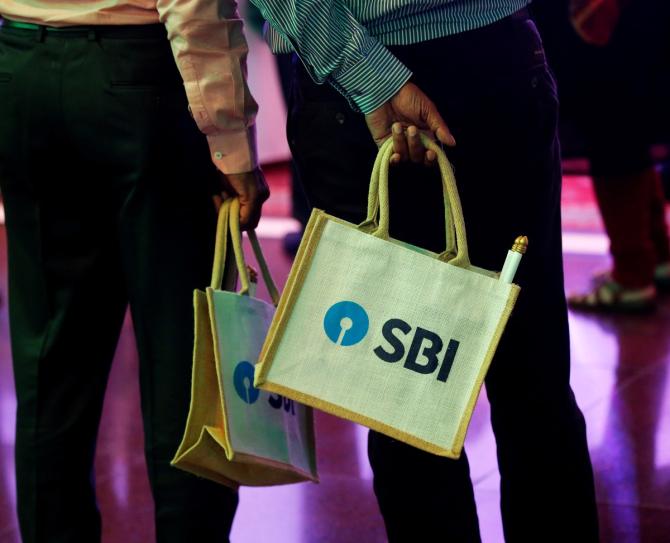 Reliance Industries (RIL), which topped the India Inc profit chart for more than a decade, lost out to State Bank of India (SBI) in the 2023-24 (FY24) April-June quarter (first quarter, or Q1).
India's biggest lender reported a consolidated net profit (adjusted for exceptional gains and losses) of Rs 66,860 crore during the trailing 12-month (TTM) ended in June this year, ahead of RIL's TTM adjusted net profit of Rs 64,758 crore in the quarter.
The public sector lender's quarterly net profit in Q1FY24 at Rs 18,537 crore was also ahead of RIL's quarterly net profit of Rs 16,011 crore.
This is only the second occasion in the past two decades that SBI has reported a higher net profit on a TTM basis.
The previous occasion was the 2011-12 (FY12) July-September quarter when SBI reported a TTM net profit of Rs 18,810 crore against RIL's consolidated net profit of Rs 18,588 crore.
Historically, RIL has competed with public sector oil and gas majors such as Oil and Natural Gas Corporation (ONGC) and Indian Oil Corporation (IndianOil) for the rank of the country's most profitable firm.
RIL was last beaten in the profit league table by IndianOil during the TTM ended April-June quarter of 2012-13.
Before this, ONGC was ahead of RIL in the profit league until the October-December quarter of FY12.
RIL lost its position in the league table due to a sharp decline in refining and petrochemicals (petchem) at its oil-to-chemicals business due to adverse price movement in the global fuel and petchem after the Russia-Ukraine war.
As a result, RIL's consolidated net profit was down 10.6 per cent year-on-year (YoY) to Rs 16,011 crore in Q1FY24, its worst showing in 11 quarters.
By comparison, SBI reported another quarter of record-high earnings, thanks to gains from faster credit growth, rising spread between interest on loans and interest on deposits, and the reversal of past bad loans.
The lender's net profit was up 153.1 per cent YoY in Q1FY24 on a low base in Q1 of the previous financial year (2022-23).
The spectacular turnaround in SBI's net profit from losses until the Q1 of 2018-19 is part of the broader process of the growing heft of the banking, financial services and insurance (BFSI) and stockbroking sectors in the Indian economy and the corporate sector.
The companies in the BFSI sector now account for nearly 35 per cent of corporate profits, up sharply from around 10 per cent before the pandemic.
In contrast, there has been a relative decline in companies in the industrial and manufacturing sectors in recent years, leading to poor revenue and profit growth for companies in this space.
For example, the annual profit before interest and tax of RIL's oil refining and petchem division has largely remained unchanged in four years.
Most of the incremental growth in RIL's consolidated earnings has come from its newer non-industrial business ventures such as retail and telecommunication services.
However, these newer divisions are not as profitable as its older industrial businesses, leading to pressure on its overall earnings.
RIL's consolidated net profit in Q1FY24 was very similar to its earnings in the 2020-21 October-December quarter despite growth in its new businesses during the period.
Source: Read Full Article