The Street shrugged off a muted first quarter of financial year 2023-24 (Q1FY24) and a cautious near-term outlook by India's largest information technology (IT) services company, Tata Consultancy Services (TCS).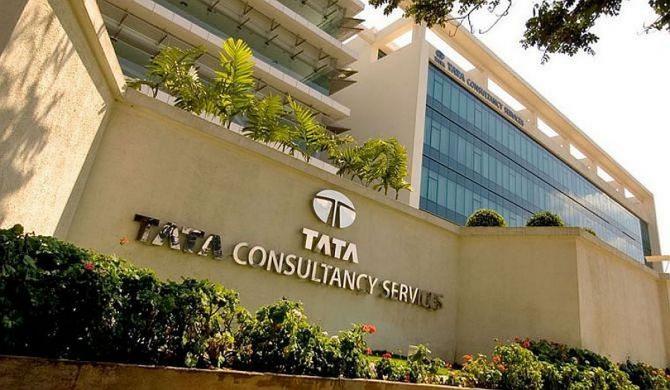 The stock was the top Nifty50 and Sensex gainer on Thursday, rising 2.5 per cent, as investors took comfort from a robust order book and an encouraging pipeline.
Like its larger peer, HCL Technologies' (HCL Tech), too fell short of the Street's expectations on the revenue and margin fronts given cuts in discretionary expenditure.
While the margin impact for TCS was on account of higher wage costs, a lower profitability in the engineering research and development vertical and higher costs dented HCL Tech's performance.
Though both companies fell short of estimates, the Street is more cautious on HCL Tech on account of Q1 results (higher miss than TCS) and scepticism on the ability of the company to meet their FY24 guidance.
The HCL Tech stock was the only IT major that ended a shade negative even as its peers topped the Sensex list of gainers.
The company which reported a revenue fall of 1.3 per cent quarter on quarter (QoQ) in Q1, has maintained its revenue growth guidance at constant currency of 6-8 per cent for FY24.
Say Abhishek Kumar and Anuj Kotewar of JM Financial Research, "Though the company maintained its full year guidance, a steep ask rate (2.8-4 per cent quarterly growth rate) and an uncertain environment make it a bit optimistic.
At 17 per cent margin in Q1 (vs expectations of 18 per cent) and with wage hike still ahead, achieving the 18-19 per cent guided margin band could also be a stretch."
Most brokerages have cut HCL Tech's earnings estimates keeping their growth assumptions for FY24 at the lower end of the guidance.
The positive from TCS' point of view, which reported flat sales growth QoQ, was the strong order book which topped the $10.2-billion mark.
This was up 2 per cent sequentially and 24 per cent over the year ago period (Q1FY23).
This is the second consecutive quarter of $10 billion plus order wins with a book-to-bill ratio of 1.4 times.
While its margins in the quarter, at 23.2, were lower than estimates, the company is aiming for a 26-28 per cent growth with FY24 margins higher over last year.
The company ended FY23 with a margin of 24.1 per cent.
Kumar Rakesh of BNP Paribas Research believes that continued strong deal signings gives confidence that the slowdown is transient and TCS will gain revenue market share in a cost-focussed demand environment.
Despite the strong deal wins, the management was cautious about a pick-up in demand given the uncertainty around discretionary projects in verticals like banking, technology, and telecom.
Most brokerages have maintained or marginally cut their earnings estimates for TCS.
While the stocks of most IT bigwigs (including that of Wipro whose Q1 numbers were a tad lower than estimates) have seen an uptick on Thursday, investors should be cautious given the commentary around IT spends.
Source: Read Full Article