Here are some data on which teams are seeing the biggest price increases and decreases for the second half of the season compared to the first half of the season. See the raw data on all MLB teams and check out the TicketIQ MLB page.
Gainers:
Not surprisingly, the Red Sox have seen the largest price increase compared to the first half of the season, which is no surprise given their record, which is the best in Major League Baseball. With their surge to claim first place in the NL Central, the Cubs are tied with the surprise Brewers, who had 5 players in mid summer's classic, for the second highest increase. Despite losing Robinson Cano for a substance abuse violation, the Mariners continue to compete, which has driven up prices at Safeco field.
Losers:
While the decrease in price for the last place Rangers is not a surprise, the decrease in the Astros average prices may be. Coming off of their first-ever World Series win, enthusiasm and demand for Astros tickets for the first half of the season were at historic highs. With their team back in first place, Astros fans may also be saving their money for the post season.
After starting the season with high expectations, the Mets price decline should come as no surprise. If they continue to falter and end up trading All Star Jacob deGrom prices could fall even more. Both the Rockies and Padres declines are small enough to not be meaningful. If the Rockies continue to play well, prices could rise into October.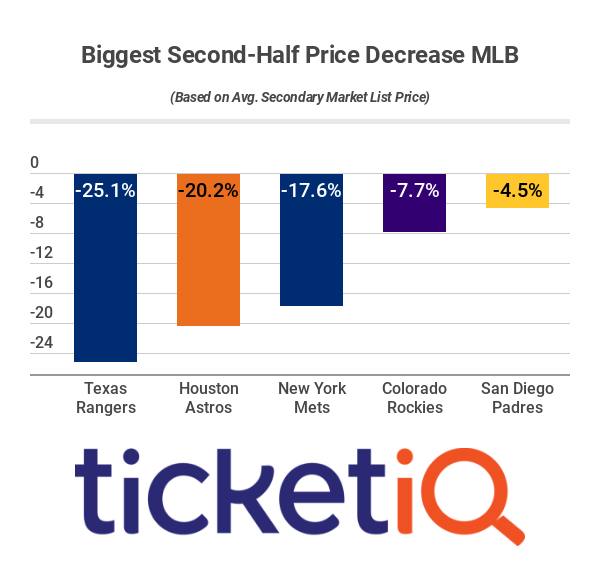 Source: Read Full Article