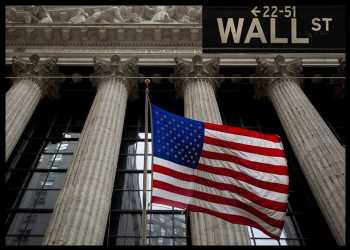 After showing a lack of direction early in the session, stocks continue to turn in a lackluster performance in afternoon trading on Monday. While the Nasdaq slid firmly into negative territory in early afternoon trading, the tech-heavy index has shown a notable recovery since then.
Currently, the major averages are turning in a mixed performance. The Nasdaq is down 43.46 points or 0.4 percent at 12,028.99, while the S&P 500 is up just 0.96 points or less than a tenth of a percent at 4,134.48 and the Dow is up 19.30 points or 0.1 percent at 33,828.26.
The choppy trading on Wall Street comes as traders remain reluctant to make significant moves ahead of the release of earnings news from several big name companies in the coming days.
Tech giants Alphabet (GOOGL), Amazon (AMZN), Intel (INTC), Meta Platforms (META) and Microsoft (MSFT) are among a slew of well-known companies due to report their quarterly results this week.
"America's S&P 500 has added $2.4 trillion in market capitalization so far in 2023 and just six stocks – Meta Platforms, Amazon, Apple, Netflix, Google's parent Alphabet and Microsoft has provided $1.6 trillion of that gain between them, or two-thirds of the total," says AJ Bell investment director Russ Mould.
He added, "After a lukewarm set of figures from Netflix last week, and a sharp year-on-year drop in first-quarter profits from another tech darling, Tesla, investors will be looking to five of the MAANAM sextet (or FAANGM group as they once were) to deliver good results and upbeat outlooks and help U.S. equity markets maintain the run that began last October."
A lack of major U.S. economic data may also be keeping some traders on the sidelines ahead of the release of several key reports.
Reports on consumer confidence, new home sales, durable goods orders, first quarter GDP and personal income and spending are likely to attract attention in the coming days.
The personal income and spending report includes a reading on inflation said to be preferred by the Federal Reserve and could impact the outlook for interest rates ahead of the Fed meeting next week.
Sector News
Oil service stocks continue to see substantial strength in afternoon trading, resulting in a 2.6 percent surge by the Philadelphia Oil Service Index.
The rally by oil service stocks comes amid a sharp increase by the price of crude oil, with crude for June delivery jumping $1.10 to $78.98 a barrel.
Oil producer, gold and natural gas stocks have also moved to the upside along with the price of their associated commodities.
On the other hand, software and computer hardware stocks have come under pressure, weighing on the tech-heavy Nasdaq.
Reflecting the weakness in the sectors, the Dow Jones U.S. Software Index and the NYSE Arca Computer Hardware Index are both down by 1.3 percent.
Other Markets
In overseas trading, stock markets across the Asia-Pacific region moved mostly lower during trading on Monday. While Japan's Nikkei 225 Index bucked the downtrend and inched up by 0.1 percent, China's Shanghai Composite Index slid by 0.8 percent and Hong Kong's Hang Seng Index fell by 0.6 percent.
Meanwhile, the major European markets finished the day little changed. While the German DAX Index edged down by 0.1 percent, the French CAC 40 Index and the U.K.'s FTSE 100 Index closed just below the unchanged line.
In the bond market, treasuries have climbed firmly into positive territory over the course of the session. As a result, the yield on the benchmark ten-year note, which moves opposite of its price, is down by 5.5 basis points at 3.515 percent.
Source: Read Full Article