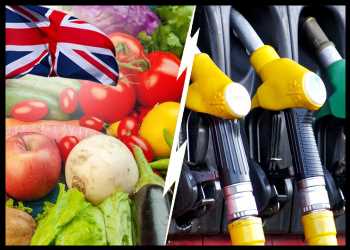 UK consumer price inflation remained unchanged in September as the rise in oil prices was offset by the slowdown in food inflation, but this is unlikely to prompt the Bank of England to end the current pause and raise rates further in the November policy session.
The consumer price index, or CPI, posted a steady annual growth of 6.7 percent in September, the Office for National Statistics reported Wednesday. Economists had expected the rate to ease to 6.6 percent.
Excluding August 2023 inflation figure, the September rate was the lowest since February 2022.
The largest downward contribution to the annual inflation came from food and non-alcoholic beverages, while rising prices for motor fuel made the biggest upward contribution.
Core inflation that excludes energy, food, alcoholic beverages and tobacco, slowed to 6.1 percent in September from 6.2 percent in August. The rate was seen at 6.0 percent.
Services inflation accelerated to 6.9 percent from 6.8 percent in August. Meanwhile, growth in goods prices softened to 6.2 percent from 6.3 percent in August.
At the same time, the monthly inflation accelerated to 0.5 percent, in line with expectations, from 0.3 percent in August.
Chancellor of the Exchequer Jeremy Hunt said, "Inflation rarely falls in a straight line, but if we stick to our plan then we still expect it to keep falling this year."
The BoE had paused its policy tightening in September after raising the rate at each and every rate-setting meeting since December 2021. At 5.25 percent, the interest rate was the highest since early 2008.
There is nothing in today's inflation that will tempt the BoE into resuming its rate hike cycle in early November, ING economist James Smith said.
With slowing food inflation, headline inflation is set to dip to 5 percent or below in October and stay broadly unchanged until the end of the year but this partly depends on what happens to oil prices, the economist added.
Although the failure of CPI inflation to fall in September will be a bit of a disappointment to most, inflation remains on track to fall below 5.1 percent by December as the Prime Minister pledged, Capital Economics' economist Paul Dales said.
However, Dales pointed out that the new risk is that events in the Middle East restrain how far inflation falls next year.
Separately, the ONS said output prices registered a 0.1 percent fall annually after a 0.5 percent decrease. This was less severe than economists' forecast of 0.2 percent drop.
Meanwhile, the month-on-month increase in output prices doubled to 0.4 percent from 0.2 percent in August and remained above the expected rate of 0.3 percent.
On a yearly basis, the decline in input prices deepened to 2.6 percent from 2.0 percent in August, data showed. At the same time, input prices posted a slower monthly growth of 0.4 percent after a 0.8 percent gain a month ago.
British house prices weakened sharply to 0.2 percent in August from 0.7 percent in July, data from ONS showed. The average house price was GBP 291,000, which was GBP 9,000 above the recent low point in March 2023, the ONS said.
Source: Read Full Article