After dipping by as much as 17 per cent in April, readymade garment (RMG) exports of all textile categories in India are showing signs of recovery in May.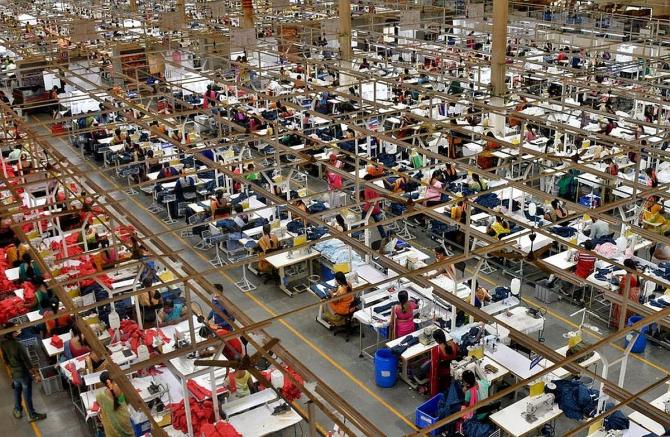 Exporters in Tiruppur are indicating a rise in rupee terms during the month, while it may take at least a month for volumes to be back in positive terrain.
Among the global majors that are placing orders in the textile hub include Walmart, H&M (Hennes & Mauritz AB), Tommy Hilfiger and Target.
Though export values are up, volumes remain subdued by at least by 5-10 per cent, said K M Subramanian, president, the Tirupur Exporters Association (TEA).
According to sources, sales are likely to be back in positive terrain by June.
Interestingly, despite a dip in demand, Subramanian said capacity in Tiruppur has risen by at least 20 per cent, owing to government policies.
"In terms of quantity it is 5-10 per cent less, but in rupee terms it has increased.
"We are getting advance orders from companies like Walmart, Hennes, Tommy and Target," he added.
Of the total knitwear exports of Rs 63,239 crore in 2022-23, over 54 per cent, or Rs 34,350 crore, came from Tiruppur itself.
The region is now betting on the recent mega announcement by Walmart.
The Arkansas-based retail corporation chief executive officer Doug McMillon had said in early May that his firm will meet the sourcing target of $10 billion from India each year by 2027.
"Walmart has sanctioned sourcing of $10 billion goods from India alone.
"Whatever they buy from India, around 50 per cent may come from Tiruppur.
"From June onwards, growth will increase by 10-15 per cent," said A Sakthivel, President of Federation of Indian Export Organisations (FIEO).
He added that with the US inflation coming down and fuel prices too coming down, order flow may become much better.
"Mainly fuel price and gas price rise were affecting the buying power of people in Europe," he added.
In April, India's RMG exports were down by 17 per cent in rupee terms to Rs 9,929 crore, compared to Rs 12,002 crore during the same period last financial year.
In dollar terms, exports were down 23 per cent to $1.211 billion.
"More orders are coming from the US, but Europe is yet to recover.
"The main reason for the decline in demand was the Russia-Ukraine war and inflation in those countries, because of which they reduced inventory, leading to a slowdown in purchases.
"Due to inventory reduction buying power reduced," Subramanian said.
The share of the US in India's overall knitwear exports comes to about 32 per cent, followed by EU nations (30 per cent), UK (9 per cent) and others (30 per cent).
"Government schemes helped us increase the capacity by 20 per cent in the last one year.
"If the government comes with a PLI-2 scheme, it will be beneficial for the Tiruppur market," he added.
Source: Read Full Article