Save articles for later
Add articles to your saved list and come back to them any time.
In just over a fortnight the European Union will consider the fate of a comprehensive investment agreement with China that has been on ice for two years. In reality, it will be a reappraisal of Europe's relationship with China.
The Comprehensive Agreement on Investment (CAI) was signed on December 31, 2020, after Xi Jinping intervened at the last minute with major concessions in order to push the deal through before Joe Biden was inaugurated.
European Commission President Ursula von der Leyen says the world has changed since the original deal was made.Credit: AP
Biden had made it clear that he was anxious to rebuild a US relationship with Europe and other Western allies and multilateral institutions that had been damaged by the Trump administration's trade wars and disdain for multilateralism and institutions like the World Trade Organisation and NATO.
He had asked the Europeans to hold off signing the deal with China until his administration had an opportunity to tale through the common concerns the US and Europe shared about China's economic policies, practices and geopolitical ambitions.
After Xi's eleventh-hour intervention, his negotiators made concessions on human rights – including a pledge to comply with international conventions on forced labour (a coded reference to the labour camps in Xinjiang province) – and the EU agreed the deal, which was supposed to open some key Chinese markets to European business, remove forced technology transfers and create greater transparency around state subsidies.
Just a few months later, however, after the EU joined other Western countries in sanctioning some Chinese individuals and entities for their treatment of the Uyghurs in Xinjiang, China retaliated by imposing its own sanctions on a number of EU lawmakers and other European individuals and institutions. That caused the European Parliament to put ratification of the agreement on hold, where it has remained.
A review of the CAI is expected on May 12 in very different circumstances from those that existed in 2020. The Biden administration has rebuilt its relationship with Europe, and been brought closer to it by the war in Ukraine, which China has refused to condemn.
The Europeans are wary of China's "no limits" partnership with Russia, with comments last week by Beijing's ambassador in Paris, Lu Shaye, who said ex-Soviet republics had "no effective status" in international law, igniting anger across Europe even though Beijing was quick to distance itself from them.
They are also mindful that since 2020, China has used its economy as a weapon, most notably by banning imports of wine, barley, coal and lobsters from Australia,  but also denying Lithuanian exporters access to its markets because it allowed Taiwan to open a representative office using its own name rather than Taipei.
Nevertheless, China is Europe's biggest trading partner, the destination for about nine per cent of its exports and 20 per cent of its imports and dominating supply of a number of products, notably rare earths, that are critical for its industries.
The Europeans are wary of China's partnership with Russia.Credit: AP
Ahead of her recent visit to China with French president Emmanuel Macron, The European Commission president, Ursula von der Leyen, said that the world had changed since the investment pact was negotiated.
"We need to reassess CAI in light of our wider China strategy," she said.
There were areas where trade and investment posed risks to Europe's economic and national security, she said, noting that the EU was considering restrictions on some European high-tech companies investing in China because of the risk that their capital and expertise might aid China's military, affect human rights or threaten European security, particularly in the context of China's "explicit fusion of its military and commercial sectors."
China has adopted a far more conciliatory tone towards Europe than it uses to discuss its relationship with the US, hoping to exploit the Europeans' desire to act independently and be seen to be independent of the US.
Von der Leyen also said, however, that it was vital that Europe ensured diplomatic stability and open communication with China. It was neither viable nor in Europe's interest to decouple from China.
"Our relations are not black and white and our response cannot be either. That is why we need to focus on de-risk, not decouple."
China has adopted a far more conciliatory tone towards Europe than it uses to discuss its relationship with the US, hoping to exploit the Europeans' desire to act independently and be seen to be independent of the US.
The visit of Macron – whose comments on the need for Europe to distance itself from the US in its approach to China and, particularly, Taiwan caused controversy and provoked a backlash in Europe – resulted in a number of trade deals, a promise by Macron that China's companies would be given fair treatment in reviews of their 5G wireless licences, and a pledge of expanded co-operation between the two countries.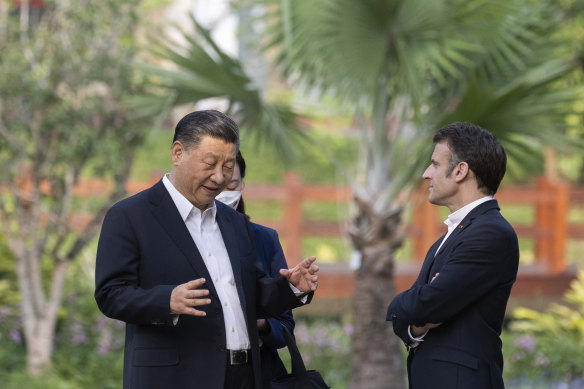 Xi Jinping and Emmanuel Macron in Beijing in April.Credit: AP
It was regarded within China as successful in driving a wedge between Europe and the US and sowing some divisions in the relationships between France and other European states that are more sceptical of China's ambitions.
Macron raised the CAI with Xi but said he told him there would be no progress on the agreement as long as members of the European Parliament remained sanctioned by China. Beijing has offered to lift the sanctions but only if the agreement is simultaneously unfrozen.
Former German chancellor, Angela Merkel, was a key supporter of the CAI. The current chancellor, Olaf Scholz, unsurprisingly, favours reactivating the agreement. Germany is by far China's largest trading partner in Europe.
It is apparent, however, that any agreement would have to be heavily redrafted to reflect the changes in the global environment and bilateral relationships that have occurred since 2020, including the post-pandemic realisation of the vulnerability of global supply chains and the consequent need to build diversification and, where practicable, domestic capacity into the sourcing of strategic products.
China's increased control and funding support of its strategic industries and the EU's own legislative initiatives for "reshoring" and friendshoring" of strategic raw materials and products and achieving its carbon emissions reduction goals would necessitate a major re-working of the agreement.
It took seven years, and Xi's last-minute concessions, for the original CAI deal to be agreed. The EU might revisit that agreement next month, but that lack of unity within Europe when it comes to the relationship with China – and the concerns about China's relationship with Russia in the midst of a war in Europe – means the chances of the CAI being ratified any time soon, if ever, are remote.
The Business Briefing newsletter delivers major stories, exclusive coverage and expert opinion. Sign up to get it every weekday morning.
Most Viewed in Business
From our partners
Source: Read Full Article