video
Fox News Flash top headlines for March 16
Fox News Flash top headlines are here. Check out what's clicking on Foxnews.com.
The European Commission laid out its green industrial plan on Thursday, designed to ensure that Europe is a leading producer of clean technologies and not just a global frontrunner in cutting carbon dioxide emissions.
Race is On
The European Union plan is a bid to boost Europe's industrial competitiveness – with a particular eye on the challenge posed by the United States and China, the world's two biggest economies, to the EU's borderless single market, which some say is due for a revamp.
Many in the EU are worried that U.S. President Joe Biden's Inflation Reduction Act, which offers $369 billion of green subsidies that often only apply to products made in North America, could lure companies out of Europe, allowing the United States to grow into a clean tech giant at Europe's expense.
The bloc also wants to reduce its reliance on China in the many green tech supply chains that China currently dominates, such as solar and in processing critical raw materials.
DO SOLAR PANELS ALWAYS SAVE ON ENERGY BILLS?
Net-Zero Industry Act
The EU act's goal is to ensure that by 2030, EU manufacturing capacity is sufficient to meet 40% of its needs of equipment for solar or wind power, batteries, heat pumps, electrolysers and fuel cells, biogas or carbon capture.
The act proposes streamlining the granting of permits for green projects, such as solar parks and fuel cells, limiting to 18 months a process that can currently take many years. EU countries would need to designate one national authority to coordinate the granting of permits and give priority to net-zero projects.
It also sets an EU objective of reaching 50 million tonnes of annual CO2 storage capacity by 2030 and introduces requirements for EU oil and gas producers to contribute to this goal.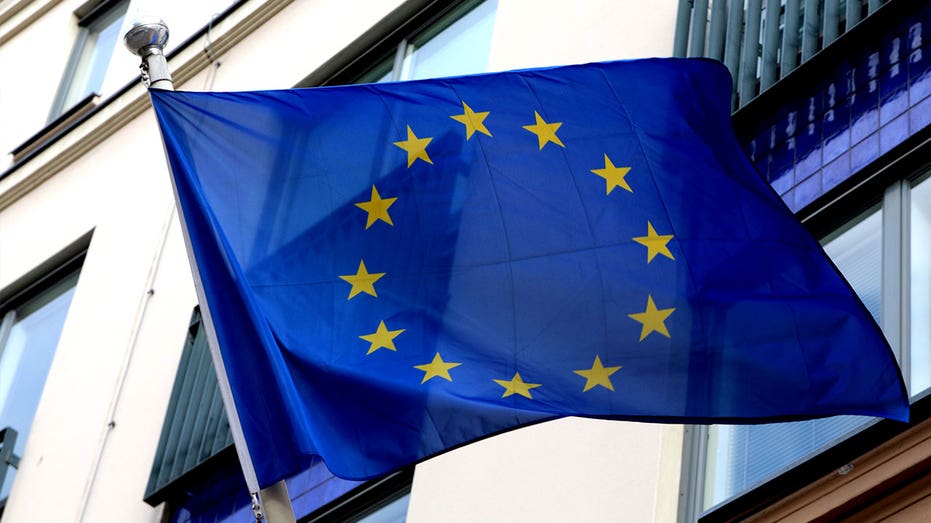 The flag of the European Union is seen in Saint Petersburg on March 16, 2023. (Maksim Konstantinov/SOPA Images/LightRocket via Getty Images)

Critical Raw Materials Act

Global demand for lithium, used in batteries, is expected to increase by up to 89-fold by 2050, while EU demand for rare earth elements for permanent magnets in wind turbines or vehicles, is seen rising six- to seven-fold.

The act sets targets for 2030. By then, the EU should extract 10% of the minerals it requires, boost recycling capacity for those materials to 15% and be able to process 40% of its annual needs of each strategic raw material.

Copper and battery-grade nickel are now considered critical raw materials, along with lithium, silicon, titanium and rare earth elements.

It should also not be dependent on a single third country for more than 65% of any critical raw material. Currently, more than 90% of the EU's supplies of rare earths, gallium and magnesium come from China.

BIDEN EPA PLANS TO TACKLE COAL INDUSTRY BY ENACTING NEW LIMITS ON OTHER POLLUTANTS

Critical raw materials are vital for producing mobile phones, electric vehicles, chips, batteries, as well as wind turbines and solar panels.

The Commission would also set up a new agency, the European Critical Raw Materials Board, which would identify "strategic projects" to benefit from sped-up authorisation and improved access to financing, including public funds. It could also coordinate joint purchasing of certain materials.

Permits for strategic projects such as in processing or recycling should be granted within 12 months, and 24 months if they involved extraction.

EU members will be obliged to share information on exploration programs, new projects, recycling and strategic stocks to the Commission.

CLICK HERE TO GET THE FOX NEWS APP

Single Market, Hyrdrogen

The Commission said it had identified nine key areas to focus on to maintain the EU's long-term competitiveness, stressing a need to upgrade the 30-year-old single market, notably in services where integration lags that for goods.

The EU executive plans to review regulations and to reduce the administrative burdens and reporting requirements for business.

The Commission also outlined plans to boost production of clean hydrogen with an EU-funded subsidy scheme. Investments in electrolysers and renewable energy capacity to power them could cost up to 471 billion euros, it said. 

Source: Read Full Article