video
Is the US ready for a four-day work week?
Research from Robert Half, an employment agency, shows a large majority of US Managers (93%) support a four-day workweek for their team. The data shows 64% expect their company to transition to one within the next five years.
A pilot program testing a four-day work week in the United Kingdom has been hailed as a "resounding success" after employees reported improved well-being and a majority of the participating companies said they would keep the change.
A total of 61 British companies with around 2,900 workers were enrolled in the trial, with employees working an average of 34 hours across four day between June and December 2022, all while keeping their existing salary.
At the conclusion of the six-month trial, 56 of those companies, or 92%, decided to stick with a four-day work week, and 18 did so permanently. 
The findings of this pilot program were released by Autonomy, a British-based think tank that partnered with U.K. academics to conduct the study, backed by 4 Day Week Global, a New Zealand-based campaign that advocates for a four-day work week. 
IS THE US READY FOR A FOUR-DAY WORK WEEK?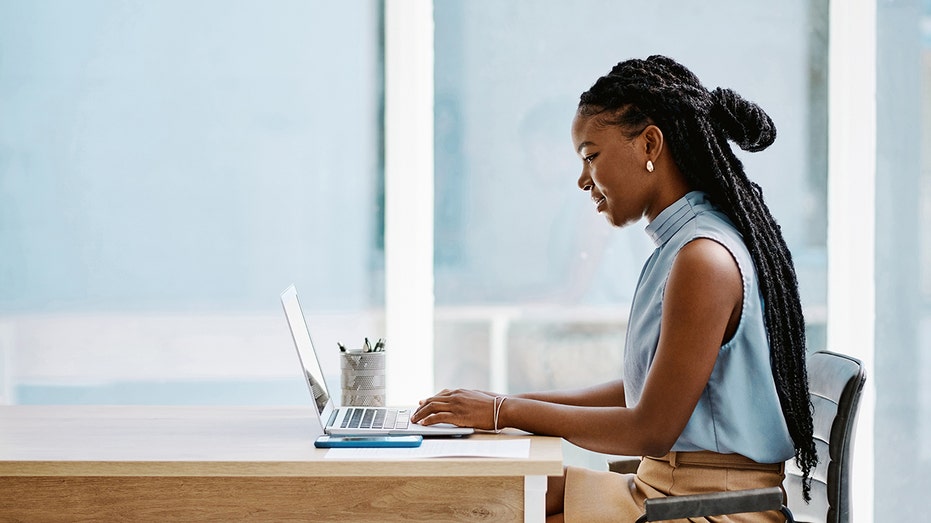 Young Black businesswoman working on a laptop in an office alone (iStock / iStock)

The companies that participated were from a wide range of sectors and sizes and were permitted to design a four-day week policy tailored to their own needs, with the only conditions being that pay was not cut and employees were given a "meaningful" reduction in work time. 

A shorter work week was found to improve employees' well-being. Before and after data showed that 39% of employees reported feeling less stressed, while 71% had reduced levels of burnout at the end of the trial. Surveyed employees said they also felt less anxious, less fatigued and were sleeping better.

Employees also said their work-life balance improved, but the benefits were not limited to workers.

Administrative data from the participating companies showed that revenues rose by 1.4% on average, weighted by company size, during the trial period. When compared to a similar period from previous years, organizations with a shorter work week actually reported revenue increases of 35% on average — which the study authors said indicated healthy growth at the same time there was a reduction in work.

FOUR-DAY WORKWEEK TREND GAINING POPULARITY AS COMPANIES REPORT STRONG PRODUCTIVITY LEVELS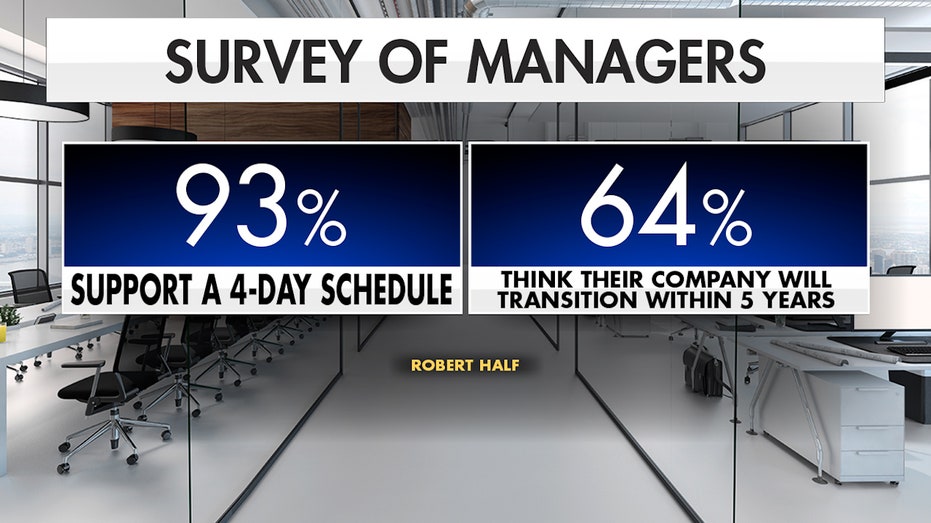 Research from Robert Half, an employment agency, shows a large majority of U.S. managers (93%) support a four-day workweek for their team. The data shows 64% expect their company to transition to one within the next five years. (Robert Half / Fox News)

Data also showed employees were much less likely to leave the companies that participated in the trial program, with staff losses dropping by 57% in the six-month trial period.

"Results are largely steady across workplaces of varying sizes, demonstrating this is an innovation which works for many types of organizations," said Professor Juliet Schor of Boston College, the lead researcher. 

Some employees enjoyed the change so much they said keeping the extra day off each week would be more important than a raise. Fifteen percent of employees said that no amount of money would induce them to return to a five-day schedule.

US JOB GROWTH UNEXPECTEDLY SURGES IN JANUARY AS ECONOMY ADDS 517,000 NEW POSITIONS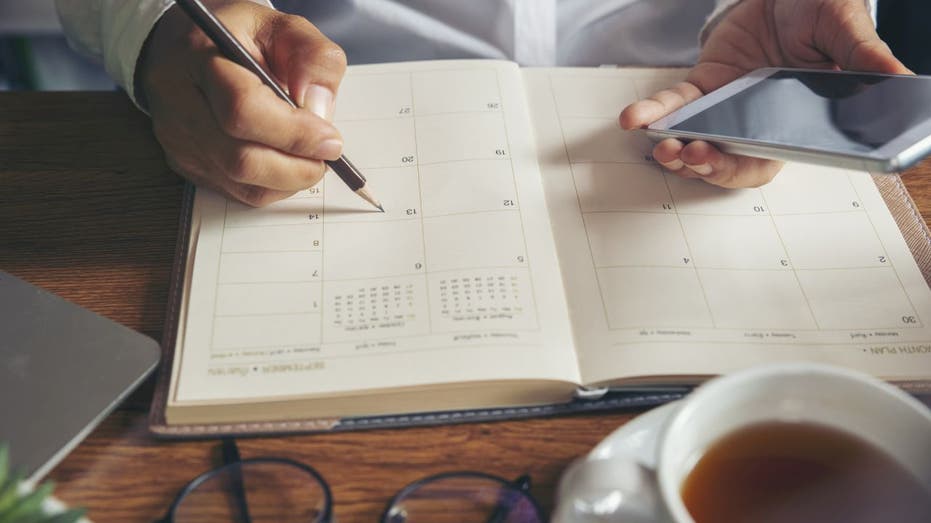 Employees at companies that adopted a four-day work week said their mental health and well-being improved.  (iStock / iStock)

Charlotte Lockhart, co-founder and managing director of 4 Day Week Global, said the results were encouraging and that results from similar pilot programs around the globe would be forthcoming.

CLICK HERE TO GET THE FOX BUSINESS APP

"Our team is delighted to be expanding the arguments in favor of a 4-day week today with this new world-class academic research, and we look forward to adding our Australasian pilot results to this data set in the coming weeks and our European, South African, Brazilian and North American results in the coming months," she said.

Source: Read Full Article