video
Is anyone investing in cryptocurrency anymore?
Primetime Partners co-founder and chairperson Alan Patricof provides insight on investing and cryptocurrency and the push for electric vehicles on 'The Claman Countdown.'
Washington's battle to rein in crypto has a new front: stablecoins.
The Securities and Exchange Commission is investigating whether stablecoins, cryptocurrencies that maintain a price of $1, are among the products that were issued in violation of investor-protection laws. SEC enforcement lawyers have told Paxos Trust Co. that regulators plan to take enforcement action over its stablecoin, BUSD, although that decision isn't final.
An SEC lawsuit over BUSD, the third-largest stablecoin by market value, would be a significant jolt to an industry that has suffered a series of shocks in recent weeks. After the failure of crypto exchange FTX, the SEC has already cut off the ability of some crypto middlemen to offer lending services that give crypto investors a way to earn interest by lending out their tokens.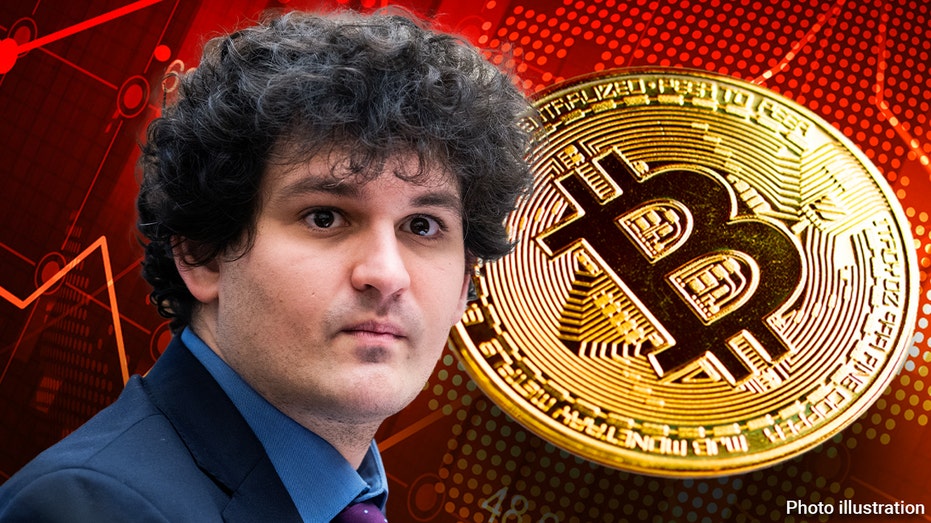 After the collapse of FTX, Sam Bankman-Fried's cryptocurrency exchange, the SEC has been taking a much harder look at regulating the crypto world.

A lawsuit over stablecoins might not be easy for the SEC to win, according to securities lawyers, because stablecoin users don't expect profits from owning the tokens. That motivation is one of the crucial prongs of a 1946 Supreme Court test, known as Howey, that regulators use to spot which cryptocurrencies are securities. 

THE UNUSUAL CREW BEHIND TETHER, CRYPTO'S PRE-EMINENT STABLECOIN

"In your classic stablecoin…the profit is kept by the house," said Timothy Spangler, a partner at Dechert LLP who has advised clients on the structure and formation of products tied to digital assets. Even so, he added, "Regulators are well within their jurisdiction to look under the hood." 

Stablecoins are a form of cryptocurrency that make it easier to trade other digital assets. Each unit is supposed to maintain a value of $1. Traders can use stablecoins as a store of value, or use them to pay for other digital assets. Regulating them could take the SEC into the domain of overseeing payment products, something it doesn't do.

Stablecoin issuers say they are backed 1-for-1 by cash or cash equivalents such as U.S. dollars and Treasury securities. Tether Holdings Ltd., the largest stablecoin issuer, discloses most of its portfolio holdings but not all. It has invested in riskier assets such as corporate debt and has made money by lending tethers to customers, a practice it is winding down. 

Tether briefly lost its $1 peg in May 2022, when it traded as low as 95 cents, reflecting factors including investors' concerns at the time about the value of its assets and whether they could be readily sold to meet redemption requests in a market panic. 

Another possible complication for any SEC cases: The Commodity Futures Trading Commission and the New York State Department of Financial Services have labeled tether and BUSD as "virtual currencies." That doesn't mean the SEC can't allege they are securities, according to lawyers, but it muddies the waters and shows the difficulty of deciding which laws apply.  

Coinbase Global Inc. has disclosed the SEC is also investigating its stablecoin product. Coinbase maintains a partnership on the operation of USDC, the second-largest stablecoin, with Circle Internet Financial Ltd. Circle also has disclosed it faces an SEC investigation. A Circle spokesman declined to comment on the probe's focus or status.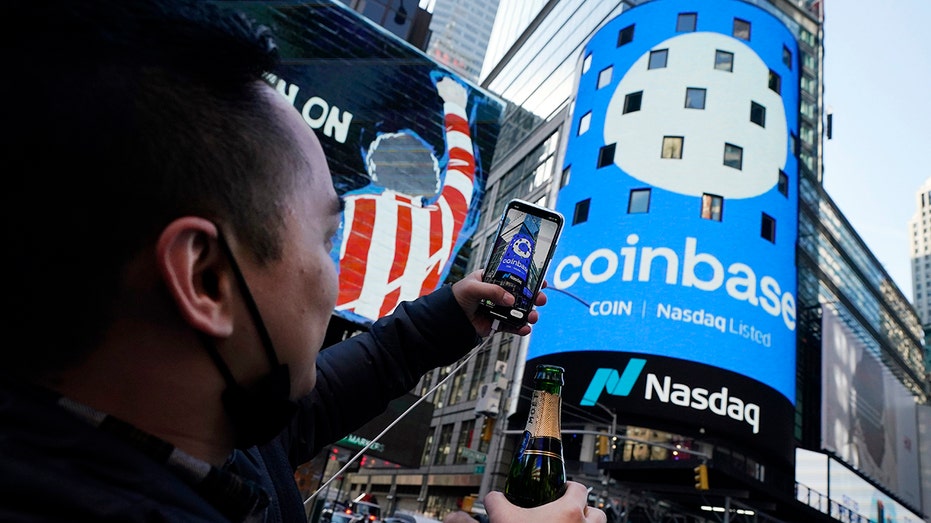 Coinbase employee Daniel Huynh holds a celebratory bottle of champagne as he photographs outside the Nasdaq MarketSite, in New York's Times Square, Wednesday, April 14, 2021. Wall Street will be focused on Coinbase Wednesday with the digital currency (AP Photo/Richard Drew) / AP Newsroom)
Ticker
Security
Last
Change
Change %
COIN
COINBASE GLOBAL INC.
59.19
-2.88
-4.64%
The SEC also could allege BUSD is a security through the application of another Supreme Court test that governs notes, or securities that promise the repayment of money, often with interest.

The SEC has cited that Supreme Court case, known as Reves, in other recent enforcement actions that found crypto lending programs operated by BlockFi Lending LLC and Nexo Capital Inc. should have been registered as securities. In those cases, the SEC said BlockFi's and Nexo's users were motivated by the ability to earn interest by lending out their crypto.

"We believe our stablecoins are unequivocally not securities under either Howey or Reves, and we look forward to continuing to work privately with federal regulators, including the SEC, to make this case," a Paxos spokeswoman said. 

WHY AMERICA SHOULD BAN CRYPTO

Reves is a flexible test that can be applied to different scenarios. The Reves test considers the parties' motivations but also asks whether another regulatory system applies to the asset, which would make SEC oversight unnecessary. New York financial regulators authorized the issuance of BUSD, and Paxos Trust is overseen by the state agency. 

"We think a court is going to look at that and say this is not the kind of situation where there is a vacuum to be filled," Coinbase Chief Legal Officer Paul Grewal said.

Stablecoins also don't look too much like money-market funds, a comparison that SEC Chair Gary Gensler has made, Mr. Grewal and others said. Money funds promise to maintain a $1-a-share value but, unlike stablecoins, pay interest. 

IEX TAPS POTENTIAL PARTNER FOR REGULATED CRYPTO EXCHANGE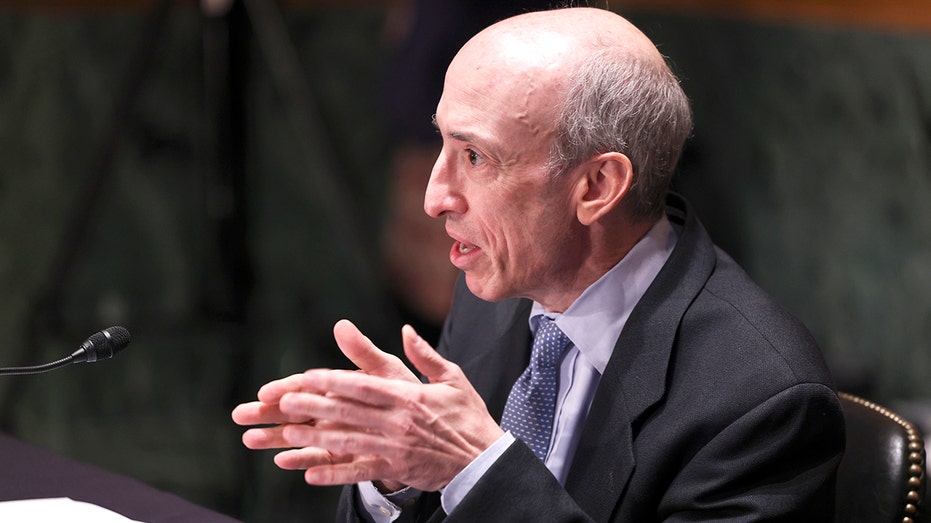 The Securities and Exchange Commission is studying ways to make it more feasible for cryptocurrency trading platforms to register with the agency as exchanges, Chairman Gary Gensler said Monday Apr. 4th 2022 (Photo by Evelyn Hockstein-Pool/Getty Imag (Photo by Evelyn Hockstein-Pool/Getty Images / Getty Images)

The SEC's money-fund rules haven't always made those products as safe as investors expect. U.S. authorities had to prop up money funds in 2008 and 2020, when panicked investors stampeded out of some, creating the possibility of losses for slower-moving users. 

"Money-fund regulation is not really designed to support something that is supposed to be a payments instrument," said Jonah Crane, a partner at Klaros Group, a financial-services advisory firm. 

CLICK HERE TO GET THE FOX BUSINESS APP

Other parts of the Biden administration have said stablecoins look more like banking products. The Treasury Department and U.S. financial regulators said in a November 2021 report that Congress should require stablecoin issuers to become banks. Congress hasn't advanced such legislation. 

In the absence of congressional action, the Federal Reserve could assume oversight of stablecoins. But a multiagency panel of regulators would first need to designate stablecoin activities as a potential threat to the financial system. That hasn't happened, either.

Source: Read Full Article