Outlook for markets in 2022, GDP
Navellier & Associates chairman and founder Louis Navellier on his predictions for the markets in 2022 and how the political landscape impacts wall street.
U.S. economic growth was revised slightly higher in the third quarter, but still slowed sharply from the spring amid a surge of COVID-19 infections nationwide that forced consumers to pull back on spending.
Gross domestic product, the broadest measure of goods and services produced across the economy, grew by 2.3% on an annualized basis in the three-month period from July through September, the Commerce Department said in its third and final reading of the data Wednesday. While that's an increase from the 2.1% estimated last month, it still marks the slowest since the second quarter of 2020, when the economy was in the throes of the shortest, but steepest, recession in nearly a century.
The economy grew at an annual revised rate of 6.7% in the second quarter.
FED DOUBLES TAPER RATE, EYES THREE RATE HIKES IN 2022
The third-quarter slowdown also reflected pandemic-induced disruptions in the supply chain that limited the availability of goods such as motor vehicles, as well as the evaporation of federal stimulus money provided to businesses, households and state and local governments.
Greg Fisher scans inventory in Wheel Pros' supply warehouse on Wednesday, Oct. 27, 2021, in Greenwood Village, Colorado. (Kevin J. Beaty/Colorado Public Radio via AP / AP Newsroom)

Hurricane Ida, one of the most powerful storms to ever make landfall in the U.S., also weighed on manufacturing production, further hampering growth.

Still, the economy has regained steam since then, powered by solid consumer spending in October as the summer Covid-19 wave faded away. The trade deficit shrank in October for the first time in months, driven by a new record of U.S. exports as congestion at ports and warehouses cleared. The unemployment rate in November dropped to 4.2%, the lowest level since the pandemic began. 

GDP Now, an up-to-date tracker monitored by the Federal Reserve Bank of Atlanta, is currently estimating fourth-quarter growth of 7.2%.

Still, there are dark clouds looming on the horizon.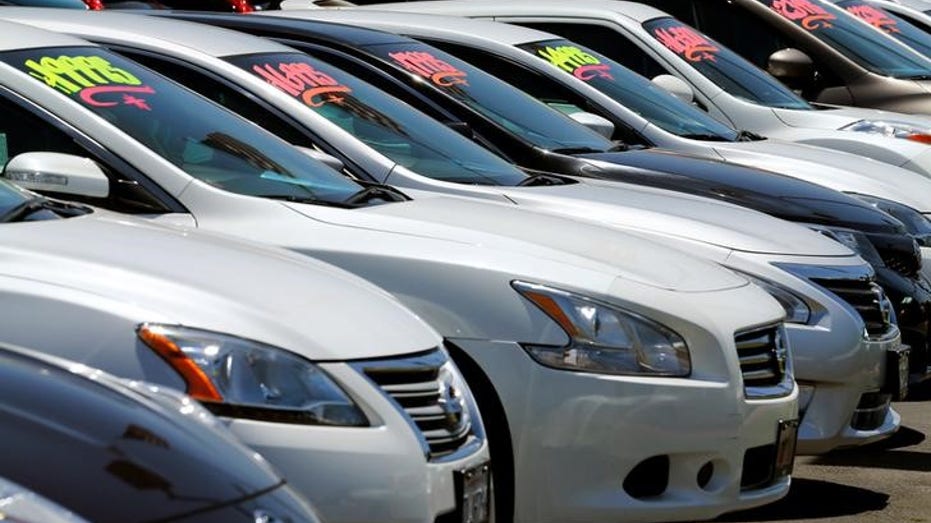 Automobiles are shown for sale at a car dealership in Carlsbad, California, U.S. May 2, 2016. (REUTERS/Mike Blake/File Photo / Reuters Photos)

Wall Street forecasters are dialing back their growth projections for next year as hopes fade for President Biden's sweeping economic agenda and concerns grow about the new Covid-19 variant. Inflation is at the highest level in nearly four decades, and the Federal Reserve is pushing forward with its plans to tighten monetary policy.

The Federal Open Market Committee said at the conclusion of its two-day policy-setting meeting last week that it would double the reduction of its asset-purchase program to $30 billion a month, a timeline that could phase out the purchases entirely by March rather than the original June trajectory laid out last month.

CLICK HERE TO READ MORE ON FOX BUSINESS

Although policymakers voted to hold rates near zero, where they have sat since March 2020, new economic projections show that every Fed official has penciled in at least one rate hike next year – a considerable shift from September, when half of the central bankers believed interest rate increases were not warranted until at least 2023.

Officials now project rates to stand at 0.9% at the end of 2022, 1.6% at the end of 2023 and 2.1% at the end of 2024.

Source: Read Full Article