video
What does Ukraine need to win the war?
Hudson Institute senior fellow Rebeccah Heinrichs provides insight on one year of the Russia-Ukraine conflict on 'Making Money.'
The one-year anniversary of Russia's invasion of Ukraine will arrive on Friday and as the war enters its second year, the conflict has had a global economic impact amid disruptions to supplies of energy and food commodities.
After Russia launched its invasion on February 24, 2022, the U.S. and a number of other countries around the world imposed sanctions on Russia for its renewed escalation of the conflict which had simmered since Russian-backed forces seized Crimea and part of the Donbas region in 2014. 
The economic fallout has been wide-ranging and hit supply chains ranging from Russia's oil and gas, which European nations have historically been leading consumers of, to food commodities like wheat that are produced in large quantities by Russia and Ukraine and exported to developing countries. Those disruptions have caused significant price volatility, hitting consumers' pocketbooks worldwide.
SHIPPING GIANT MAERSK NEARS COMPLETE EXIT FROM RUSSIA AFTER DIVESTING LOGISTICS ASSETS
A car burns at the side of a maternity hospital that was damaged by shelling in Mariupol, Ukraine, on March 9, 2022. (AP Photo/Evgeniy Maloletka / AP Newsroom)

The war's impact has dampened the outlook for global economic growth, which fell below the two-decade average of 3.8% based on the annual World Economic Outlook to 3.4% in 2022 and is expected to decline further to 2.9% in 2023. Global inflation, driven in part by the ongoing effects of the COVID-19 pandemic in addition to the war, spiked to 8.8% in 2022 but is projected to remain around 6.6% in 2023 – well above the pre-pandemic level of roughly 3.5%. The Organization for Economic Cooperation and Development expects that the war will result in $2.8 trillion in lost economic output in 2023 alone.

As the war in Ukraine reaches the one-year mark, sanctions have hampered Russia's economy but haven't caused its collapse, in part due to the country deepening its ties with China and Iran. Russian energy exports were a prime target for sanctions and made up a substantial portion of the global supply prior to the war. 

EUROPE BANS RUSSIAN DIESEL IMPORTS AND OTHER REFINED OIL PRODUCTS

Russian oil output made up 14% of the world's total supply in 2021 according to the International Energy Agency. Russia exported about 4.7 million barrels per day (bpd) of crude oil out of the 10.5 million bpd of crude and condensate it produced in 2021, with Europe and China as its largest consumers at 2.4 million and 1.6 million bpd, respectively. 

At the outset of the war, the U.S. only imported 672,000 barrels of oil from Russia, which were cut off under an executive order issued in March 2022. Russia was also the world's fourth-largest exporter of natural gas prior to the war and supplied nearly 40% of the European Union's demand.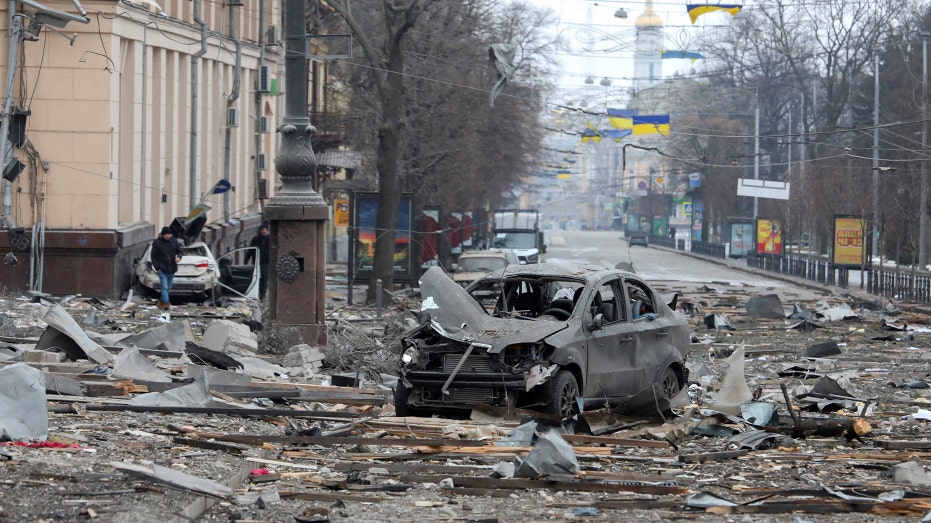 A view shows the area near the regional administration building, which city officials said was hit by a missile attack, in central Kharkiv, Ukraine, March 1, 2022. (REUTERS/Vyacheslav Madiyevskyy / Reuters Photos)

Given the significant role Russia played in global energy markets, there has been significant volatility in the sector: 
Crude oil prices rose from $92 a barrel the day before Russia's invasion of Ukraine to a high of $122 a barrel in June 2022 but closed under $77 a barrel this Tuesday. 
Gasoline prices spiked from $3.53 per gallon the day before the invasion to a record high of $5.01 in June 2022 but have declined back to about $3.40 per gallon as of Tuesday.
Natural gas prices more than doubled from $4.62 per million BTUs before Russia's invasion to over $9.68 per million BTUs in August. Prices have since come down to less than $2.30 per million as of Tuesday.
The U.S. and major energy producers in the Middle East have filled the void as Europe has gradually reduced its reliance on Russian energy since the invasion of Ukraine. U.S. liquefied natural gas (LNG) exports represented about 41% of Europe's supplies last year according to Kpler data, despite a key export hub in Freeport, Texas, being shut down for months following a fire that occurred in June 2022.

UKRAINE'S AMMUNITION DEMANDS ARE 'MANY TIMES HIGHER' THAN SUPPLY, NATO CHIEF SAYS
Grain is offloaded from the Eaubonne bulk carrier ship after it docked in the port of Mombasa, Kenya Saturday, Nov. 26, 2022. The vessel arrived with 53,300 tons of wheat for commercial use in Kenya and procured under the Black Sea Grain Initiative, (AP Newsroom)

Food insecurity has been a notable concern around the world given Russia and Ukraine combined for about 30% of global wheat production, much of which is exported to countries in Africa, Asia, and parts of the Middle East. Wheat was trading around $8.00 per bushel in the weeks before Russia's invasion and surged above $10 per bushel for the first time in a decade – reaching a peak of $12.47 a bushel in May 2022.

Wheat prices eventually stabilized and have traded under $8 a bushel since 2023 began. That was in part due to deals brokered by Turkey and the United Nations to allow exports of wheat and other food commodities from Russia and Ukraine to transit through the Black Sea, which had stalled due to concerns civilian cargo ships could be caught in the crossfire.

GET FOX BUSINESS ON THE GO BY CLICKING HERE 

However, inspections of grain shipments from Ukraine have recently fallen to half of what they were four months ago, and the number of cargo vessels in line to be checked or make pick-ups has risen by 50% from January – raising concerns that food insecurity could be a growing problem around the world if that trend continues.

The Associated Press and Reuters contributed to this report.

Source: Read Full Article