You don't have to look far to find examples of corporate deals that would make big Australian industries even more concentrated than they already are.
Take ANZ Bank's plan to buy Suncorp's banking arm for $4.9 billion, which will remove a regional bank from the market if it goes ahead.
Assistant Minister for Competition, Charities and Treasury Dr Andrew Leigh is concerned that the Australian economy is lacking "dynamism" and competition is weaker than it should be.Credit:Alex Ellinghausen
Or the $18 billion takeover bid for Origin Energy, which would result in a consortium led by Canadian firm Brookfield owning Origin's electricity retail business, after Brookfield bought transmission company Ausnet earlier this year.
Whether these deals go ahead or not, they are examples of big businesses seeking to extend their share in industries that are oligopolies – those dominated by a small group of firms. It's not a new trend. Australia has long been known as a land of oligopolies, from banking to supermarkets.
Stock market investors quite like this situation because oligopolists tend to have some "pricing power" – the ability to set prices rather than have them dictated by for the forces of competition. Consumers, in contrast, bear the brunt by paying higher prices than they otherwise would.
Recent UBS research highlighted this reality in a note touting Australia's concentrated industry structure as a selling point to investors. It said our market was a hard one for foreign firms to break into, and businesses here tended to have higher profit margins and return on equity than companies in many developed countries.
"For consumers the outcome of this is bad, i.e. less choice and expensive prices. But for the businesses that are already here, this is great, i.e. less competition and higher margins," the UBS strategists said.
Where's all this going? Well, the assistant minister for competition charities and treasury, Dr Andrew Leigh, has recently been making noises about market concentration in Australia, and the government's ambitions to do more on competition policy.
Leigh, a former economics professor, this week gave another signal he supports a wave of competition reforms, in a speech outlining some lessons from big competition changes place overseas.
But why do economists get so excited about competition, anyway? What's the evidence that competition might be slipping in Australia? And what could the government do about it?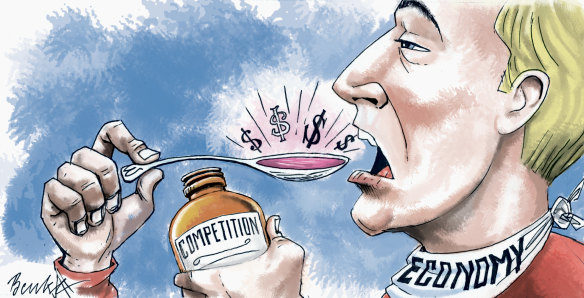 Credit:Joe Benke
Economists see competition between firms as vital because it pushes businesses to become more productive, and improve the goods and services they offer consumers.
If that's too abstract for you, the Productivity Commission has tried to measure these benefits in dollars. It estimated in 2005 that competition policy reforms from the 1990s led to a permanent 2.5 per cent increase in Australia's gross domestic product, which Leigh says is equal to about $5000 per household today.
However, Leigh worries the economy today is lacking "dynamism" and competition is weaker than it should be.
In a speech last month, he said the mark-ups businesses charged had increased, and so had the level of market concentration. He also said the rate of start-up business formation was down, and so was job-switching by employees.
The argument is that when industries are more concentrated, workers have less opportunity to switch jobs to a rival, thereby getting a decent pay rise. The lower number of firms starting up, meanwhile, is seen as a sign of a less "dynamic" economy that is more populated by older firms.
There's also a suspicion that the high level of market concentration in Australia could be making our inflation problem worse. This argument is hard to prove – and not everyone buys it – but the theory is that firms in an oligopoly have a greater ability to widen their margins when they're passing on rising input costs (as they have been lately).
Anyway, Leigh is convinced more competition could help to address many of these problems. "The Australian economy today needs a good dose of competition," he said last month.
So what's the government planning to do about it?
Leigh noted it had toughened penalties for anti-competitive behaviour; banned unfair contracts; and it would consider the Australian Competition and Consumer Commission's (ACCC) call for tougher regulation of online platforms.
But to make a real difference to the oligopolies Leigh has been highlighting, the government would need to do more than that.
Some, such as the former ACCC chairman Rod Sims, believe tougher tests for mergers should be at the top of any competition reform to-do list.
Leigh says the government is open to a "broad conversation" about how to lift competition, and in this week's speech he pointed to three major historical competition reforms from overseas that contained some broad lessons for policymakers.
There's also a suspicion that the high level of market concentration in Australia could be making our inflation problem worse.
One reform he highlighted was the rise of anti-trust law in the US in the late 19th century, which ultimately led to the US government launching more than 130 lawsuits against monopolies.
The second was the break-up of a German chemicals giant after the Second World War, though Leigh stressed the federal government was not planning to give itself broad divestiture powers.
The third was Canada's decades-long push for competition reform, which culminated with tougher laws in the 1980s. Leigh said this showed the importance of pushing ahead despite "self-interested opposition".
It is not clear if or how these examples relate to policy changes the government might be considering, and it should be stressed that tackling Australia's highly concentrated markets would be a daunting task for any government.
But Leigh is making the case for giving competition a shot in the arm in a country where oligopolies have long been the norm.
Ross Gittins is on leave.
The Business Briefing newsletter delivers major stories, exclusive coverage and expert opinion. Sign up to get it every weekday morning.
Most Viewed in Business
From our partners
Source: Read Full Article