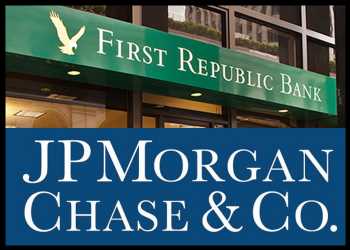 Banking major JPMorgan Chase & Co. said it has acquired substantial majority of assets and assumes certain liabilities of First Republic Bank following an auction by Federal regulators for the troubled lender.
JPMorgan expects to recognize an upfront, one-time, post-tax gain of around $2.6 billion, which does not reflect approximately $2.0 billion post-tax restructuring costs anticipated over the course of 2023 and 2024.
In pre-market activity on the NYSE, JPMorgan shares are gaining around 3 percent, while First Republic Bank shares are losing around 46 percent after it lost nearly 43 percent on last Friday's regular trade.
Jamie Dimon, Chairman and CEO of JPMorgan Chase, said, "Our government invited us and others to step up, and we did. Our financial strength, capabilities and business model allowed us to develop a bid to execute the transaction in a way to minimize costs to the Deposit Insurance Fund."
The bank expects the acquisition to modestly add to earnings and generate more than $500 million of incremental net income per year, excluding the expected gain or restructuring costs.
First Republic, the San Francisco-based bank, had been suffering from deposit withdrawals since the failures of Silicon Valley Bank and Signature Bank, deemed as the biggest U.S. banking failures since the 2008 financial crisis. Last week, concerns about the health of the U.S. banking sector were revived after the regional bank reported a loss of more than $100 billion in deposits in the first quarter.
The Federal Deposit Insurance Corp. or FDIC, which was appointed as receiver after First Republic Bank was closed by the California Department of Financial Protection and Innovation, was in the auction process for finalizing a sale of the troubled bank. As per reports, about six banks, including JPMorgan, were bidding for the lender.
As per the purchase and assumption agreement, Columbus, Ohio -based JPMorgan Chase Bank, N. A. will assume all of the deposits and substantially all of the assets of First Republic Bank.
First Republic Bank's 84 offices in eight states will reopen as branches of JPMorgan Chase on Monday, May 1, as normal, and will offer uninterrupted service including digital and mobile banking capabilities, to clients.
All depositors of First Republic Bank will become depositors of JPMorgan, and they have full access to their deposits.
The acquired First Republic businesses will be overseen by JPMorgan's Consumer and Community Banking or CCB Co-CEOs, Marianne Lake and Jennifer Piepszak.
As of April 13, First Republic Bank had approximately $229.1 billion in total assets and $103.9 billion in total deposits.
The deal includes acquisition of the substantial majority of First Republic Bank's assets, including around $173 billion of loans and approximately $30 billion of securities. It also includes assumption of around $92 billion of deposits, including $30 billion of large bank deposits, which will be repaid post-close or eliminated in consolidation.
JPMorgan Chase is not assuming First Republic's corporate debt or preferred stock.
FDIC will provide loss share agreements covering acquired single-family residential mortgage loans and commercial loans, as well as $50 billion of five-year, fixed-rate term financing.
Source: Read Full Article