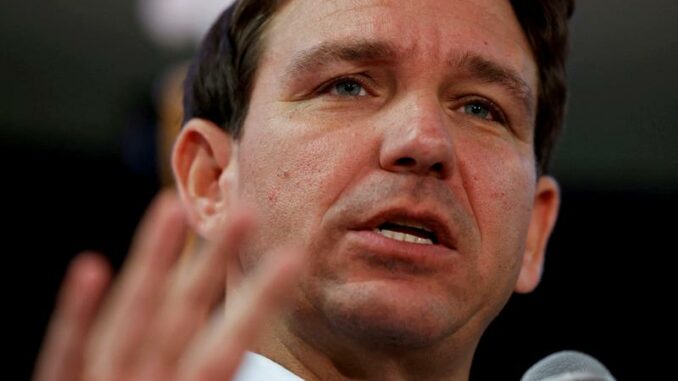 (Reuters) – Hotel entrepreneur Robert Bigelow, Republican presidential hopeful Ron DeSantis' biggest donor, is switching his support to Donald Trump, but he will not give the former president any money until he is sure he is not headed to prison.
FILE PHOTO: Republican presidential candidate and Florida Governor Ron DeSantis speaks during a campaign event in Murrells Inlet, South Carolina, U.S., October 20, 2023. REUTERS/Randall Hill/File Photo
"I'm pro-Trump. Right now I'm determined to remain on the sidelines for the time being to see how these prosecutions play out," Bigelow said in an interview with Reuters. "I have to be sure that he does not have a position where the prosecution has a path to send him to jail."
Trump is the clear frontrunner in the race to become the Republican presidential nominee in the 2024 election despite facing four criminal and three civil trials, some related to his attempts to overturn his 2020 loss to Democrat Joe Biden.
"He's got to stay out of jail. You can't run the United States from jail," said Bigelow, who, like many Republicans, considers the cases politically motivated. The Justice Department has repeatedly dismissed such suggestions.
Bigelow said he would be open to supporting Trump financially if he was convicted but only received a probationary sentence.
Reuters reported in August that Bigelow, a major Republican donor who gave $20 million to the pro-DeSantis "Never Back Down" super PAC in March, was not going to donate more money to the Florida governor. Bigelow was incensed by DeSantis' signing in April of a bill passed by the Florida legislature banning abortions after six weeks.
The Financial Times was first to report earlier on Wednesday that Bigelow was "considering" switching his support to Trump. It did not say, however, whether Bigelow planned to donate to Trump's White House bid.
Bigelow's public endorsement is not likely to affect Trump's candidacy, nor is his decision not to give him any money, as Trump mostly relies on small donations. But it will give Trump ammunition to needle DeSantis, who is running short of cash and can ill afford to lose major donors like Bigelow.
Bigelow said he thought Trump would be better equipped than DeSantis to deal with the current turmoil in the Middle East.
After Bigelow's interview with Reuters in August about dropping DeSantis, Bigelow said he did not hear from the Florida governor's campaign for two weeks. Eventually, DeSantis' wife Casey DeSantis called.
"I didn't take her call," Bigelow said. "I felt it was Ron's responsibility. It wasn't his wife's. I think it's indicative of not good thinking to ignore a large donor like that."
Trump's campaign, Bigelow added, had already reached out by Wednesday morning.
Desantis' campaign and Trump's campaign did not immediately respond to requests for comment.
Source: Read Full Article