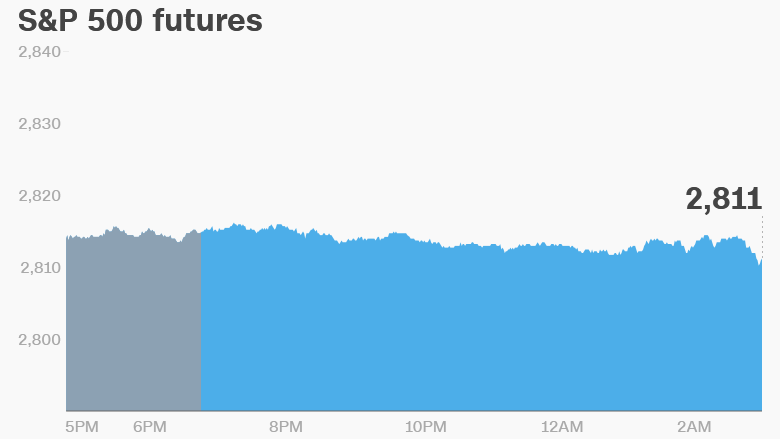 1. Google's woes in Europe: The European Commission is expected to announce a major antitrust fine against Google (GOOGL) over allegations that it pushed its apps on smartphone users and thwarted competitors.
The accusations have been under investigation since 2015. An announcement is expected around 7 a.m. ET.
EU regulators have taken a much more adversarial approach to big tech companies than their US counterparts, especially when it comes to competition, data protection and tax issues.
2. Elon Musk apologizes: Tesla (TSLA) boss Elon Musk has apologized for calling one of the men involved in the Thai cave rescue mission a "pedo," or pedophile.
Musk faced an intense backlash over the unfounded claim against Vernon Unsworth, an expert caver who participated in the rescue mission that saved 12 boys and their soccer coach from a flooded cave in Thailand.
The executive said on Twitter that while Unsworth provoked him, "his actions against me do not justify my actions against him, and for that I apologize to Mr. Unsworth and to the companies I represent as leader. The fault is mine and mine alone."
Gene Munster, a top tech analyst and the managing partner at Loup Ventures, wrote an open letter to Musk this week urging him to rein in his outbursts and erratic behavior so he might "regain investor confidence."
3. Market movers — EasyJet, Texas Instruments: Shares in EasyJet (ESYJY) increased 3% in London as investors cheered the latest quarterly update from the low-cost carrier.
Shares in Texas Instruments (TXN) could take a hit at the open after its new CEO unexpectedly stepped down.
Texas Instruments said CEO Brian Crutcher resigned because of personal behavior that violated the company's code of conduct. Crutcher, a 22-year veteran of the company, just took over as CEO last month.
"The violations are related to personal behavior that is not consistent with our ethics and core values, but not related to company strategy, operations or financial reporting," the company said in a statement Tuesday.
4. Global market overview: US stock futures were holding steady.
European markets were mixed in early trading.
Asian markets were more volatile, with the Hang Seng dropping 1.2%. The Nikkei closed with a 0.4% gain.
The Dow Jones industrial average gained 0.2% on Tuesday. The S&P 500 increased 0.4% and the Nasdaq jumped 0.6% to hit a new record high.
The British pound is trading close to its lowest level of the year amid deep concerns over Brexit and the government's strategy for the divorce.
5. Earnings and economics: Morgan Stanley (MS) is releasing earnings before the open.
Alcoa (AA), American Express (AXP), eBay (EBAY), IBM (IBM) and Kinder Morgan (KMI) will follow after the close.
Federal Reserve chairman Jerome Powell continues his testimony on Capitol Hill, in front of the House Financial Services Committee.
The US central bank will release its Beige Book at 2 p.m. ET, giving investors and economists deeper insight into the health of the US economy.
6. Coming this week:
Wednesday — American Express (AXP) and eBay (EBAY) earnings
Thursday — Domino's (DPZ) and Microsoft (MSFT) earnings
Friday — GE (GE) earnings
Source: Read Full Article