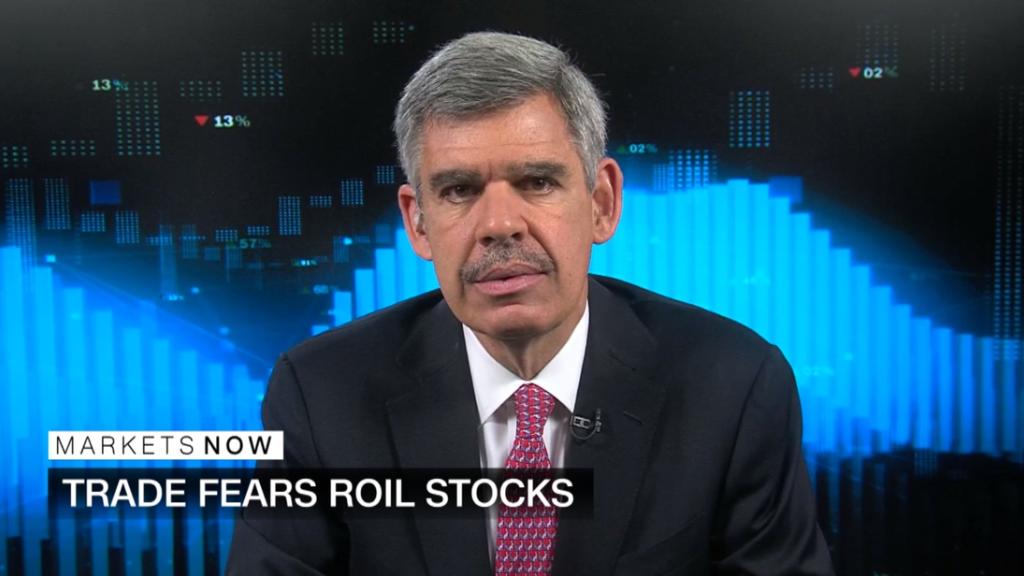 The CEO of the world's largest money management firm said Wall Street is getting increasingly nervous about a trade war.
Larry Fink, the head of BlackRock (BLK), said during a conference call with analysts Monday that "some of the strongest foundational components of international investing are being tested as trade frictions escalate to new levels."
Fink added that "strong earnings and US economic growth unfortunately are being offset by heightened uncertainty due to rising protectionism and potential barriers to the open markets and free trade."
Fink is worth paying attention to. BlackRock owns the popular iShares family of exchange-traded funds. BlackRock, which reported its latest earnings Monday morning, said that the company now manages a whopping $6.3 trillion in assets worldwide.
But investors pulled $22.4 billion from stock funds at BlackRock in the second quarter and put $26.4 billion into more conservative bonds, a potential sign that people are worried the market could be due to a fall.
Fink recited a laundry list of investor concerns during the conference call: Increased volatility. Political uncertainty. Short-term bond rates at their highest levels in ten years.
"We are at a pivotal point. Clients are struggling to better understand increased risk and uncertainty and market dynamics are shifting, causing those clients to pause as they think about the future," Fink said.
Fink also warned in an interview with Bloomberg Monday that stocks could fall 10% to 15% next year and that the US economy could slow if President Trump goes through with plans to launch $200 billion more in tariffs on Chinese goods.
"The market's having a hard time digesting the whole change in globalization and trade," Fink told Bloomberg.
Still, some market experts wonder if Fink is sounding a bit overly alarmist.
Other financial firms, such as Bank of America (BAC) and JPMorgan Chase (JPM), have reported pretty solid earnings.
Executives at JPMorgan Chase and Citigroup (C) said last week that even though companies were mentioning trade uncertainty more often, most clients weren't changing their business outlooks just yet.
James Ragan, director of wealth management Research at D.A. Davidson & Co., said in an interview with CNNMoney Monday that consumers and small businesses remain fairly confident and retail sales have been robust.
Ragan added that the tech-heavy Nasdaq index and the Russell 2000, which includes mostly smaller US companies, are not far from all-time highs.
"So far, the market is not too worried about trade. Fundamentals are solid," Ragan said. "The stock market is not overly expensive either since earnings are so strong."
Investors mostly brushed aside Fink's pessimistic comments on Monday too. Although BlackRock's stock fell about 1% in midday trading, the broader market was flat. And shares of Bank of America, JPMorgan Chase and Citigroup were all up about 3%.
Source: Read Full Article