WASHINGTON ― In their efforts to derail the nomination of Brett Kavanaugh, President Donald Trump's pick to the Supreme Court, Democrats are mainly focusing on abortion and health care as two issues they hope will convince some moderate senators on both sides of the aisle to oppose him.
But another area that could give his bid for the high court some trouble is his view regarding Americans' right to privacy.
In 2015, Kavanaugh wrote a concurring opinion with the U.S. Court of Appeals for the D.C. Circuit affirming the constitutionality of the National Security Agency's warrantless phone records collection program. The controversial program had been revealed in 2013 with the help of Edward Snowden, a former intelligence contractor who had leaked classified documents about the government's surveillance of the American public to the press. The NSA, it turns out, had for years been secretly collecting telephone metadata — allowing the government to see whom a person calls, but not what was said — from major American phone companies.
Kavanaugh wrote at the time that he felt that the "critical national security need outweighs the impact on privacy" and joined other judges on the court in declining to rehear a case challenging the program under Fourth Amendment grounds.
The opinion might be of particular interest to Sen. Rand Paul (R-Ky.), who has established himself as a vocal opponent of the bulk metadata collection program. In May 2015, Paul spoke for over 10 hours on the Senate floor demanding a halt to the NSA's collection of ordinary Americans' phone data. However, he was ultimately unable to block the program from being reinstated outright: The Senate voted 67-32 to reauthorize it with some modest reforms, including where the data was stored.
But Paul has been tight-lipped about Kavanaugh this week, stating that he was looking forward to meeting with the nominee and reviewing his record.
"I don't have anything new for you today. I'm keeping an open mind and we'll follow the process," Paul told HuffPost when asked about the 2015 D.C. Circuit Court opinion.
Paul opposing one of Trump's nominees would not be unprecedented. Earlier this year, he voted against the nomination of Gina Haspel to lead the CIA over her role in that agency's controversial detainee interrogation program. But the Kentucky Republican, who is friendly with Trump, has largely supported the president's nominees. He dropped his initial opposition to Mike Pompeo to lead the State Department, for example, after previously pledging to do "whatever it takes" to stop his nomination over his views on the Iraq War.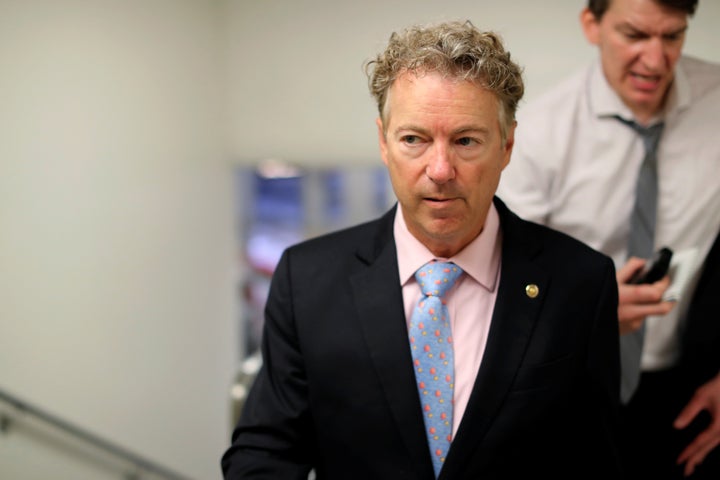 Rep. Justin Amash (R-Mich.), a privacy advocate who often sides with Paul on matters of civil liberties, this week blasted Kavanaugh's track record in Fourth Amendment cases, calling him a "disappointing pick."
"Future decisions on the constitutionality of government surveillance of Americans will be huge," Amash said on Twitter while citing Kavanaugh's opinion on NSA surveillance. "We can't afford a rubber stamp for the executive branch."
Trump's first Supreme Court appointee, Neil Gorsuch, ruled several times against law enforcement and in favor of privacy protections while serving on Colorado's 10th Circuit Court. Some observers even said he could be the "next swing vote on Fourth Amendment issues."
"Kavanaugh is not another Gorsuch — not even close," Amash tweeted.
Paul previously told a reporter he was looking to support a Supreme Court nominee who agreed with Gorsuch on privacy.
The GOP's majority in the Senate is so slim ― with Sen. John McCain (R-Arizona) still absent because of his health ― that losing one vote could imperil Kavanaugh's chances for confirmation.
Privacy advocates are also concerned about another opinion Kavanaugh wrote in 2010 in which he dissented from the D.C. Circuit Court's decision not to revisit a ruling that found that police violated a suspect's Fourth Amendment rights by using a GPS device to track his car without a warrant. The ruling was later upheld by the Supreme Court in an opinion written by the late conservative Justice Antonin Scalia, who wrote that the government had violated the suspect's Fourth Amendment rights.
"Obviously we continue almost by the hour to see how he gets liberty wrong," said Sen. Ron Wyden (D-Ore.), another critic of the NSA's metadata program who joined forces with Paul on the Senate floor in 2015. "He gets liberty wrong with respect to women, he gets liberty wrong with respect to individuals' right to privacy. Almost by the hour, it's clearer that he's gotten liberty wrong." 
Democrats are also planning on probing the extent of Kavanaugh's involvement in formulating the George W. Bush administration's detention and interrogation policies. The judge served as senior associate counsel and associate counsel to Bush from 2001 to 2003, and later worked in his White House as staff secretary.
"Given this record, it's essential that Kavanaugh be questioned extensively and directly about his commitment to protecting Americans from unlawful searches and seizures, and we're glad to see Senators Rand Paul and Ron Wyden are among the few who are willing to investigate these positions," said ACLU National Political Director Faiz Shakir. "The public also deserves to see all documents from Kavanaugh's time at the White House demonstrating what he knew about the surveillance programs and what role he may have played in their development."
Source: Read Full Article