A San Bernardino County prosecutor has been placed on leave after apparently posting vicious attacks on social media about Rep. Maxine Waters (D-Calif.), former first lady Michelle Obama, Mexican immigrants and others.
Michael Selyem, the lead gang prosecutor for the county district attorney's office, is being investigated over the offensive Facebook and Instagram comments, authorities said Monday. 
Staff complaints prompted the investigation, District Attorney Michael Ramos said. "The San Bernardino County district attorney's office does not condone hate, discrimination or incitement of violence, he told reporters on Monday. "Our community and the entire criminal justice system depends on having a fair, ethical, and unbiased prosecutor."
Selyem's Facebook and Instagram accounts have been deleted. But a former member of his office captured screengrabs of several posts, which were passed on to law enforcement officials and The San Bernardino Sun, which first reported on them.
The post about Waters reads: "Being a loud-mouthed c#nt in the ghetto you would think someone would have shot this bitch by now." 
The message appeared after Waters called on protesters last month to confront members of the Trump administration in public — peacefully — over the president's harsh immigration policy. Her comments triggered a debate about "civility" in politics.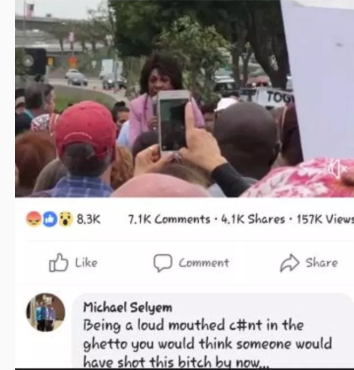 Selyem also posted a doctored image of Michelle Obama holding a sign saying that President Donald Trump "grabbed my penis," The Sun reported.
When someone else complained about a police shooting, the reply from Selyem's account was: "Go fuck yourself, you liberal shit bag."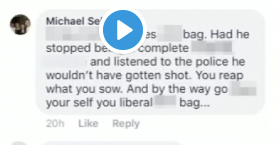 One comment from Selyem's account said he was "all for white males immigrating here legally and starting a business." But as for Mexican immigrants, he wrote in another post: "Mexican word of the day: Hide," according to The Sun.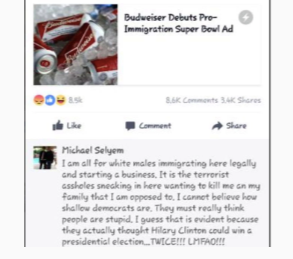 The posts are "clearly outside the boundaries of civil service norms," Zeke Hernandez, president of a chapter of the Santa Ana League of United Latin American Citizens, told the newspaper. "Law enforcement personnel and officers of the court system should not incite violence."
Ramos said that the investigation could result in Selyem's termination. "This is a very serious matter," he added.
Ramos said he was particularly concerned about Selyem's attitude about the police shooting and about possible challenges to Selyem's prosecutions now that his biases have been exposed. An assistant district attorney has been assigned to review Selyem's cases, Ramos said at the press conference.
Source: Read Full Article