In this article
Here's the latest:
China opposes court ruling on mask ban (7:27 a.m.)
Hong Kong court's ruling on the city's mask ban challenges the authority of China's Standing Committee of the National People's Congress and the governing power of Chief Executive Carrie Lam, the official Xinhua News Agency reported, citing Hong Kong and Macau Affairs Office spokesman Yang Guang. He said the court ruling will have a severe negative social and political impact.
On Monday, the High Court in Hong Kong found the ban unconstitutional, raising questions about the limits of colonial-era emergency powers that Lam invoked for the first time in more than a half century to pass the measure.
McConnell Urges Trump to Speak Out on Protests (5:09 a.m.)
U.S. Senate Majority Leader Mitch McConnell urged President Donald Trump to speak out on behalf of the protesters in Hong Kong.
"The world should hear from him directly that the United States stands with these brave women and men," McConnell said Monday afternoon on the Senate floor.
McConnell said Trump should make Hong Kong's autonomy a focus of America's bilateral engagement with China, not just trade. The Republican leader's comments come as the Senate moves to expedited passage of legislation this week which would place Hong Kong's special trading status with the U.S. under annual review.
Pompeo calls on Lam to allow independent probe (4:06 a.m.)
Secretary of State Michael Pompeo said the U.S. is "gravely concerned" about rising violence in Hong Kong and called on Lam to allow an independent probe of protest incidents.
Speaking to reporters in Washington on Monday afternoon, Pompeo said violence by any side in the dispute is "unacceptable," but he singled out Hong Kong's government as having a primary responsibility to keep events peaceful.
Pompeo's comments followed an earlier White House statement calling on Beijing to "honor its commitments under the Sino-British Joint Declaration and to protect Hong Kong's freedom, legal system, and democratic way of life."
For more on Hong Kong's unrest:
Hundreds Trapped in Hong Kong Siege, Raising Fears of Crackdown
Hong Kong's Job Market Starts Weakening as Recession Deepens
Theories on Why Hong Kong Stocks Are Rising After Morning Chaos
Why Hong Kong Is Still Protesting and Where It May Go: QuickTake
'Everyone Is Angry': Police Aggression Fuels Hong Kong Protests
Tsang, school principals try to coax out protesters (11:54 p.m.)
Former Legislative Council President Jasper Tsang and law professor Eric Cheung tried to persuade protesters to leave the campus peacefully, pledging to accompany them to police stations to ensure they won't be treated violently. "If there's tear gas, I will get it first," Tsang said.
Separately, some 20 secondary school principals arrived at the campus to escort students off the premises as clashes continued between demonstrators and police in the nearby area. An estimated 150 secondary school students are stuck, with some suffering injuries, Li Kin-man, one of the principals told reporters. Police have promised to let those under 18 years old leave after recording their identity, he said.
Thousands reinforce trapped campus demonstrators (9:55 p.m.)
Tens of thousands of protesters heeded calls to reinforce and save the demonstrators trapped in the PolyU campus, using umbrellas to battle back tear gas and water cannons in nearby Tsim Sha Tsui.
Police fired tear gas at high points of the campus buildings after a number of protesters tried to escape by abseiling out, according to Radio Television Hong Kong.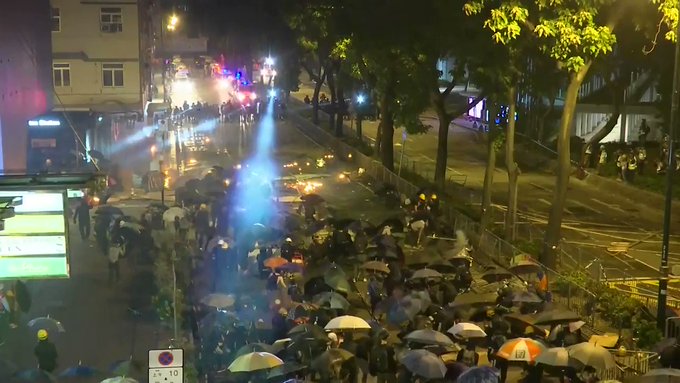 By playing this video you agree to Twitter's use of cookies
U.K. government 'seriously concerned' (8:45 p.m.)
The U.K., which handed Hong Kong over to Chinese rule in 1997, said it was "seriously concerned" by the escalating violence from both protesters and authorities around university campuses in the city.
"It is vital that those who are injured are able to receive appropriate medical treatment, and that safe passage is made available for all those who wish to leave the area. We need to see an end to the violence, and for all sides to engage in meaningful political dialogue ahead of the District Council elections on Sunday," according to astatement attributed to a Foreign and Commonwealth Office spokesperson.
Officials warn public to steer clear of PolyU (6:20 p.m.)
Top Hong Kong officials urged the public not to approach or reinforce the PolyU campus amid calls for rallies near the university. Security Secretary John Lee urged those remaining at the campus to surrender to police in an orderly and peaceful manner. He condemned the use of weapons by protesters, including remote-controlled bombs, catapults and petrol bombs.
As the standoff ground on, Matthew Cheung, the city's No. 2 official, vowed that the government was determined to tackle "deep-seated problems" and that ending violence remained its top priority.
Violence putting election at risk (5:36 p.m.)
The escalating violence in recent days has "reduced the chance of holding" citywide District Council elections as scheduled Sunday, Patrick Nip, secretary for constitutional and mainland affairs, told reporters Monday. Nip said staff at polling stations and candidates must feel safe on election day and that people need to be able to get to the polls without disruption.
"Postponing would be a difficult decision," Nip said, adding that the government wouldn't take such a step "unless absolutely necessary."
Lam decries PolyU violence (5:18 p.m.)
Lam, Hong Kong's chief executive, decried the chaos around PolyU in a Facebook post Monday, blaming "rioters" for continuing "to escalate the level of violence." "Police have repeatedly made appeals and people in PolyU campus should listen," she said.
— With assistance by Stanley James, Linus Chua, Sebastian Tong, Shelly Banjo, Glen Carey, Fion Li, Shawna Kwan, Karen Leigh, and Laura Litvan
Source: Read Full Article