Boris Johnson has said his plan for lifting England's coronavirus lockdown is for there to be "cautious but irreversible" progress in easing restrictions.
"We've got to be very prudent and what we want to see is progress that is cautious but irreversible," the prime minister said on his plan for easing COVID-19 measures.
Live COVID updates from the UK and around the world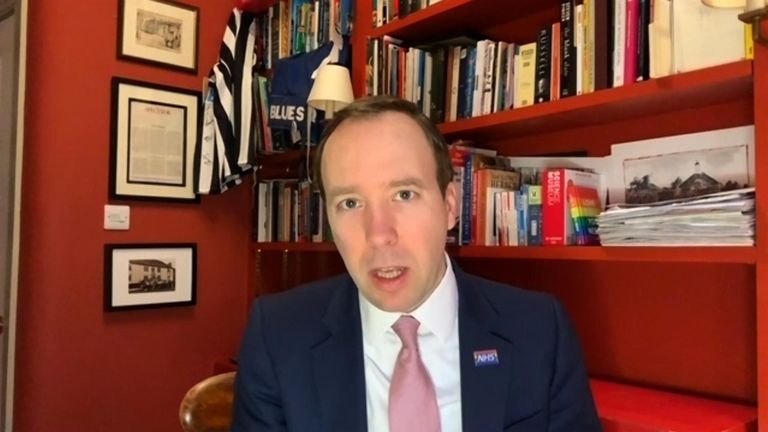 "I think that's what the public and people up and down the country will want to see. Progress that is cautious but irreversible."
The PM will set out his roadmap out of lockdown on 22 February – and he said the aim was for the plan to include the earliest possible dates for reopening different sectors of the economy.
"If we possibly can, we'll be setting out dates," Mr Johnson said.
"The dates that we will be setting out will be the dates by which we hope we can do something at the earliest, if you see what I mean – so it's the target date by which we hope to do something at the earliest.
"If, because of the rate of infection, we have to push something off a little bit to the right – delay it for a little bit – we won't hesitate to do that.
"I think people would much rather see a plan that was cautious but irreversible and one that proceeds sensibly in accordance with where we are with the disease."
Getting pupils back in the classroom is the government's priority as lockdown is eased, with the PM suggesting 8 March as the earliest possible date for a return.
Mr Johnson said a decision had not yet been made on whether there will be a full return or a staggered approach.
"We will do everything we can to make that happen but we've got to keep looking at the data," he added about the mooted 8 March reopening of schools.
The PM was speaking after the UK met its target of offering everyone in the top four priority groups – around 15 million people – a coronavirus vaccine.
Letters are now being sent to those aged over 65 and the clinically vulnerable to invite them to receive a vaccine.
The government is aiming to offer a vaccine to the 17 million in groups five to nine by the end of April, something that will be done alongside administering second doses for many in the first four groups.
Health Secretary Matt Hancock said the milestone was a "little step towards freedom for us all", but there was "no rest for the wicked".
The priority list is as follows:
1 – Residents in a care home for older adults and their carers
2 – All those aged 80 and over. Frontline health and social care workers
3 – All those aged 75 and over
4 – All those aged 70 and over. Clinically extremely vulnerable individuals
5 – All those aged 65 and over
6 – All individuals aged 16-64 with underlying health conditions which put them at higher risk of serious disease and mortality
7 – All those aged 60 and over
8 – All those aged 55 and over
9 – All those aged 50 and over
The rapid vaccine rollout has raised hopes that England's current lockdown – the third of the pandemic – will be the last and life will start to return to something approaching normality in the weeks and months to come.
Mr Johnson is continuing to come under pressure from his backbenchers over COVID restrictions, with more than 60 of his MPs reported to have backed a call from the lockdown-sceptic COVID Recovery Group (CRG) for measures to be fully lifted by the end of April.
Steve Baker, deputy chair of the CRG, said offering a vaccine to everyone in the top nine priority groups by that point "should mean that we can lift away restrictions, because people have been protected".
"That's the moment to really get a spring in our step and as the prime minister has said, reclaim our lives once and for all," he told Sky News.
Asked if he wanted all restrictions – including the wearing of face masks and social distancing – to be scrapped, Mr Baker did not explicitly call for such a move.
But he did say: "I think that people will naturally tend to social distance now, I expect that people will choose to wear masks, I'm confident people will continue to wash their hands."
He added: "So some of the things that people will choose to do anyway will keep the disease down. This is not about threatening to bring the house down, this is about saying we need to get a spring in our step.
"We're all filled with sorrow for the people we've lost and the harms we've suffered, but we don't honour those we've loved and lost by wrecking the rest of our lives."
Source: Read Full Article