DELAWARE, Ohio ― Gene Jackson was standing in his driveway clearing brush off the side of his white picket fence on July 28 when Danny O'Connor walked over to chat. Jackson, 68, was a registered Republican on O'Connor's door knocking list.
After dispensing with some small talk, O'Connor, the Democratic nominee for Ohio's 12th Congressional District, got to the point: Was Jackson planning to vote? "Always do," Jackson replied in a rural Ohio drawl. Did he have any particular policy concerns? "Nothing really." Jackson works with his sons at a tool and die-making business he owns in town. Business is pretty good, he told O'Connor.
With that, O'Connor made his pitch. "My focus on going to Washington is to get a little more done for people, especially on infrastructure. We could rebuild this country if we had the right leadership," he said.
"Hell yeah," Jackson responded. A few seconds later, Jackson, who voted for Donald Trump and is satisfied with his performance, told O'Connor he could count on his vote.
When HuffPost followed up to ask Jackson why he was opting for O'Connor if he had no major complaints about Trump, he described it as a gut feeling. "I kind of like his personality, myself," he said with a laugh.
O'Connor, a 31-year-old attorney with a boyish grin, began his career in politics in 2016, when he won a race for Franklin County recorder.
Now, less than two years after occupying an office for which the primary role is processing real estate documents, O'Connor is quietly on the brink of flipping a House seat the GOP has held since 1982.
O'Connor faces state Sen. Troy Balderson, 56, in a special election on Tuesday to fill a seat that Rep. Pat Tiberi (R-Ohio) vacated in January. Tiberi, a popular nine-term moderate, had endorsed Balderson in a contentious May primary that Balderson narrowly won.
The primary results are binding for both the special election and the general election. So regardless of the outcome on Tuesday, O'Connor and Balderson are due to face off again in November.
That makes the concrete stakes of Tuesday's race relatively low. But as with the special election in Pennsylvania's 18th in March, partisans on both sides are watching the outcome closely for still more evidence of a Democratic midterm wave.
By all rights, Ohio's 12th, a vast C-shaped district gerrymandered to include well-off parts of Columbus, its affluent northern suburbs and parts of the industrial towns Mansfield and Zanesville, should be safe GOP territory.
Tiberi was re-elected there by 37 percentage points in 2016; Trump won the district by a more modest 11-point margin.
As a result, the surprising tightness of the race is all the more disquieting for Republicans, who have been forced to spend millions on Balderson's behalf and deploy their top surrogates to stump for him.
The latest public poll has Balderson up by a single point, a decline from a 10-point lead he held a month ago in the same survey. In the hopes of changing that dynamic, Trump announced Wednesday that he'll hold a rally in the district for Balderson on Saturday night.
"If the GOP were to lose this race, who would they blame or what would they blame? It would have to be a reflection on the Republican brand," said Herb Asher, a political science professor at the Ohio State University.
Asher, who has donated to O'Connor's campaign, argued that even a narrow Republican win would be "another indication that Democrats are more competitive in districts that have not been hospitable to them."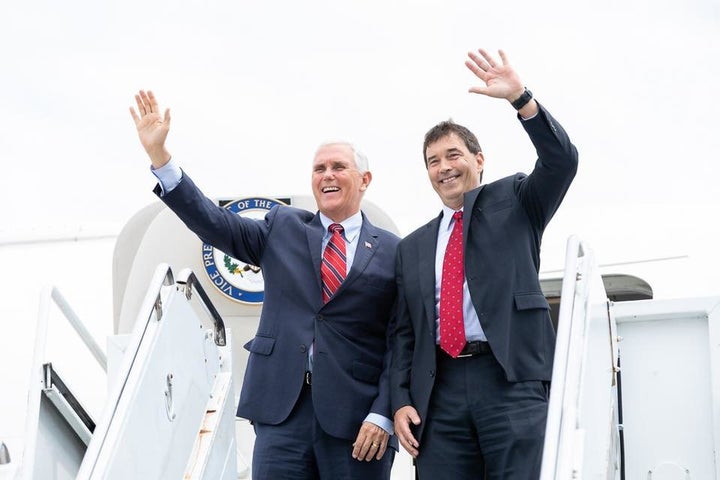 A 'Pragmatic' Democrat Running In Defense Of 'Earned Benefits'
Although he prefers the term "pragmatic," O'Connor is, by contemporary standards, a moderate. He does not support single-payer health care, emphasizing instead his commitment to protecting the Affordable Care Act. And if elected, he plans to join the business-friendly New Democrat Coalition, whose PAC donated $4,000 to his bid. 
But while just a few years ago, moderate Democrats often embraced the need for a bipartisan "Grand Bargain" that would combine Social Security and Medicare cuts with tax hikes, O'Connor has made defending the two popular programs from any cuts a key plank of his campaign. He has benefited, in this regard, from Balderson's explicit openness to raising the eligibility ages for Social Security and Medicare for future beneficiaries. 
"Earned benefits are one of the most important things we can take care of," O'Connor told HuffPost. "We want to encourage people to work, we want to encourage people to be a part of our economy, and when we cut their benefits and we don't fight for them, we send a message that we don't value what they do every day."
And like Conor Lamb, a Democrat who won the March special election in Pennsylvania's 18th, O'Connor has centered his critique of the tax cuts on their potential effect on social insurance programs.
"Troy Balderson supports a corporate tax giveaway that racks up $2 trillion in debt, forcing massive tax hikes on our kids or deep cuts to Social Security and Medicare," an O'Connor campaign ad declares.
O'Connor, powered by a surge of small donations ― his campaigns says that more than 97 percent of contributions are under $100 ― has also outraised Balderson, forcing national GOP groups to pump in millions to make up the difference.  
The National Republican Congressional Committee has spent $1.3 million to elect Balderson. And the Congressional Leadership Fund, a super PAC affiliated with House Speaker Paul Ryan (R-Wis.), has spent nearly $2.5 million to keep the seat in GOP hands. 
Dueling Associations: Nancy Pelosi And Jim Jordan
Outside GOP-affiliated groups initially focused on touting the Republican tax cuts, but they have since pivoted to putting out ads with base-triggering buzzwords about immigration and House Minority Leader Nancy Pelosi (D-Calif.), whom O'Connor has said he would not support for House speaker. 
"The liberal resistance is demanding open borders. They want to eliminate the law enforcement agency that enforces our immigration laws, opening America's doors to more crime and drugs," a Congressional Leadership Fund ad against O'Connor declares as black-and-white images of "Abolish ICE" protesters, criminals in hoodies and a heroin needle flash across the screen.
"And they want Danny O'Connor's help," the ad continues, featuring a photo of O'Connor between Pelosi and Sen. Elizabeth Warren (D-Mass.).
Republicans are also seeking to capitalize on a July 25 interview O'Connor did on MSNBC's "Hardball with Chris Matthews." Pressed seven times by Matthews on his support for Pelosi, O'Connor conceded that if the Democratic majority was at stake, he'd back "whoever the Democratic Party puts forward."
Footage from the interview is featured in a new Congressional Leadership Fund ad against O'Connor ― and in a response ad from O'Connor calling the tape selectively edited.
Terry Casey, a longtime Republican strategist based in Columbus, said the interview might make Matthews "the Republican of the year."
"It gave Republicans the cement and the glue to show O'Connor was close and tight with Nancy Pelosi," he said. 
National Democrats have been a bit more cautious in their support for O'Connor than their Republican counterparts have been in supporting his opponent. The Democratic Congressional Campaign Committee has spent about $630,000 trying to elect O'Connor.
Terminally ill activist Ady Barkan, who is traveling the country to denounce Republicans for the tax cut legislation, produced an ad in support of O'Connor and his PAC purchased $100,000 worth of airtime to air it. And on Thursday, Democratic super PAC American Bridge announced a 5-figure digital ad buy criticizing Balderson.
If Republicans have seized on O'Connor's would-be ties to Pelosi, Democrats see an opening in Balderson's association with Rep. Jim Jordan (R-Ohio). Jordan, a Freedom Caucus member running for House speaker, stands accused of ignoring reports that a team trainer was sexually abusing Ohio State athletes while Jordan was an assistant wrestling coach at the university. Jordan endorsed Balderson after initially backing Melanie Leneghan, an ultra-conservative whom Balderson narrowly defeated in the primary.
The American Bridge ad focuses on Balderson's refusal to say whether he'll back Jordan as speaker. The 30-second spot asks, "Does Troy Balderson stand with the victims" of the abuse scandal that occurred under Jordan's watch?
The 'NPR Republicans' Strike Back?
Beyond the back-and-forth on the airwaves, however, O'Connor has benefited from surging Democratic enthusiasm and the attrition of Republicans and independents displeased with Trump's performance. The district is dominated by educated, affluent conservatives whom Asher of Ohio State has dubbed "NPR Republicans."
Lukewarm establishment support for Balderson has given these voters greater license to defect. Ohio Gov. John Kasich (R), a district resident who remains popular in the state, did not endorse Balderson until the end of July. And the historically Republican editorial board of the Columbus Dispatch endorsed O'Connor. 
For every Republican like Jackson backing O'Connor for amorphous personal reasons, there were several more with more concrete, Trump-related critiques. (O'Connor nicknames these Republicans "Danny-crats.") 
Deborah Martin, a former Republican Delaware County commissioner, told HuffPost at an O'Connor canvass kickoff in Delaware that she was undecided. Martin, who was there to hear O'Connor speak, has been "disturbed" by Trump's policy of separating families at the border and the possibility that regulations protecting health care access for people with pre-existing conditions would be overturned.
Asked whether those concerns made her more willing to consider O'Connor, Martin replied, "I am not a large Donald Trump fan. I'll stop there."
Source: Read Full Article