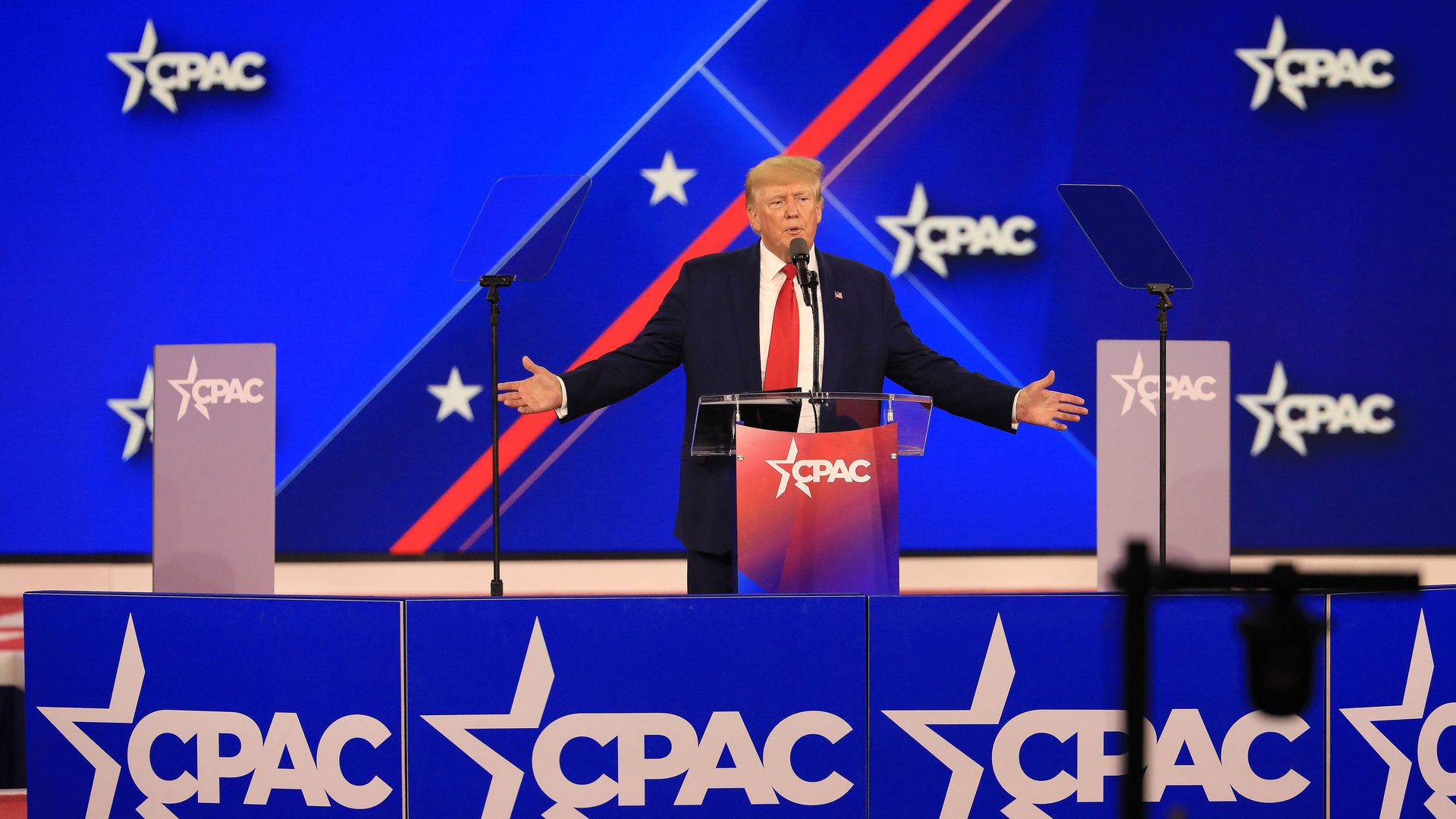 Former President Trump speaks during the 2022 Conservative Political Action Conference (CPAC) in Texas. Photo: Dylan Hollingsworth/Bloomberg via Getty Images
Many Republican lawmakers will not attend the annual Conservative Political Action Conference (CPAC) this week, paving the way for former President Trump to make an impact among some of his staunchest supporters.
Why it matters: Trump, easily the most recognizable name at this year's conference, is returning to CPAC while in the midst of his third presidential campaign. Other believed frontrunners for the GOP 2024 presidential ticket — like Florida Governor Ron DeSantis — are not attending the conference.
Former Vice President Mike Pence, Speaker of the House Kevin McCarthy (R-Calif.), Senate Majority Leader Mitch McConnell (R-Ky.) and Republican National Committee (RNC) Chairwoman Ronna McDaniel are all also not attending the four-day conference.
No Republican governors or members of Congressional leadership are on the list of scheduled speakers, though Reps. Marjorie Taylor Greene (R-Ga.) and Matt Gaetz (R-Fla.) and Texas Sen. Ted Cruz will all speak to the crowd.
Trump allies, including MyPillow founder Mike Lindell and former Arizona gubernatorial candidate Kari Lake, are also on the list of speakers.
Thought bubble from Axios' Josh Kraushaar: CPAC's 2023 lineup, while leaning heavily toward the MAGA portion of the GOP, does not reflect the party at large. However, the event will shine a light on what the MAGA voter base is feeling, especially with regard to 2024 candidates — including DeSantis and Trump — in the annual straw poll.
In CPAC's 2022 straw poll, Trump dominated DeSantis by 31 points, signaling continued support for the former president over 13 months after he left the White House.
Source: Read Full Article