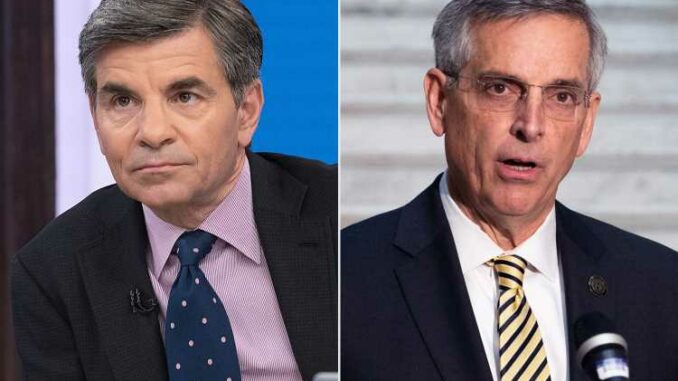 One day after the recording of a phone call between him and Donald Trump went public, Georgia Secretary of State Brad Raffensperger told Good Morning America the president is "just plain wrong" when it comes to Trump's repeated and baseless claims of voter fraud.
"For the last two months we've been fighting the rumor whack-a-mole, and it was pretty obvious from very early on that we've debunked every one of those theories that are out there, but president Trump continues to believe them," Raffensperger, 65, said in a Monday morning interview with GMA's George Stephanopoulos.
Over the weekend, The Washington Post obtained a one-hour long phone call between Trump, 74, and Raffensperger, in which the president could be heard pressuring the Republican official to "find" more votes for him.
Despite the call — in which Trump suggested Raffensperger may face criminal consequences by not intervening in the election — the Georgia election official said he did not feel pressured to alter the outcome of his state's results.
"Did you feel the pressure when he said 'find' the votes?" Stephanopoulos asked.
"No. We have to follow the process, follow the law," Raffensperger said. "Everything we've done for the last 12 months follows the constitution of the state of Georgia, follows the United States Constitution, follows state law. We were having to adapt to a pandemic and that did pose challenges."
NBC News reported that the call with Raffensperger was the 19th time the Trump administration had attempted to reach out to the official since the election.
"I never believed that it was appropriate to speak to the president," Raffensperger told Stephanopoulos.
Raffensperger, who has described himself as a Republican, has said that he voted for Trump in the election.
In his conversation with Stephanopoulos, the secretary suggested he wasn't opposed to voting for him again sometime in the future.
"I support Republicans, always have. I probably always will," Raffensperger said.
"So, you'd vote for him again?" Stephanopoulos asked.
"Well, President Trump is not on the ballot in 2024 right now so we'll just have to wait and see what would happen," Raffensperger said.
Two House Democrats have called on FBI Director Christopher Wray to open a criminal investigation into the call, which they allege is evidence of Trump's "solicitation of, or conspiracy to commit, a number of election crimes."
The Washington Post published its recording of the call after Trump attacked Raffensperger in a tweet, accusing him of being "unwilling, or unable, to answer" questions about claims of widespread voter fraud.
"I spoke to Secretary of State Brad Raffensperger yesterday about Fulton County and voter fraud in Georgia," Trump wrote. "He was unwilling, or unable, to answer questions such as the 'ballots under table' scam, ballot destruction, out of state 'voters', dead voters, and more. He has no clue!"
Biden won Georgia with an 11,779-vote victory over Trump.
Two recounts of the votes in Georgia confirmed Biden's win but Trump has continued to allege that the election was somehow "stolen" from him, despite offering no evidence.
Trump's campaign has launched a number of failed legal attempts to overthrow the results in courtrooms across America.
Courts (including the Supreme Court) and investigators have rejected those claims, and local elections officials from both parties have said they've found no significant fraud.
A group of Republican representatives have said they plan to object to the Electoral College results on Jan. 6, when the electors' votes will be officially counted. With the House in Democratic hands, those efforts will not be enough to overturn Biden's victory.
Meanwhile, other Republicans have repudiated those efforts, arguing that objecting to the counting of electoral votes would undermine democracy.
Last month, one of Raffensperger's aides urged Republican lawmakers to speak out against Trump's claims of fraud, which has spurred violent rhetoric from some of his supporters.
"Mr. President, you have not condemned these actions or this language. Senators, you have not condemned this language or these actions. This has to stop," voting systems implementation manager Gabriel Sterling said in a December press conference. "If you're going to take a position of leadership, show some."
Source: Read Full Article