President Joe Biden is expected to sign an executive order today to protect abortion rights in response to the landmark decision by the Supreme Court to overturn Roe v. Wade and Planned Parenthood v. Casey. This news comes in the wake of mounting pressure on the president to be more proactive about the SCOTUS decision, which ended a pregnant person's constitutional right to the medical procedure on June 24.
In the hours after the overturning, Biden admitted, "The only way we can secure a woman's right to choose and the balance that existed is for Congress to restore the protections of Roe v. Wade as federal law…No executive action from the president can do that." In the weeks since then, the president has urged the American people to elect more members of Congress in November's midterm elections who will, in turn, support federal legislation that protects abortion access.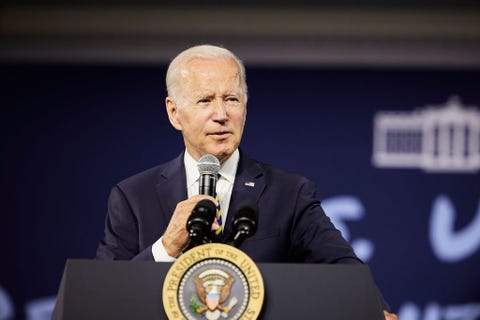 But Biden's speeches to the public have been countered with the continuous demand he codify abortion access and protect pregnant people. Before last month's SCOTUS opinion—which was leaked weeks in advance—Biden told Jimmy Kimmel, "If the court overrules Roe v. Wade and does what is drafted…if that occurs, I think we have to, we have to legislate it. We have to make sure we pass legislation making it a law that is the federal government [saying] this is how it works…There's some executive orders I could employ, we believe—we're looking at that right now."
This brings us to news of today's executive order, but the exact details of what Biden plans to do still remain unclear. A fact sheet released by the White House says the order would direct Health and Human Services Secretary Xavier Becerra to take a series of steps and report back to the president within 30 days. The specifics are not explored outside saying the steps will safeguard and broaden access to abortion care, ensure access to emergency medical care, expand access to abortion pills, broaden outreach and public education about abortion, and help with the arrangement of private lawyers to represent patients.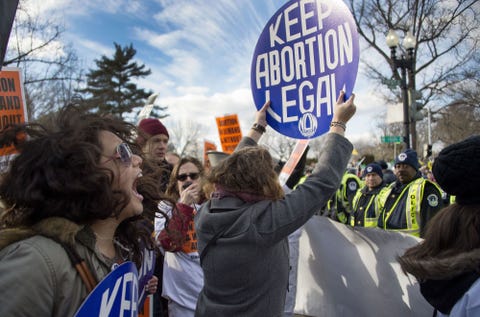 The order is also said to consider both facilitating the protection of patient privacy regarding sensitive data and safeguarding doctors who perform abortions in medical emergencies by updating the Emergency Medical Treatment and Labor Act. Finally, it would set up an interagency task force between the Health and Human Services and the White House Gender Policy Council.
We'll keep you in the loop with updates about Biden's executive order as they're made available. In the meantime, check out the It's Not Over package with resources on what to do in the wake of the SCOTUS Roe v. Wade decision.
Source: Read Full Article