The Trump administration has stopped routinely separating migrant families at the border, but is now struggling with the task of reuniting more than 2,500 children it already took from their parents.
Some children younger than 5 have been returned to their parents, but many minors remain in government custody. In addition, the ACLU is pressing a lawsuit against federal officials over the government's reunification efforts, and a judge has imposed a July 26 deadline for all the children to be returned to their parents.
Here's where things stand for separated families.
What is the family separation policy?
The Trump administration began pressing a policy earlier this year of separating families caught crossing the border illegally, taking children into government custody while their parents were prosecuted. The move was part of the administration's zero tolerance crackdown on illegal immigration. 
More than 2,500 children were taken from their parents. After widespread condemnation of the policy, President Donald Trump on June 20 issued an executive order he claimed would stop the separations, calling instead for a massive expansion of the detention of entire families.
Costs for the government's efforts are mounting. In the last two months, the Department of Health and Human Services, which is responsible for sheltering the children, has spent at least $40 million on the care and reunification of migrant children who were separated from their families at the border, according to Politico.
How many children have been reunited with their families?
Federal Judge Dana Sabraw ordered the government on June 27 to reunite the separated children, prioritizing those under age 5. He gave the government a deadline of July 10 for reuniting children under 5 with their parents, and July 26 for older kids. 
As of July 12 — two days after the judge's deadline — officials said they had reunited 58 kids younger than 5. Of the remaining children under age 5 who are still in custody, 12 children's parents had already been deported and 34 children are ineligible for reunification because their parent was found to be unsafe, in criminal custody or not actually the parent, according to government officials.
How many children are still separated from their parents?
The total number of children between ages 5 and 17 who were likely separated and are still in government custody is 2,551, an HHS official said in court on Monday. The government has been unable to identify a parent for 71 of those children. The children are in 106 locations overseen by HHS nationwide, and their parents are in Homeland Security's immigration jails.
The government said meeting Sabraw's July 26 deadline to reunite the children and parents will be a challenge. Officials argued that speeding up the vetting process before releasing a child to a parent could violate the Trafficking Victims Protection Reauthorization Act, which governs the treatment of "unaccompanied alien children."
"Reunification can happen quickly and safely," Sabraw said. "Those two things are not mutually exclusive. HHS is responsible for this and can do it well."
Sabraw also ordered the government to temporarily stop deporting families for at least a week after they are reunited.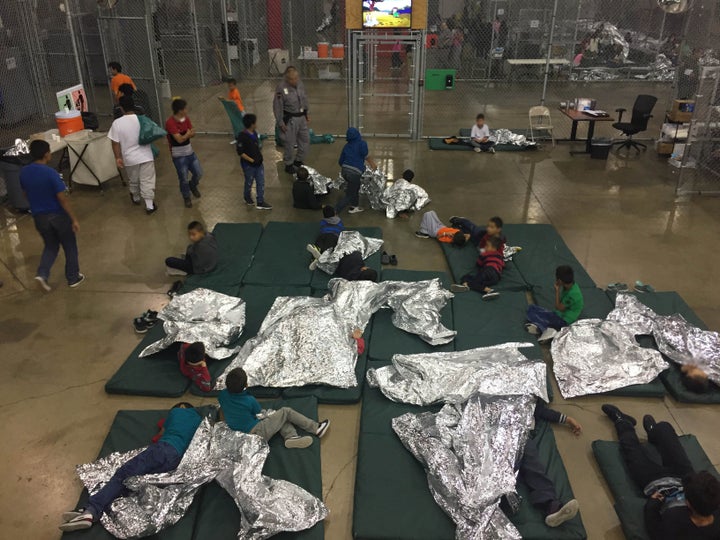 What are lawmakers doing?
On July 2, 11 Democratic senators sent a letter asking the Department of Homeland Security and HHS to explain the reunification process, update them on the status and provide briefings.
On July 5, House oversight committee leaders, Rep. Mark Meadows (R-N.C.) and Rep. Elijah E. Cummings (D-Md.), sent a letter to top government officials requesting information about every migrant child in government custody. They asked Homeland Security Secretary Kirstjen M. Nielsen, Attorney General Jeff Sessions and Health and Human Services Secretary Alex Azar to provide each child's current location, age, country of origin and date and location of detainment.
Sens. Kamala Harris (D-Calif.), Jeff Merkley (D-Ore.) and Catherine Cortez Masto (D-Nev.) on Tuesday introduced legislation that would immediately reunify all families and "establish a permanent system of coordination between agencies and non-governmental organizations to protect detained immigrants with children," according to a press release.
The Senate Judiciary Committee received a short, closed briefing on Tuesday after asking for a public hearing on family separations. During the briefing, officials said they identified at least 180 parents who were deported without their children, according to Sen. Dick Durbin (D-Ill.). 
In addition, some parents waived their children's rights to be held in a facility with a state child-welfare license and to be released after 20 days, Durbin said. Those families are currently in DHS detention centers. Officials declined to provide the senators with a copy of the waiver or give the number of detained families, according to Durbin.
Congress repeatedly failed last month to pass an immigration reform bill that would have authorized longer-term detention of kids with their parents.
How is the separation affecting children?
Experts have warned that the family separations and detention could traumatize children.
"Families seeking refuge in the U.S. already endure emotional and physical stress, which is only exacerbated when they are separated from one another,
Dr. James L. Madara, CEO of the American Medical Association, wrote in a letter to the Trump administration. "It is well known that childhood trauma and adverse childhood experiences created by inhumane treatment often create negative health impacts that can last an individual's entire lifespan." 
Diogo De Olivera Filho, a 9-year-old from Brazil who was in a Chicago shelter for five weeks, told The Washington Post that he was treated like a "prisoner" and a "dog." 
Sandy González, an 8-year-old from Guatemala who spent two months in a Texas shelter, found it difficult to trust her mom again after the two were reunited. Her mother told the Post her daughter wouldn't sleep on the second floor of the house they were staying in because only boys were allowed on the second floor in the shelter. 
Judge Orders Government To Temporarily Stop Deporting Reunited Families
ACLU Says Government Didn't Give Enough Info On Reunited Immigrant Families
Children Separated From Parents At The Border Heard In Heartbreaking New Audio
Source: Read Full Article