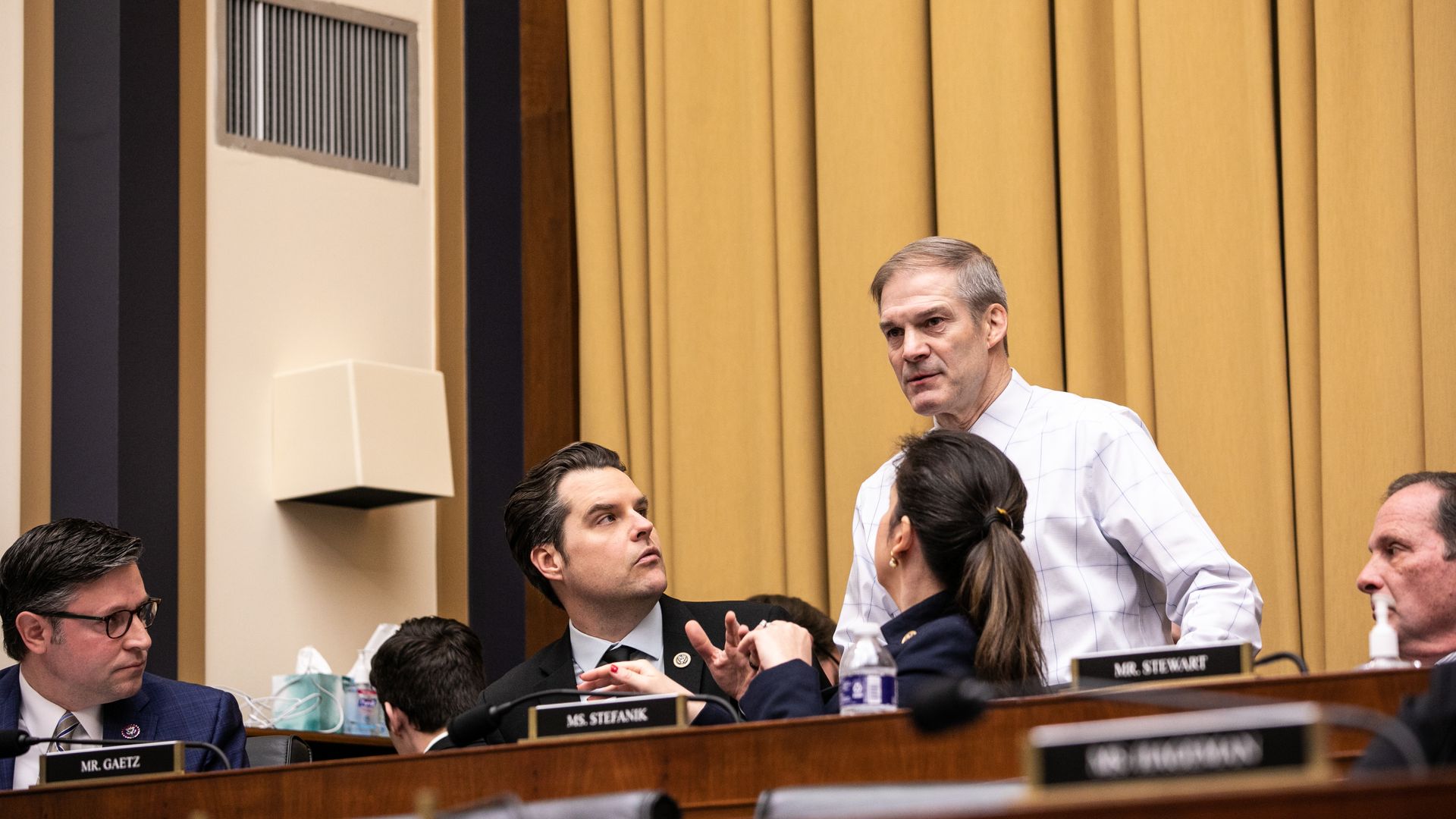 House Judiciary Committee Chair Jim Jordan. Photo: Valerie Plesch/Bloomberg via Getty Images.
The GOP-led House Judiciary Committee on Monday announced plans to hold a field hearing in Manhattan focused on violent crime in the borough.
Why it matters: It's the panel's latest effort to undermine Manhattan District Attorney Alvin Bragg as he prosecutes former President Donald Trump for criminal charges related to several hush money payments around the 2016 election.
Driving the news: The panel will hold an April 17 hearing at the Jacob K. Javits Federal Building in downtown Manhattan entitled, "Victims of Violent Crime in Manhattan."
The hearing "will examine how Manhattan District Attorney Alvin Bragg's pro-crime, anti-victim policies have led to an increase in violent crime and a dangerous community for New York City residents," according to an advisory sent out by the committee, which is led by Trump ally Rep. Jim Jordan (R-Ohio).
Committee spokesperson Russell Dye said members of both parties are welcome to attend but it's unclear if Democrats would accept the invitation.
What they're saying: Bragg's office has pushed back on the GOP's crime narrative, noting last month that homicides and shootings in Manhattan have declined since Bragg took office last year.
"New York remains one of the safest big cities in the U.S. with a far lower murder rate than the most populous cities where the Committee Chairmen hail from – Ohio, Wisconsin, and Kentucky," a spokesperson said.
Bragg's office did not immediately respond to an additional request for comment on Monday.
Between the lines: It's likely the closest the panel will come to having an opportunity to actually grill Bragg himself.
The committee has sought testimony from Bragg and several of his current and former officials, but have so far been rebuffed. Bragg's office accused Republicans of infringing on New York's sovereignty.
The panel even went so far last week as to subpoena a former prosecutor who resigned in protest of Bragg's initial refusal to pursue Trump.
The context: In publicly assailing Bragg's decision to seek an indictment against Trump, many Republicans have accused the reform-minded progressive of neglecting violent crime for the sake of scoring political points.
"Alvin Bragg ignores real criminals to attack political rivals," tweeted Rep. Troy Nehls (R-Texas), a Judiciary Committee member, last week.
Source: Read Full Article