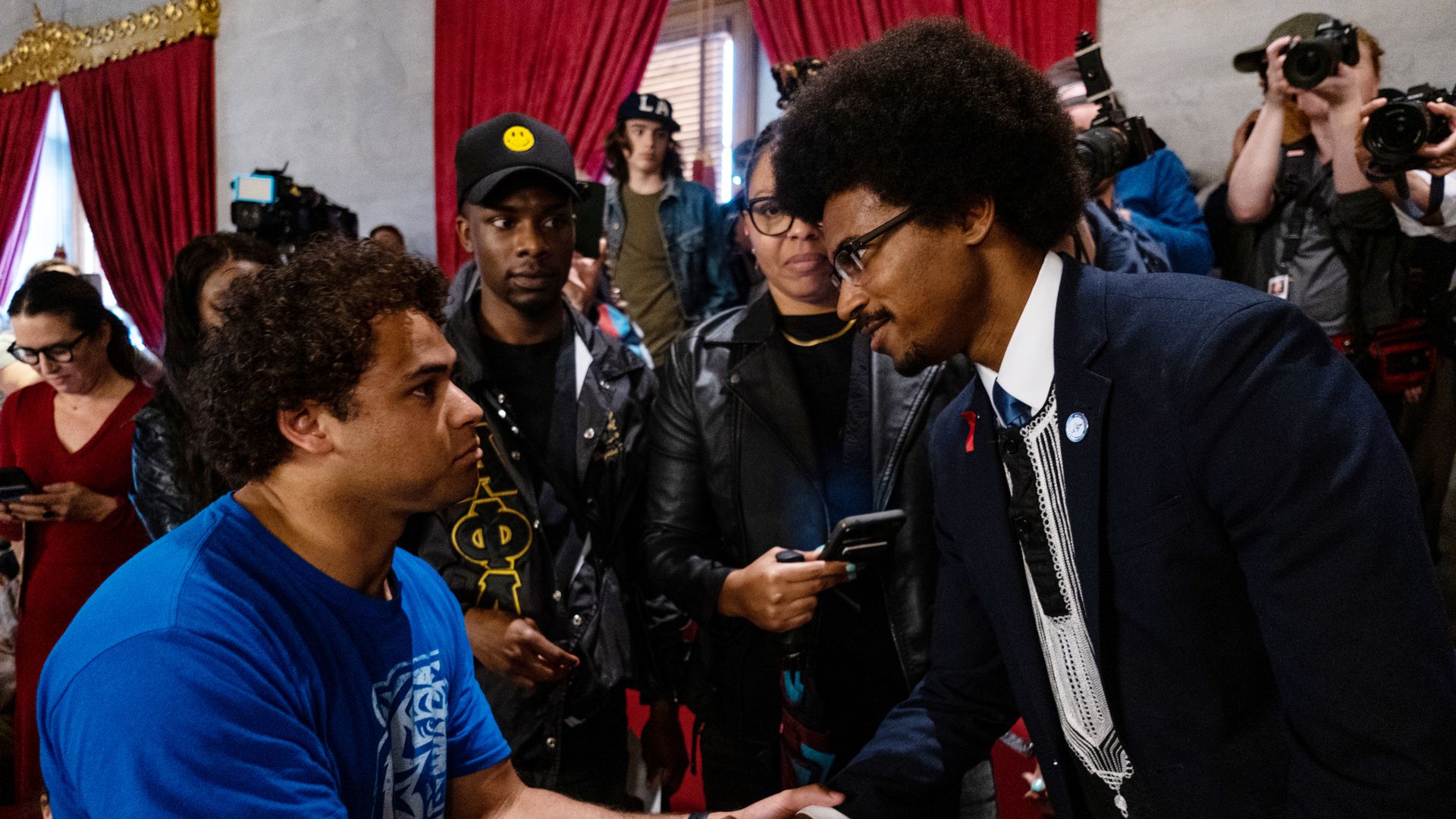 State Rep. Justin Pearson shakes hands with a supporter in the House Gallery after being expelled on April 6 in Nashville, Tennessee. Photo: Seth Herald/Getty Images
Tennessee House Republicans' decision to expel two Democratic lawmakers over a gun reform protest silenced thousands of voters' voices, state Rep. Justin Pearson (D-Memphis wrote in a New York Times op-ed Wednesday.
Why it matters: Pearson and Rep. Justin Jones' (D-Nashville) expulsion from the state House last week has prompted a national outcry, sparking debate about Democratic norms, racism, and gun violence.
The big picture: In the op-ed, Pearson recounted the ways his own life has been personally touched by gun violence.
Pearson described his old high school classmate — a "sweet and beloved" coach and middle school secretary —who was fatally shot in Memphis in January. He added that over 10 days in February in the city, 20 people were shot in mass shootings.
"Yet, Republican legislators refuse to take meaningful action," Pearson wrote, denouncing their continued efforts to instead expand gun rights.
Pearson described his and Jones' expulsion as an "assault against democracy" and criticized GOP leaders for "berating" him and Jones for participating in an act of civil disobedience.
"This, in Tennessee, the birthplace of the Klan, a land stained with the blood of lynchings of my people," he wrote.
Pearson wrote that lawmakers elected to represent all Tennesseans — "Black, white, brown, immigrant, female, male, poor, young, transgender and queer" — are often "routinely silenced," and that last week's events made the phenomenon visible.
"It's not just our individual voices that were sanctioned and silenced last Thursday. It was the voices of the nearly 135,000 Tennesseans we represented," he added.
Catch up quick: Pearson, Jones, and their colleague Rep. Gloria Johnson (D-Knoxville) participated in a gun reform protest on the House floor in the wake of the Nashville school shooting that left six people dead, including three children.
Republicans argued the so-called "Tennessee Three" violated House rules and engaged in disorderly conduct by doing so, and initiated an effort to expel them.
The GOP-led House successfully voted to expel Pearson and Jones, who are both Black, while an effort to expel Johnson, who is white, failed by one vote.
Zoom out: The political fracas comes as the nation continues to contend with the epidemic of gun violence.
So far, there have been more mass shootings than days in 2023. As of Tuesday, there have been at least 147 mass shootings in the U.S., according to the Gun Violence Archive.
A recent survey revealed that one in five U.S. adults has been personally threatened with a gun, and one in six have witnessed someone being shot, Axios' Sareen Habeshian writes.
What to watch: Jones and Pearson's expulsions will trigger special elections to select permanent replacements, but dates for the elections have not yet been set.
For the time being, it's up to local authorities in each district to choose interim representatives.
Nashville's Metro Council voted unanimously on Monday to temporarily reappoint Jones to his seat and the Shelby County Commission will meet later Wednesday to consider reinstating Pearson in the interim.
Jones and Pearson plan to run for their seats again during the special elections, they told NBC's "Meet the Press" on Sunday.
The bottom line: "Those who seek to silence us will not have the final say," Pearson concluded in his op-ed.
Source: Read Full Article