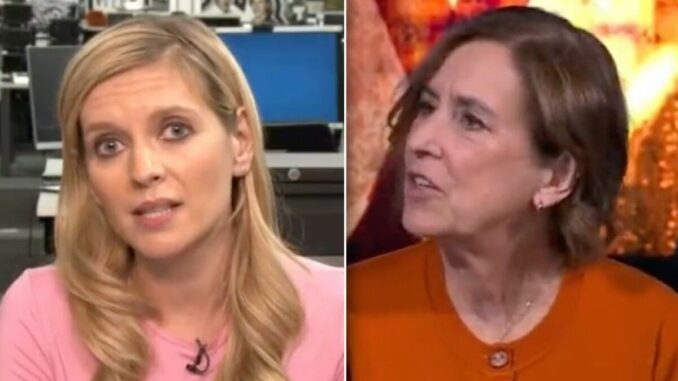 Countdown star Rachel Riley has been praised after she took part in a fierce BBC Newsnight debate over the broadcaster's position on Hamas terrorists.
BBC Newsnight presenter Kirsty Wark quizzed Ms Riley over the October Declaration, an open letter signed by more than 13,000 people, including politicians, artists and celebrities, calling on the media to brand Hamas terrorists.
The Countdown star's robust defence of the plea, which has garnered the support of former Prime Minister Liz Truss and author Richard Dawkins, has since been hailed by political commentator and GB News contributor Lee Harris who claimed she "ripped BBC Newsnight to shreds".
Newsnight presenter Ms Wark, who recently announced she would be quitting the programme after 30 years at the helm, put it to Ms Riley that the declaration was a way to find solidarity and to "express feelings".
She said: "Do you think that the October declaration in a way was a way to find solidarity? And that's what's behind the declaration for the people to come together and express their feelings?"
Ms Riley responded: "It is finding solidarity and it is expressing disgust at organisations like the BBC.
"We now know that there was a pregnant woman who had her belly cut open. The baby was removed from her stomach and beheaded in front of her. There are videos of this."
But Ms Wark interrupted to say: "Which is unverified. We haven't seen these videos."
Ms Riley fired back: "You haven't seen it. I know many people have seen it. These videos are in existence.
"There are countless others and countless other examples that journalists sat through the other day to prove this exists because of such denial.
"And organisations like the BBC refused to call these terrorists terrorists. It is grotesque.
"It is indefensible, and it allows obfuscation it allows people to claim they are freedom fighters. It is just indefensible, and it is fueling anti-Jewish hatred in this country."
Responding to the clash and sharing a clip of it on X, GB News contributor Lee Harris said: "Rachel Riley rips the BBC to shreds on #Newsnight. Well said."
Don't miss…
Starmer and Rayner hatch crisis talks as Labour risks 'haemorrhaging votes'[DEVELOPING]
Keir Starmer rumbled after 'turning up to mosque uninvited and making Imam cry'[INSIGHT]
EU plea for Israel to 'down arms' shows bloc 'does not understand Middle East'[EXCLUSIVE]
Advert-free experience without interruptions.
Rocket-fast speedy loading pages.
Exclusive & Unlimited access to all our content.
It comes as the BBC is embroiled in a major row over its coverage of the Israel-Hamas conflict raging in Gaza.
The organisation has refused to call Hamas terrorists – despite the group being proscribed as such by the UK Government.
Its position, as set out by BBC World Affairs Editor John Simpson, is that it is "simply not the BBC's job to tell people who to support and who to condemn".
The BBC also came in for criticism over the way in which it covered a recent missile strike on a Gazan hospital by initially repeating the claims of the Palestinian authorities blaming Israel for the blast – something British intelligence later contradicted, as confirmed by Rishi Sunak in the House of Commons this week.
Source: Read Full Article