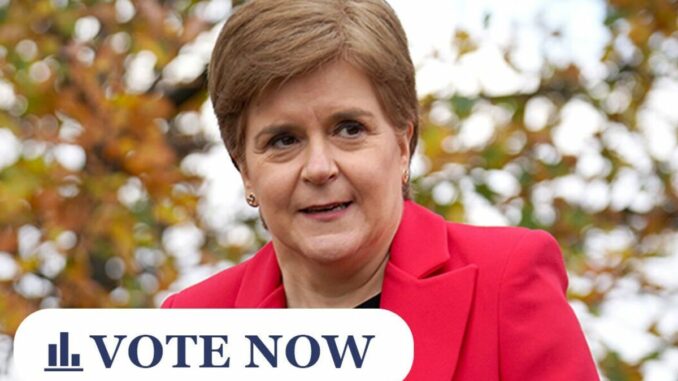 IndyRef2: Supreme Court gives ruling on vote
We use your sign-up to provide content in ways you've consented to and to improve our understanding of you. This may include adverts from us and 3rd parties based on our understanding. You can unsubscribe at any time. More info
First Minister Nicola Sturgeon's hopes of launching a new independence referendum were crushed after the Supreme Court rejected claims she had the right to hold a vote. So do you think she should resign? Vote in our poll.
The Supreme Court said Ms Sturgeon's draft Referendum Bill legislates on the constitution and goes beyond Scotland's devolved powers, requiring permission from Westminster.
Lord Reed of Allermuir, the Court's Scottish President, said that the judges had made a "unanimous" decision, adding it was "clear" Ms Sturgeon's proposed Bill would have more than a "loose or consequential" connection to the Union.
The UK Government has so far refused to grant formal consent for a second independence vote.
The Scottish government argues that any referendum is "advisory" and has no legally binding impact on the Union.
Scottish Labour leader Anas Sarwar said after the ruling that Scotland must now "focus on the problems facing our country".
He said: "It was right for the Scottish government to seek legal clarity on this question. The Supreme Court's answer was clear and I thank them for their speedy work in this case. We must now focus on the problems facing our country, from rising bills to the crisis in our NHS.
"There is not a majority in Scotland for a referendum or independence, neither is there a majority for the status quo. One thing is clear, there is a majority in Scotland and across the UK for change. A Labour government will deliver the change that Scotland and the whole of the UK needs."
DON'T MISS:
Pro-independence leader urges Scots to take to streets for IndyRef2 [UPDATE]
Sturgeon slammed over state of NHS Scotland [VIDEO]
Sturgeon blasted over 8yrs of 'decay' as IndyRef2 still priority [LATEST]
Ms Sturgeon said on Twitter after the ruling that she was "disappointed" but claimed the Supreme Court "doesn't make law, only interprets it".
Ms Sturgeon added: "A law that doesn't allow Scotland to choose our own future without Westminster consent exposes as myth any notion of the UK as a voluntary partnership and makes [the] case for independence."
If the Court had approved the plans, Ms Sturgeon hoped to hold the referendum on October 19, 2023. She has already suggested that the next general election would be a de facto referendum.
Ms Sturgeon is expected to hold a press conference in Edinburgh later on Wednesday, to set out her next steps.
So what do YOU think? Should Ms Sturgeon resign as independence dream defeated? Vote in our poll and leave your thoughts in the comment section below.
Source: Read Full Article