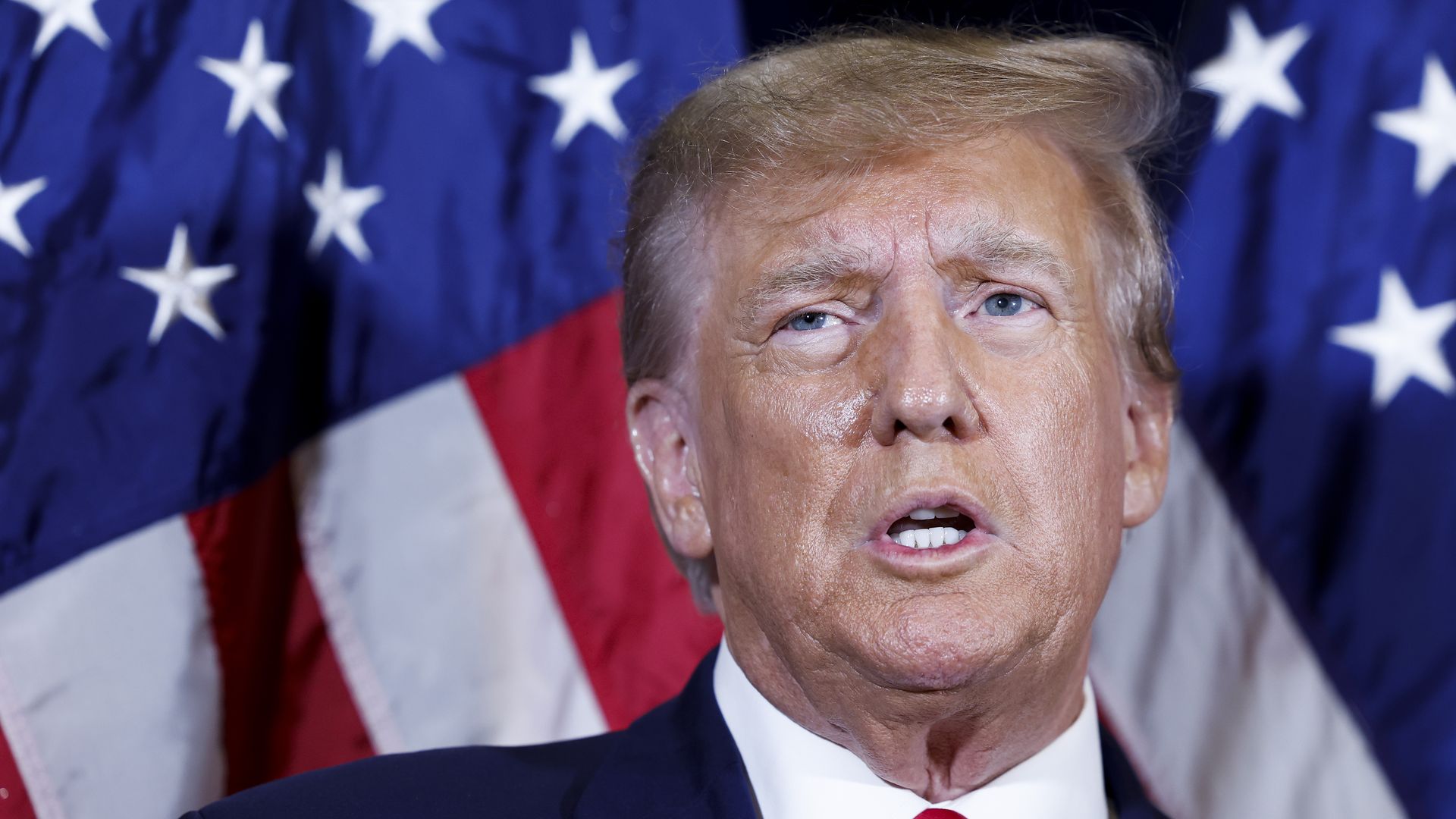 Former president Donald Trump speaking in National Harbor, Maryland, in March 2023. Photo: Anna Moneymaker/Getty Images
A grand jury in New York on Thursday indicted former President Trump on charges related to an illegal hush money payment in 2016 to adult film star Stormy Daniels who alleged they had an affair, according to multiple outlets.
Why it matters: Trump, who is running for president in 2024 and facing multiple criminal probes, is the first president in U.S. history — sitting or former — to face criminal charges. The indictment over a payment during his first run for president is sure to ripple through his latest campaign.
The charges come more than four years after Michael Cohen, the lawyer who handled the payment for Trump, was convicted in 2018 and received a three-year prison sentence. He has been a witness against the former president.
The prospect of a Trump indictment was raised in early March after the district attorney's office invited Trump to testify before a grand jury.
What they're saying: Trump in a statement Thursday claimed the indictment was an act of "Political Persecution"and accused Democrats of "weaponizing our justice system to punish a political opponent, who just so happens to be a President of the United States and by far the leading Republican candidate for President."
"I believe this Witch-Hunt will backfire massively on Joe Biden," he added. "The American people realize exactly what the Radical Left Democrats are doing here."
Taylor Budowich, who leads Make America Great Again Inc., echoed Trump's rhetoric in his own statement, which maintained that "there was no crime" at the heart of the case. He said the news is "the indictment of a failed nation" and blamed "political elites and powerbrokers" for weaponizing the government against Trump.
Axios reached out to an attorney for Trump for comment.
The big picture: Trump, who frequently casts himself as a victim of overzealous investigators, the media and others, has repeatedly blasted the probe by Manhattan District Attorney Alvin Bragg on Truth Social.
While Trump publicly predicted earlier this month that he would be arrested, upending news cycles and provoking reactions across his party, the grand jury investigating him did not conclude on that timeline.
Trump also called for protests, which prompted law enforcement to prepare for large-scale demonstrations that did not materialize.
"Protest, take our nation back!" he implored to supporters, echoing his calls that led to the Jan. 6, 2021 insurrection at the U.S. Capitol.
Background: After his conviction, Cohen alleged that Trump had ordered him to pay Daniels $130,000 in hush money just before the 2016 election, and later reimbursed him for it through the Trump Organization as legal expenses.
Trump has denied the affair. His legal team has claimed he was "the victim of extortion" from Daniels and called the Manhattan district attorney's threat to indict him "simply insane."
Federal prosecutors did not pursue charges in the case, but Bragg's office chose to do so — a controversial decision that made Bragg the focus of Republican accusations that the prosecution was politically partisan.
State of play: Reports of a possible indictment prompted some GOP-support for Trump. Several high-profile Republicans essentially rebuffed Trump's call for protests by urging calm among their supporters.
After House Speaker Kevin McCarthy (R-Calif.) called for a congressional investigation into the prosecutors in the Trump case, three House GOP committee chairs said they'd seek testimony from Bragg.
Rep. Elise Stefanik (R-N.Y.) said the "illegal leaks" about Trump's potential arrest were "un-American" — although the frenzy over the case was set off by Trump declaring that he expected to be arrested.
At least one Republican figure, former Arkansas Gov. Asa Hutchinson, has said Trump should drop out of the 2024 presidential race if he's indicted.
On top of the New York charges, Trump also faces a federal investigation over his efforts to interfere with the 2020 election results and his handling of classified materials.
And in Georgia, Fulton County District Attorney Fani T. Willis' office is investigating whether Trump's efforts to overturn the 2020 election results there violated state law.
Editor's note: This is a breaking news story. Please check back for new details.
Source: Read Full Article