This Sunday marks the 26th anniversary of the Violence Against Women Act, a law that was designed to protect women from domestic violence, and Women for Biden will commemorate the day by hosting VAWA at 26: Women Unite for Progress with Jill Biden, on Monday, Sept. 14, at 7:30 p.m.
Check back right here (or on our Facebook page) to watch the exclusive live stream event addressing the law's importance and why we need to renew and strengthen it—especially in light of increased gender-based violence during the coronavirus pandemic.
Following Jill Biden's call for action, there will be a panel discussion moderated by senior advisor for Joe Biden, Symone Sanders with four diverse women advocates who represent different demographics and perspectives on this issue—women of color, young Americans, and veterans.
You'll hear from Rep. Ruth Buffalo, a public health advocate and the first Democratic Native American woman to serve in the North Dakota Legislature; Tracey Vitchers, a non-profit executive and nationally recognized expert on youth sexual violence prevention and survivor advocacy from Pennsylvania; Melissa Bryant, a veterans' advocate and licensed consultant with 20 years of combined experience in federal government management, nonprofit advocacy, and nonprofit executive leadership; and Karma Cottman, an advocate for survivors of domestic violence and their children in Washington, D.C.
Oh, and their discussion will be followed by a special guest you will not want to miss. (No spoilers!)
Pause for a quick history refresh: the Violence Against Women Act was first proposed in 1990, when then-Senator Biden introduced the bill. President Bill Clinton signed the act into law in 1994. The act helped establish the National Domestic Violence Hotline and the Office of Violence Against Women. Since its creation, more than $7 billion in federal grants have helped fund programs that prevent sexual assault, domestic violence, and stalking.
But since then, it's needed to be renewed every four years. It was up for renewal last year, and even though the House passed the reauthorization, the Senate did not after the National Rifle Association fought against it. Their reasoning? A new provision known as the "boyfriend loophole," that, if passed, would ensure convicted abusers would not be able to buy or own firearms.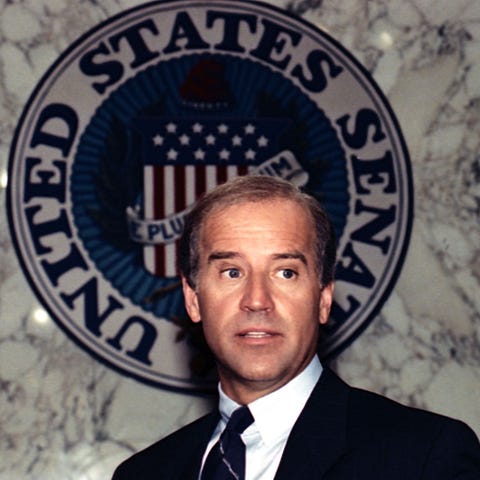 In a statement about Monday's event, Mariel Sáez, Women's Media Director for the Biden for President campaign, tells Cosmo:
Okay, now bookmark this page and we'll see you on Monday at 7:30 p.m.!
Source: Read Full Article