Judge Ketanji Brown Jackson is currently in her second day of Senate hearings that will ultimately determine if she secures the open vacancy on the Supreme Court. So naturally, her entire life is on display right now. But outside of her professional qualifications (which are lengthy), people are super curious about her personal life. Judge Jackson gave viewers a peak into her day-to-day during the first day of the hearings when she introduced her husband, Dr. Patrick Graves Jackson.
"Speaking of unconditional love, I'd like to introduce you to my husband of 25 years, Dr. Patrick Jackson," she said. "I have no doubt that without him by my side from the very beginning of this incredible professional journey, none of this would have been possible. We met in college more than three decades ago. Since then, he's been the best husband, father and friend that I could ever imagine. Patrick, I love you." The super sweet moment had Patrick wiping tears from his face.
Supreme Court nominee Judge Ketanji Brown Jackson's husband, Dr. Patrick Jackson, gets emotional as his wife testifies. pic.twitter.com/6UuQBRZucb
So without further ado, here's everything we know about Patrick and his adorable love story with Judge Jackson.
Patrick is a doctor
Patrick currently practices medicine at MedStar Georgetown University Hospital and is a general surgeon. Most of his focus is on gastrointestinal conditions and procedures, which he's been doing for more than 20 years. He graduated from Columbia University's medical school in 1995, then went on to complete his residency at Massachusetts General Hospital.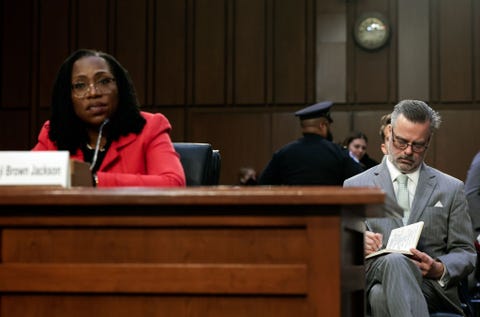 He and Judge Jackson met in college
The couple both went to and graduated from Harvard College, where Patrick is a sixth generation graduate. "Patrick is a quintessential 'Boston Brahmin'—his family can be traced back to England before the Mayflower," said Ketanji in 2017.
In that speech, Judge Jackson talked about Patrick being her first "serious boyfriend." They dated for roughly six years before tying the knot in 1996. She described their coming together as "an unlikely pair in many respects" but said they "found each other" anyhow. Awww.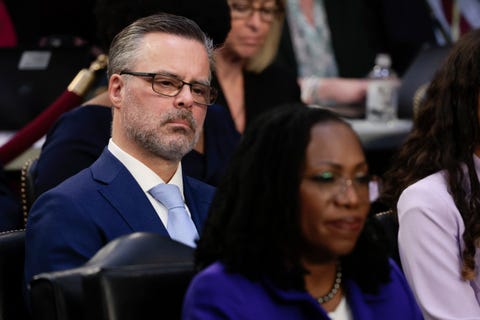 He's a twin
Patrick has a twin brother named William, who essentially made their entire family related to former House Speaker Republican Paul Ryan. If you're asking a resounding, "HOW???" allow me break it down: William is married to Paul Ryan's sister-in-law (aka Paul's wife's sister). Yep!
Patrick and Ketanji have two children
Their daughters Leila and Talia Jackson are 17 and 21 years old, respectively. Both girls watched their mom during her first day of the hearings alongside their dad.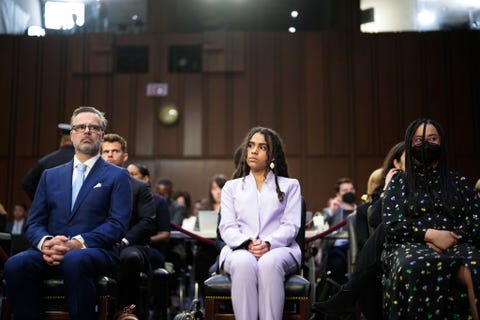 Leila once wrote a letter to former President Barack Obama advocating for her mom's appointment to the SCOTUS opening after Judge Scalia's death. "Dear Mr. President," the note began, "She's determined, honest and never breaks a promise to anyone even if there are other things she'd rather do. She can demonstrate commitment and is loyal and never brags. I think she would make a great Supreme Court justice." Leila was 11 at the time. So needless to say, their kiddos have always had their mom's back!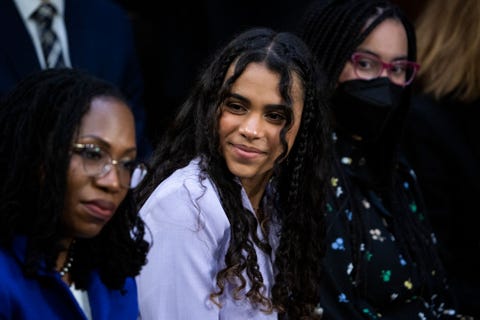 But Patrick has always been his wife's biggest fan
Back in their early careers, when Judge Jackson was working as a clerk and Patrick was in his residency, "he would often go to the courtroom after a long night on call to watch what was going on" because "he was so fascinated by his wife's work," according to NPR. Patrick looked so worn out from the long shifts that one day the court's security guard asked Judge Patti Saris, whom Ketanji worked for at the time, "Judge, would you like me to remove the homeless man in the back row?" Talk about love and dedication right there.
Source: Read Full Article